Your customers are the beating heart of your business. Make them happy, and they'll reward you with repeat business and referrals. Upset them, and you're in for a bad time.
Of course, one of the core components of smiling customers is outstanding customer service. And If you've got a call center in place, then it's clear you care about how your customers feel.
But how do you ensure that your support team delivers a level of service that keeps customers beaming from ear to ear?
Well, that's where call center best practices come in. The effectiveness of your call center hinges on your agents, the tools they use, and the attitude they bring to the table.
The following call center best practices will help keep your customer service on point and ensure your customers keep coming back for more.
13 Call Center Best Practices To Know
Running a call center can be a little hectic, especially if you don't have a background in customer service. Use the following call center best practices to ensure everything runs as smoothly as possible.
1. Create Call Center SOPs
Standard operating procedures (SOPs) are the bread and butter of any thriving call center. SOPs are documents, videos, and processes that outline how your support team should respond to a particular scenario or carry out specific tasks.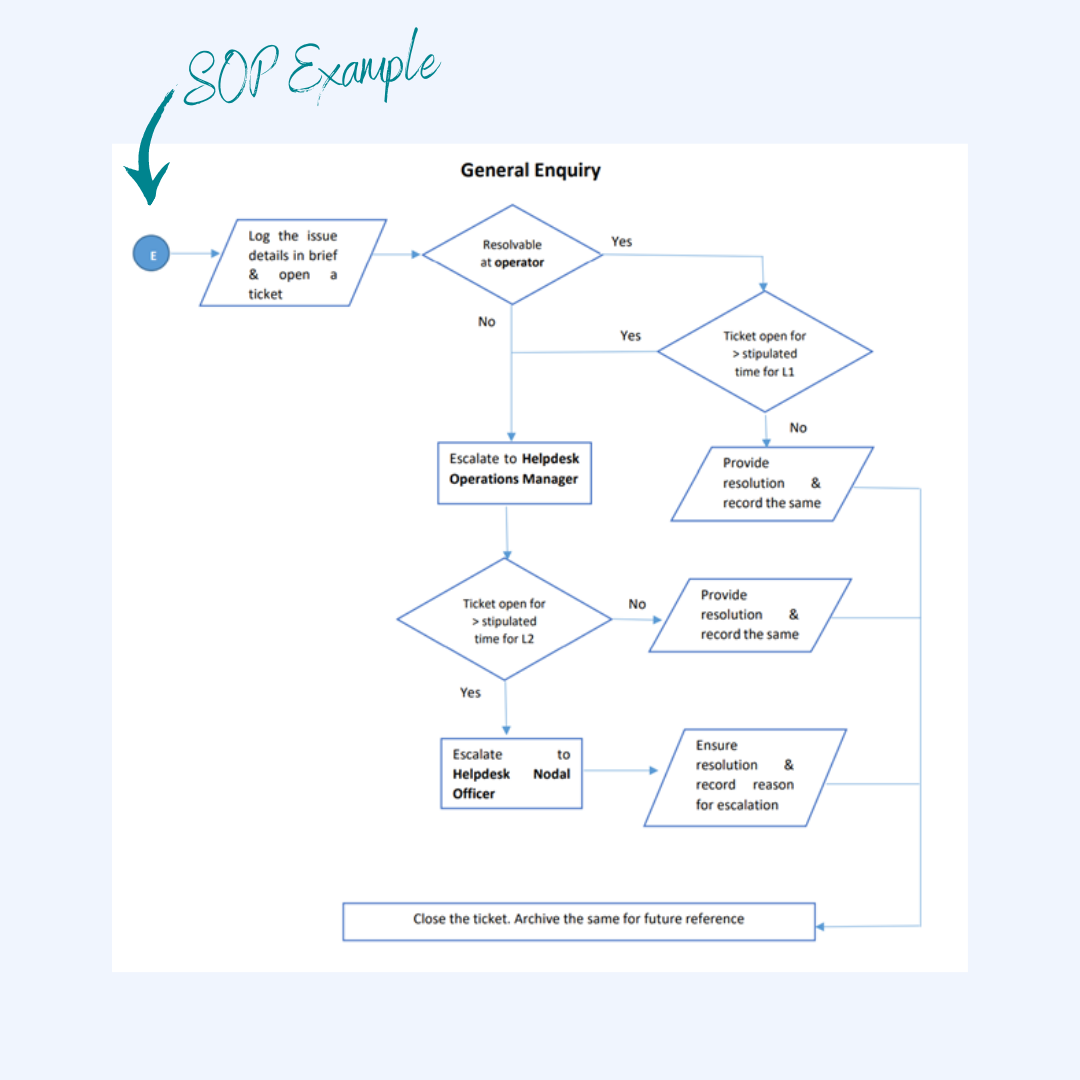 So, for example, some clever SOPs to implement are:
A document outlining what to do if a customer wants to escalate a complaint
Loom video that shows agents how to navigate your internal knowledge base
Word doc that covers the steps for recording customer inquiries
A document showing step-by-step how to follow up with customers after a complaint
You can add these documents to your company's internal file management system so agents can access them at any time. It's important to ensure agents know your SOPs and keep updated if you make any edits to your SOPs.
2. Identify Your KPIs & Track Them
Renowned management consultant Peter Drucker once said 'What gets measured, gets improved. Onc essential call center best practice is to identify your KPIs and measure their change over time.
Some of these metrics may include:
Average case handling time
Average response time
Number of customers served
Number of positive interactions and reviews
Customer satisfaction ratings
Net promoter score
Number of new tickets resolved
The critical thing is that your metrics align with your goals. Use customer feedback to identify pain points and then assign metrics that allow you to track progress in that area.
Use your KPIs to guide your customer service team – use metrics to appraise performance and inspire data-backed action.
3. Build a Centralized Knowledge Base
Your customer service team is only as good as the knowledge that powers them. Having the proper knowledge available at the right time is paramount to delivering excellent customer service.
A company knowledge base organizes your company's information, documents, media, and training materials, so it's always on hand when needed. It's an excellent resource for onboarding new agents. But it's useful for existing agents too.
Seriously, an efficient internal knowledge base empowers agents to quickly pull up FAQ documents, canned responses, customer data, and more so they can respond without delay.
The power of your customer service team will always be greater than the sum of its parts. So, use your knowledge base as a centralized 'brain' that everyone can tap into.
4. Learn How to Manage Rude Customers
No matter how amazing your products or support team are, there'll always be rude customers looking to burn the ear off your agents.
When this happens, your agents must keep calm and avoid firing back insults or pointing fingers. Always ensure your agents take on a positive tone and focus on de-escalating the situation. Pay particular attention to the tone of voice used.
Having a rough script to work off can help massively when dealing with fire-breathing customers. Consider running a few mock calls as part of your onboarding process so new agents aren't blindsided and say something they regret.
It's also essential to allow agents to have time to cool after a tense interaction. A quick break and few deep breaths will help your team re-center themselves and prepare for the next call.
5. Provide Awesome Training
On the topic of agent training, you mustn't just leave agents to their own devices once they join your team.
Proper training from day one (or even before day one) is essential to prevent mistakes that could ruin your reputation down the line. Not only that, but agents will thank you for not just chucking them in the deep end and expecting them to know everything.
The SOPs we talked about above are a great place to start your new agent induction. But it's also wise to take it a step further and buddy up new recruits with your top agents to help them navigate the new systems and deliver the best service possible.
6. Use a System for Organizing Interactions
Of all the call center best practices, choosing a CRM to centralize all inquiries is one of the most important ones.
Seriously, organization is critical for staying on top of customer inquiries in a high-volume, fast-paced environment.
When choosing a CRM, you want to pick one that pulls all customer interactions into one place. So, for example, if a customer reaches out on social media and follows up by phone – you want a CRM that allows agents to see that and take the best course of action.
There are heaps of customer service CRMs to choose from, but some of the best ones we've come across are:
Explore all the options available to you and choose the one that best fits your needs and budget.
7. Build a Solid FAQ Section & Tutorials
Over several weeks, you'll realize that many of the same customer questions keep popping up. Identify these frequently asked questions and create an FAQ page on your site.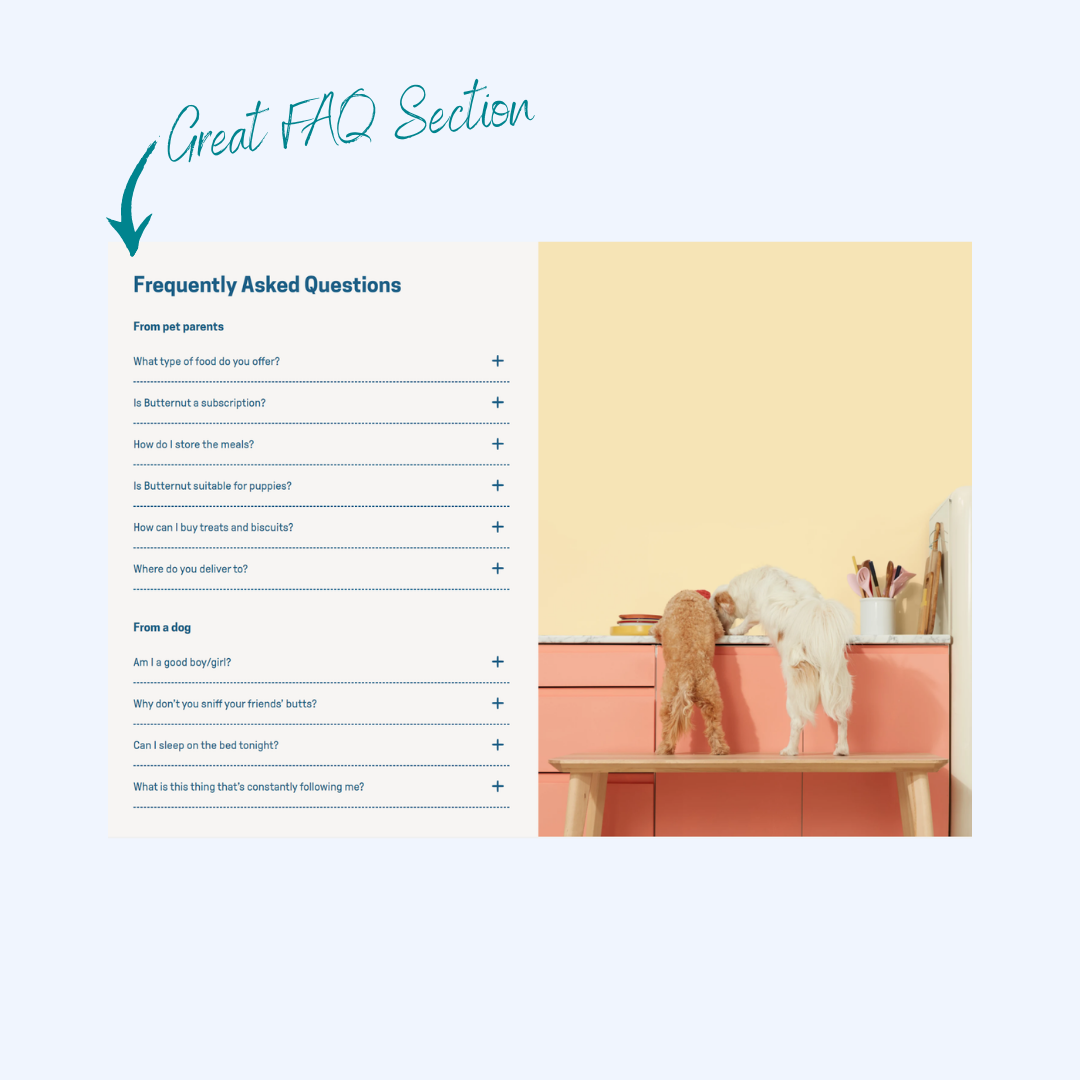 An excellent FAQ section helps users get answers independently and reduces the number of support tickets your team needs to handle.
If you're selling a complex product, it may be worthwhile creating a customer-facing knowledge base too. Load it with step-by-step tutorials and videos to empower customers to self-serve their support.
8. Give Incentives to Agents
Your agents dictate the bulk of your customer service experience. Motivate them to push the boundaries of their performance with incentives and bonuses to do better.
Seriously, keeping your support team happy is one of the cornerstones of effective customer service. Investing in their motivation and wellbeing makes them feel valued. This sentiment then gets transferred to your customers, who in turn feel like they matter.
Along with performance-based rewards, never underestimate how much a couple of words of encouragement can impact your employee satisfaction and work culture as a whole.
9. Foster a Culture of Open Communication
On employee wellbeing, it's also critical to encourage agents to speak up when something is on their minds or they need help. Remember, you or your support team lead are your agent's primary source of insights.
Schedule regular check-ins or keep an 'open-door policy so that agents feel comfortable giving you feedback about how the support process is going and where it can be improved. You may discover insights about how you can better assist them in delivering the best customer support.
To go back to your SOP document, why not include a page on the best practices for raising issues, seeking help, and sharing ideas among team members and management.
Seriously, after having seen many call centers, there's nothing that will scuttle morale and performance faster than stressed employees with no outlet for their frustrations.
10. Deploy Customer Surveys 
Customer surveys are one of the best ways to get direct feedback that informs your overall support strategy.
There are several places you can deploy surveys for maximum effectiveness, such as:
Immediately following a support call
Via email following a support interaction
On your website's thank you page
Via SMS or push notification
Of course, this feedback won't always be positive. However, it's crucial to have when it comes to improving your support performance.
Understanding the areas that cause the most friction for customers (long wait times, incomplete resolution, etc.) allows you to direct resources to fix the problem area.
11. Commit to Continuous Improvement
The essence of any high-performance team is a commitment to improvement – and things are no different when it comes to your customer support. One half of the equation is keeping your eyes open to what your customers are telling you.
The other half is staying on top of the latest customer service trends and technology. The EasyCall blog is a fantastic place to keep your finger on the pulse of all things customer support. So, if you haven't already, subscribe to get a weekly dose of customer service inspiration direct to your inbox.
12. Plan Regular Training
Training your team is vital to ensure they improve over time. Sure, hands-on experience counts for a lot, but formal training can help kick your performance up to a whole new level.
Use the data from your surveys to inform your learning and design your training sessions around the latest customer service trends and what your customers want.
Every training you host should have a clear plan. You want to outline what you're going to cover, what tools and videos you'll use, and what the outcome is supposed to be.
Again your internal knowledge base can be a great place to house your training sessions so that they're always available should they need to be revisited.
13. Follow Up After Every Interaction
One often overlooked call center best practice is to follow up with customers after a call.
Once an issue gets resolved, it's crucial to have a process to double-check with customers that they are happy with the level of service provided.
If a customer responds positively, it's the perfect opportunity to request a review from them, which you can use as social proof on your site, on your Google business listing, or elsewhere.
If a customer responds negatively, your team can take additional steps to resolve the issue and ensure they're satisfied with your support.
Following up is critical because it reduces the odds that disgruntled customers will slip through the cracks and gives you a second chance to make it right.
Use These Call Center Best Practices to Delight Your Customers
Running a top-tier call center is no easy feat. With so many rapidly moving parts, management becomes complicated. Hardware can fail, tornadoes can hit, agents can abscond, and calls can spike.
There's no doubt that the best call centers are those that have the agility and flexibility to adapt to trying circumstances. At the same time, the best call centers also have a bedrock of best practices that anchor them during the storm.
The call center best practices outlined above are an incredible start to help you lay the foundation for your call center. By implementing these best practices, you'll be well on your way to building a thriving call center with happy agents and happier customers.