Did you know that 88% of consumers are influenced by online customer service when making a buying decision?
That means if you're not keeping up with the latest customer service trends, you're could be leaving money on the table.

But with new trends emerging every week, it can be hard to know which ones will stick around and which are just passing fads.

To that end, we've compiled a list of the 7 most crucial customer service trends for 2021.

Understanding these trends is a significant step towards improving your overall customer experience and building a business that your customers love.

Ready to get stuck in? Let's go!
1. Social Media Transforms into Social Care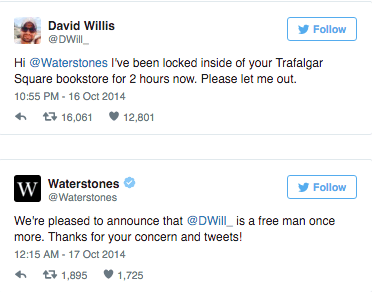 More and more customers are opting for a DM, a comment, or a tweet over traditional support channels.
According to a study by ValueWalk, 63% of customers expect businesses to offer customer service via social media, and 35% say it's their support channel of preference.
What's more, McKinsey reported that companies who improve their customer experience on social media from 'average' to 'wow' see a 30-50% boost in key measures such as likelihood to repeat purchase, upsell and recommend your product to others.
On top of that, social support can save you money too. HBR reported that the typical cost of a social customer service interaction is around $1, whereas a regular support ticket can cost almost $6 (yikes).
The implication? Social media is one of the customer service trends you can't ignore in 2021. Here's how to do it right:
Social Media Customer Support Best Practices:
– Reply as quickly as possible: 42% of consumers expect a response on social media within 60 minutes. Failure to deal with responses quickly can lead to unhappy customers and even a Shopify chargeback.

– Answer everything: feedback, questions, and comments are opportunities to showcase your excellent service. Combat negativity with positivity to win street cred with your audience.

– Show your human side: People don't care if you make a mistake. They only care if you don't make it right. Speak to your audience like you would a good friend to become much more relatable.

– Leverage Tech: tools like Buffer and Hootsuite can help you monitor mentions and ensure no inquiry or frustration slips through the cracks.
2. The Demand For Real-Time Support Keeps Growing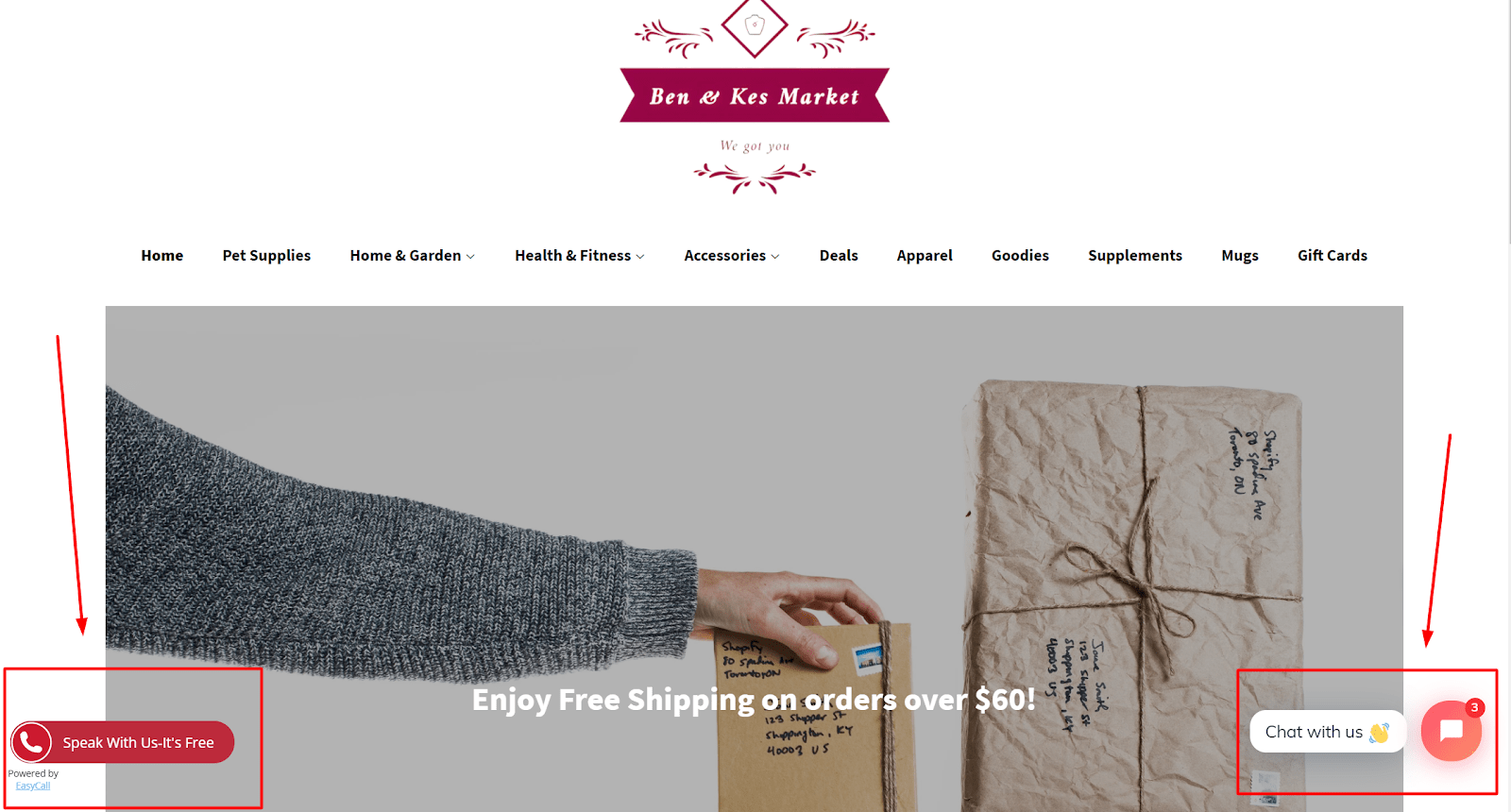 Ever been shopping online only to run into an issue that makes you rethink your purchase?
Perhaps you thought 'Can they ship to my address?' or 'When will they have my size back in stock?'.
Whatever it was, you needed to speak to someone before you completed your purchase. Well, guess what? The same phenomenon is happening with your customers right now.
According to Forrester, 53% of customers are likely to abandon their online purchases if they can't find quick answers to their questions. Fifty-three-per cent! Holy-moly!
One great solution? Offer live support.
Live support is fantastic because:
– It offers customers a quick resolution to their problems.
– It increases conversions (particularly with high-ticket items)
– It's uber-convenient for customers
– It boosts customer satisfaction and engagement.
The type of live support you provide will depend on what you're selling and who your customers are.
Research shows that for low-ticket purchases, AI-powered live chat can be an excellent hands-off solution to help your customers get the answers they need.
For Shopify, check out tools like:
For more complicated or emotionally involved purchases (think mattresses or wedding rings), the evidence shows customers prefer to speak to a real human over the phone.
If you're a Shopify user, check out our app EasyCall to add this functionality to your store in a couple of clicks.
But why pick just one real-time support channel? The ultimate support preference for today's customers is a blend of AI-powered assistance and human interaction.
So, if your budget allows, think about incorporating both into your eCommerce store.
👉Suggested reading: How to buy a business phone number with EasyCall
3. Personalization Becomes Even More Important
Remember the last time you went to Starbucks, and the barista wrote your name on the cup? Yup, that's personalized customer service at its simplest.
And as more retailers flood into the online marketplace, the best way to stand out amid the masses is to make your customer interactions more human.
Personalization rocks because, according to Evergauge, it:
– Increases visitor engagement by 55%
– Boosts conversion rates by 51%
– Improves the customer experience by 50%
– Positively impacts brand perception by 39%
The good news is that technology makes it easier to capture customer data and automatically provide a personalized customer experience.
For example, integrating apps like ReConvert with Personalized Product Recommendations lets you recommend products to visitors based on their browsing behavior, on the thank you page.
Email marketing also provides an excellent opportunity to deliver personalized experiences via abandoned cart emails, product recommendations, and birthday rewards.
On the non-technical front, there's a lot you can do to delight your customers with a personalized touch too.
For example, you can use customer's names when communicating with them or send them hand-written thank you notes.
That's what Richard Lazazzera from Finch Goods does. It's a small gesture that can have an enormous impact.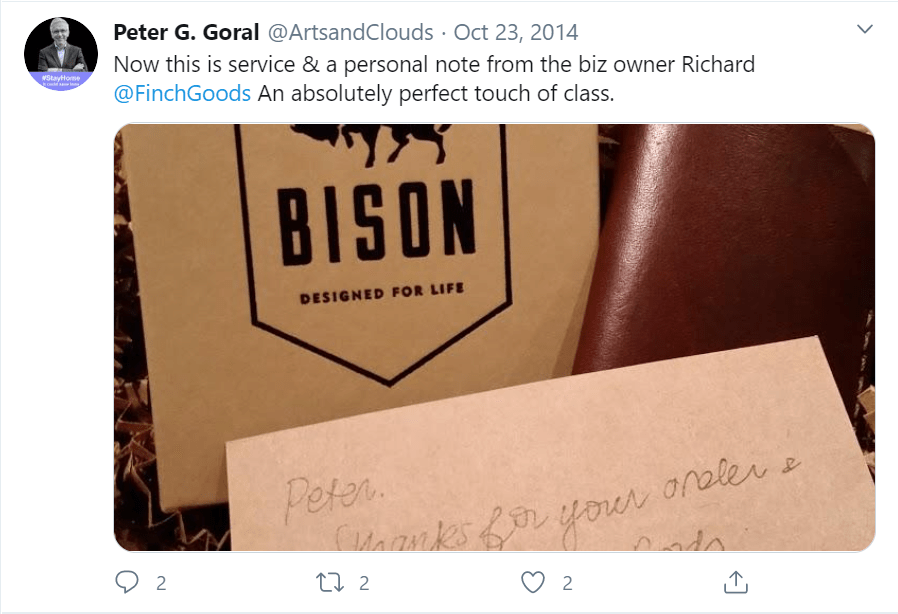 4. The Rise of Self-Help
If you want to learn how to bake bread, do you:
A) Call your local bakery and request a consultation with the head baker?
B) Google it?
If you're like most people, the internet has transformed you into a self-sufficient ninja who's confident you can figure out most things on your own.
And when it comes to customer support, 40% of modern customers now prefer self-service over human contact.
In eCommerce, self-service support typically takes the form of an FAQ page like this one from Shwood Eyewear: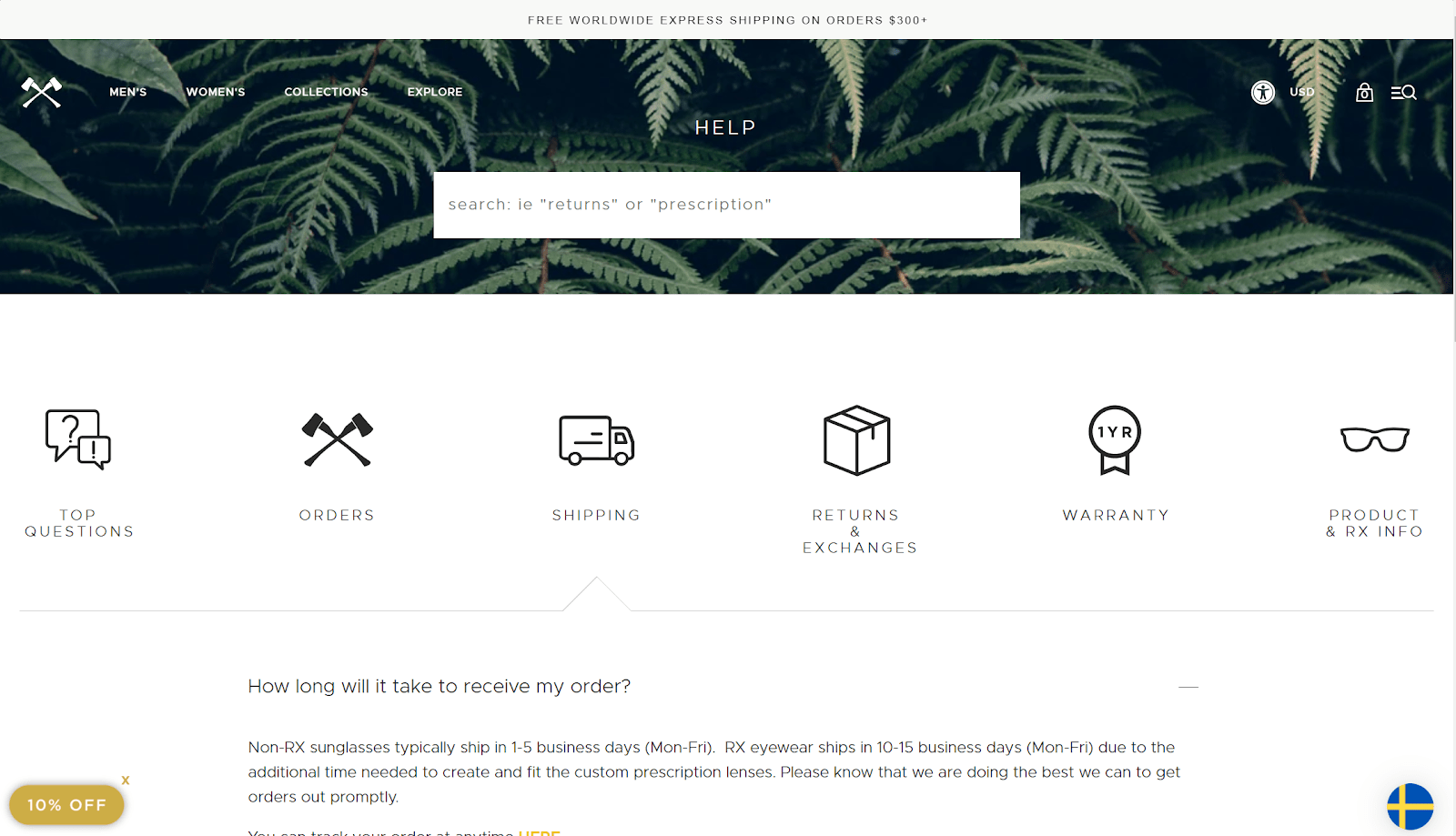 A useful FAQ page not only helps reduce the burden of support on your agents, but it also represents a valuable opportunity to convert more browsers into buyers. Here's how to ace it…
How to Optimize Your FAQ
– Answer the right questions: Scour your support tickets to find the most common questions your customers have.

– Keep answers brief: Customers don't want a fill of beautiful prose. They want answers. Make every word count.

– Link to relevant pages: Some answers may need more explanation; link to these on a separate page to keep things neat and tidy.

– Add search functionality: A search bar is a useful way to let customers zero in on the solution they're looking for in a matter of seconds.

– Use SEO friendly keywords: The right keywords can help your users find answers directly from google and attract free search traffic to your site.

– Update it every quarter: review your FAQ to ensure information is relevant once every three months.
Creating your FAQ section as a standard page on your web shop is a good start. But if you want to step things up and add more functionality (such as search), check out these awesome Shopify apps:
Remember, support agents can be scary for some folks. Crafting a masterful FAQ page lets your socially-averse and time-pressured browsers find the answers they need to become paying customers.
5. Live Streaming Becomes A Service Channel
Millennials, Gen X, and younger are going crazy over video content. And it's not just for entertainment; 96% of people say they've watched a video to learn more about a product or service.
As an eCommerce store, live video represents a fantastic opportunity to communicate with your customers in an exciting way.
You can support customers by hosting live Q&As or going live when you launch a new product to answer any customers may have.
Find ways to weave live streaming into your eCommerce customer service strategy and you'll start attracting customers by breaking down barriers, building relationships, and showing people that you're a company who cares about them.
👉Suggested reading: How to Build an Award-Winning eCommerce Customer Service Strategy
6. AI Will Continue To Expand (but not take over)
According to Servion Global Solutions, AI will power 95% of all customer interactions by 2025, including live telephone and online conversations.
What's more, 78% of brands say they have or are planning to implement AI to serve their customers better by the end of this year.
And indeed, many AI technologies are uber-powerful for eCommerce customer service; chatbots, intelligent call routing, language processing, data analytics, and more are all super useful.
There's no doubting that AI will increasingly help you automate time-intensive tasks, gather feedback, and scale your store's customer service without incurring huge costs.
But the thing is, right now, only 27% of consumers say that AI can deliver the same or better customer service than a human.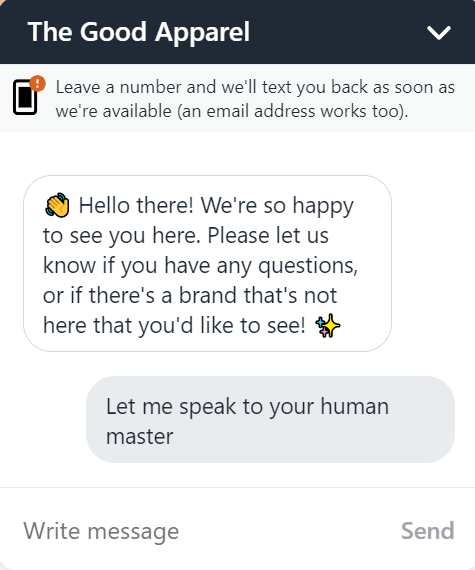 So, while the rise of the machines will continue and help increase your customer service efficiency, it's unlikely that the coming year will bear witness to the total annihilation of the warm-blooded customer support agent.
7. Customer Service Becomes Part of The Product Experience
Improving the customer experience has been one of the critical challenges faced by eCommerce companies over the last few years.
Today consumers seem to be turning their back on traditional consumerism. They're not buying less per se, but modern consumers increasingly need to feel that their purchases mean something.
As more folks become wise to the environmental impact of material consumption, shopping is becoming not about the products themselves, but the experiences you have with them.
For example, online store BestSelf has built its business around a productivity journal for entrepreneurs.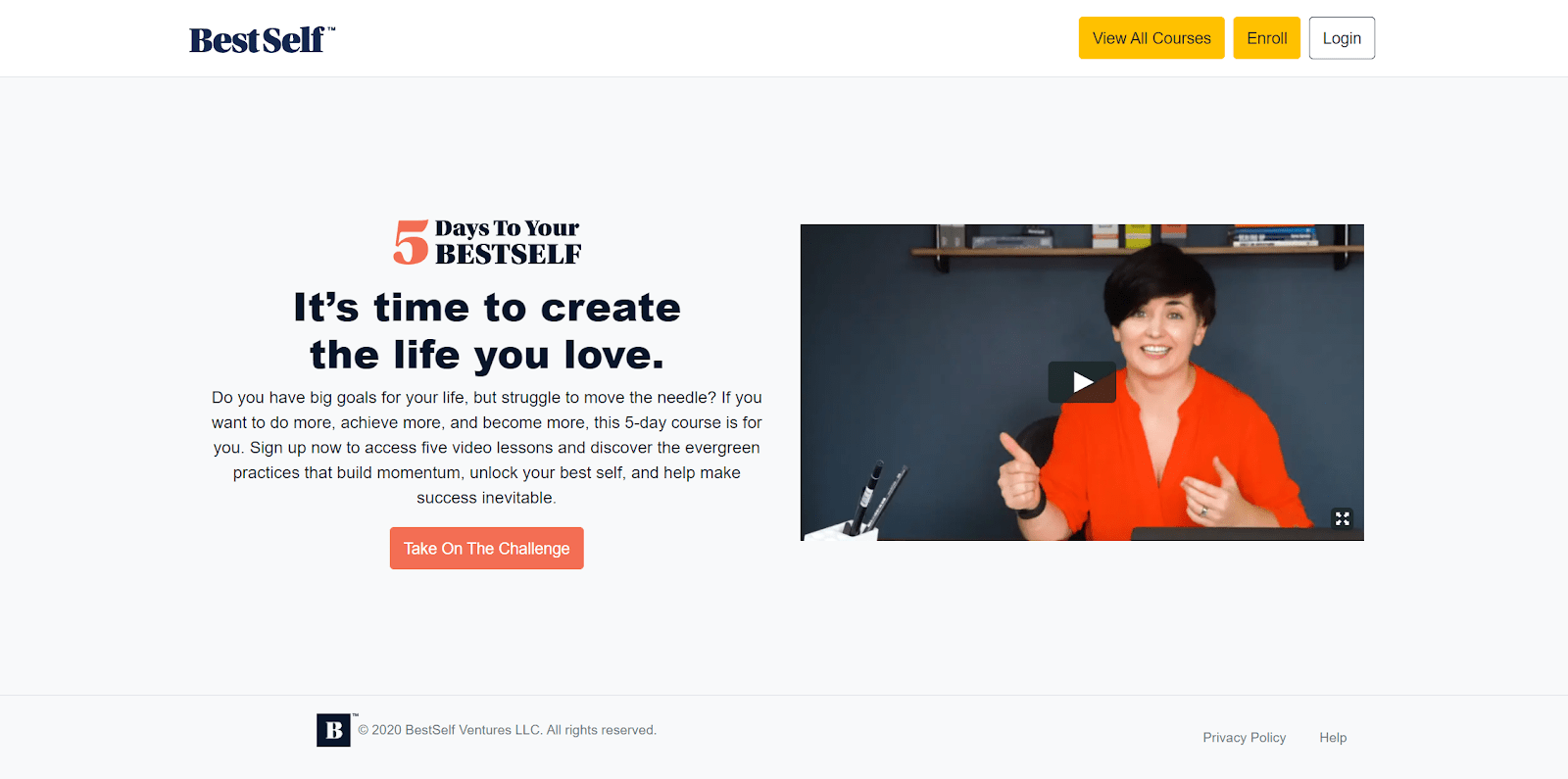 But customers aren't buying the journal for the sake of it. Instead, they're buying it because it can help them become more effective.
And how does BestSelf support their customers in reaching such goals? With online courses that help customers get the most out of their products.
Such courses illustrate how customer service trends are changing.
Instead of being primarily about selling items and resolving issues, customer support has become a substantial part of the product experience. A part that continues long after the sale has been made.
And if you can help customers become successful with your products via customer service, you'll build lasting relationships with them that'll pay dividends for life.
Customer Service Trends Wrap-up
Excellent customer service is no longer a nice-to-have for eCommerce stores. For the modern consumer, price and product aren't enough to win them over for good.
To stay on top of your customer service this year, you need to ensure that you:
– Provide support via social media
– Offer access to real-time support on your store
– Personalize customer interactions
– Help customers help themselves via self-service
– Use live streaming to answer questions
– Leverage AI to your advantage
– Always put the customer experience first
And that's a wrap! Now that you know what to do, all that's left to do is put it into action.
How will you implement these emerging customer service trends to set up your customers for long-term success? Did we miss any other key trends?
Let us know in the comments below! 👇😁