There's no denying that online shopping has revolutionized the world.
But if you've ever dealt with:
Receiving the wrong order
Lousy customer support
An unreasonable returns policy
You know that eCommerce is not without specific pain points.
And here's the thing…
As a merchant, these types of customer pain points cost you money – especially if left unchecked.
The good news?
Addressing such pain points isn't all that difficult when you know what you're dealing with.
By the end of this post, you'll know:
What a customer's pain point is.
The most common pain points that prevent shoppers from spending money.
How to quickly fix each pain point and take home more profit.
Sounds good? Let's jump in!
What is a Customer Pain Point?
Let's explain pain points with an analogy…
Ever enjoyed the crisp taste of a watermelon slice, only to have your hands covered in sticky watermelony-juice?
That sticky-hands feeling is a pain point.
In other words, it's a negative part of the experience that detracts from the rest.
And depending on your desire for watermelon, the thought of syrupy fingers may be enough to discourage you from picking up the watermelon in the first place.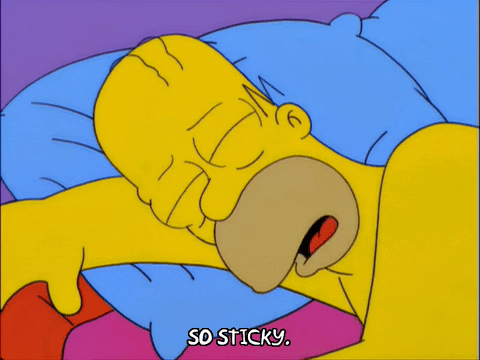 In eCommerce, there are plenty of comparable 'sticking points' (excuse the pun) that dissuade customers from buying.
For example, think about things like…
A tedious checkout flow
Badly organized collections
Missing information on product pages
A lack of payment options
Slow delivery times
All of these problems create pain points.
They're like little speed-bumps that introduce friction into your customer's journey.
And as you probably know, friction and conversions don't exactly see eye to eye.
4 Types of Customer Pain Point
Customer pain points come in all shapes and sizes.
But typically, they're categorized into four groups. These are:
Financial Pain Points: Your customers think your products are too expensive and want cheaper alternatives.
Support Pain Points: Your customers aren't getting the support they need at various stages of their buyer's journey.
Process Pain Points: The buying experience is overly complex. Customers can't find what they need and have to jump through hoops to get it.
Productivity Pain Points: Your products or shopping experience don't help your customers achieve their goals.
How to Find Your Customer's Pain Points
Customer pain points vary from business to business (and even from customer to customer).
To keep this article useful for everyone, we've focused on general pain points that most businesses can fix below.
But if you want to figure out and unpack the unique challenges your customers face, here's three places to start:
1. Talk to Customers in 'Real Life'
Chances are, if you're passionate about the industry you're operating in, you regularly encounter people who are your target customers.
Next time you chat with them, notice:
What topics get them fired up
The things they complain about
Their thoughts on your products
Shooting the breeze with your ideal buyers gives insight into the challenges they're facing and helps you think of solutions.
2. Become a Social Listener
Looking for a repository of your customer's woes?
Look no further than the posts and comments sections of social media platforms.
Seriously, the likes of Twitter, Instagram, Reddit, and Facebook are brimming with consumer angst.
For example, let's say you sell protein powder. Here's a rather amusing pain point I identified on Reddit: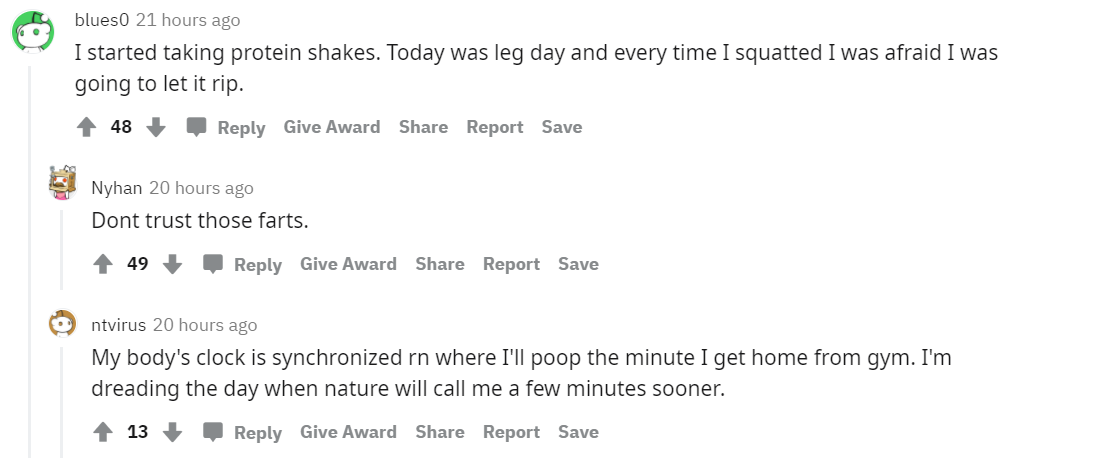 Judging by the r/fitness reactions, the company that solves this pain point with a flatulence-free protein shake will make a killing.
Use the same approach to find your customer's pain points; go where they hang out online and study the threads and comments sections.
3. Use Surveys, Metrics, and Analytics
Often, the best way to understand what grinds your customer's gears is just to ask them.
So hit them up with thank-you page surveys, email surveys, and social media polls and use them to identify specific pain points.
Here's a thank-you page survey I created using Shopify App ReConvert: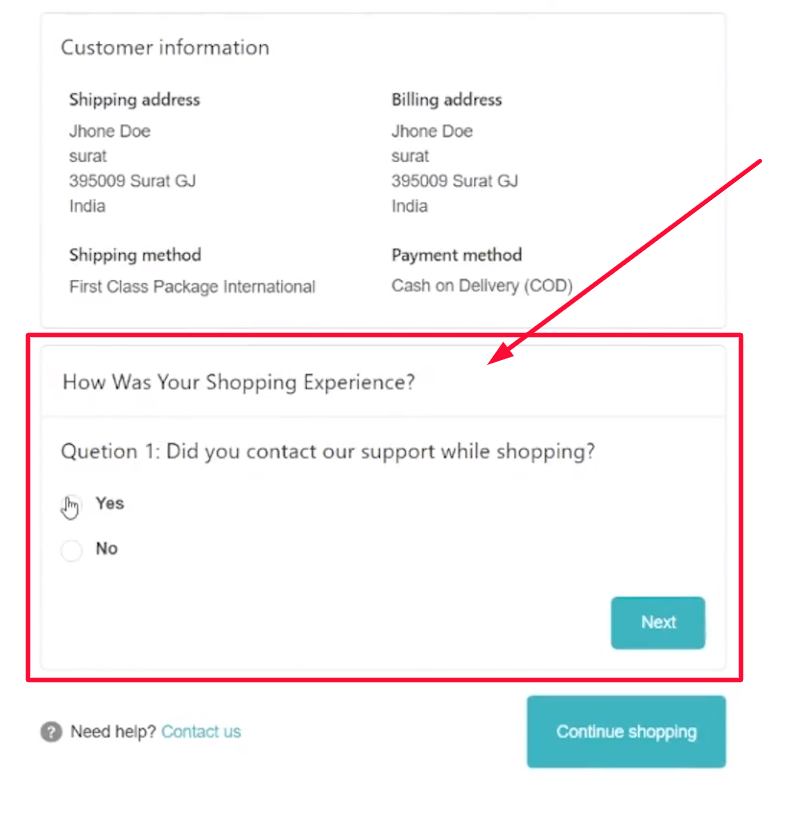 In addition, Google Analytics and data from your Shopify backend also come in handy here.
For example, if you see that customers are making it to checkout, but then abandoning their cart, a real pain point might be:
Shipping prices are too high
Your coupon code isn't working
Creating an account took too long
Lastly, track your customer satisfaction metrics as these will allow you to both identify and measure reductions in customer pain points over time.
The 6 Most Common Customer Pain Points in eCommerce
There are lots of things that can drive customers up the wall.
But the following seven pain points are the most irritating issues that crop up time and time again.
Fix them, ease your customer's pain and watch your profits pile up!
1. They Have to Wait For Pages to Load
Did you know that a slow-loading website causes a 33% increase in stress levels?
That's roughly the same as taking an important test or watching a horror movie. Alone.
But a slow-loading website doesn't just stress your customers. It stresses your bottom line too.
According to Akamai, a mere 0.01s delay in page response time can cut conversion rates by a whopping 7%. Yikes.
What's more, Google showed that 95% of mobile users to a fast website said they would come back again, compared to only 62% for a slow site.
Basically, a slow site is terrible news.
But the good news is that, despite the benefits of a zippy site, most merchants (read: your competitors) don't take it seriously enough.
The average US eCom store's load time on mobile stands at a sluggish 6.3 seconds.
The implication? The low bar across the board means the rewards are ripe for the picking!
👉 Solution: Use Google's Page Speed Insights tool to identify any site speed issues for your store. Hire a Shopify developer on Upwork or Fiverr to fix the problems and make your store lightning fast.
2. Checking Out Contains Surprises (or takes too long)
The number one reason that shoppers abandon their order is because of 'unexpected charges' at checkout.
And let's be honest, from a shopper's perspective, it's easy to see why.
They've agreed to pay one price for a product, and then all of a sudden, that price jumps when tax and shipping are added.
Not fun.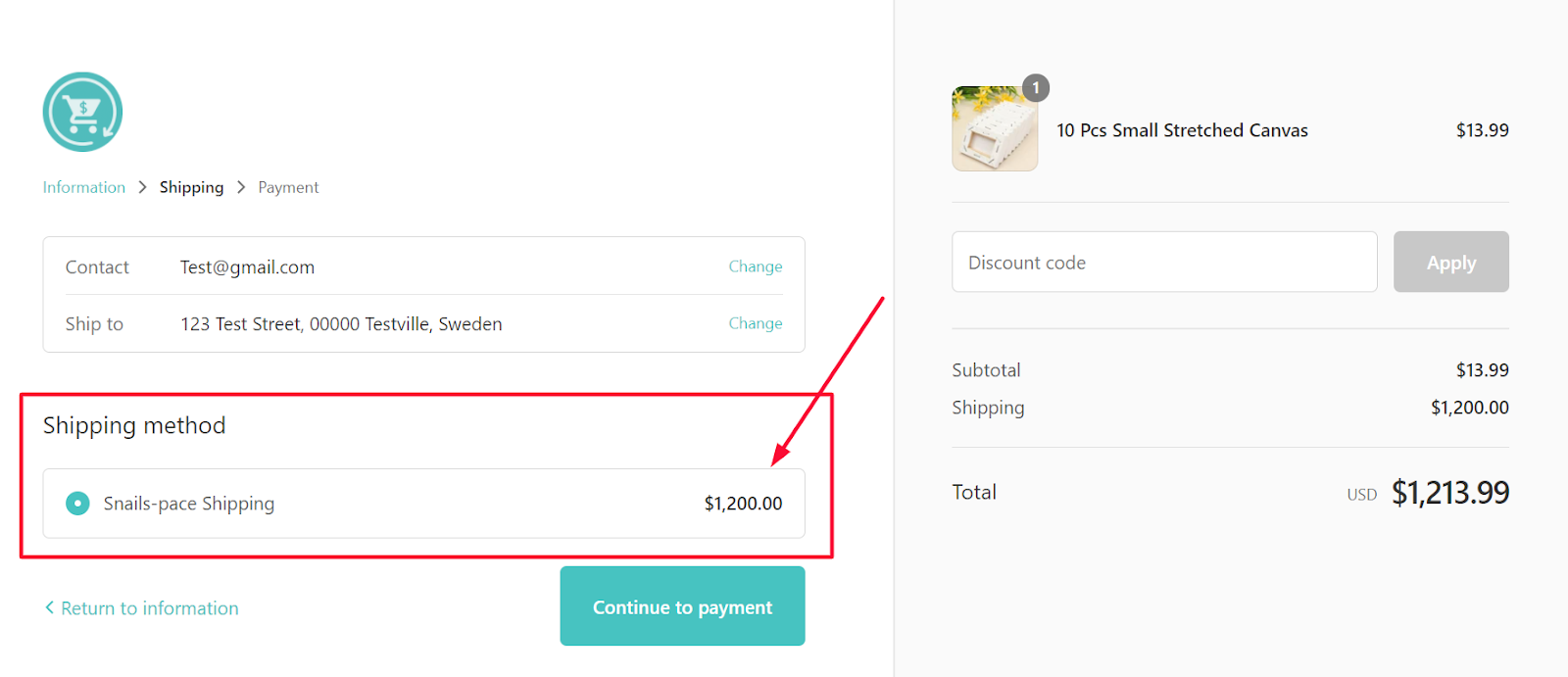 But unexpected charges aren't the only check-out-related pain point.
According to the folks at Baymard, other things that throw a spanner in the works are:
Requiring customers to make an account
Asking for details that aren't necessary to fulfill their order
Making shoppers fill in the same information more than once
Having a checkout that looks untrustworthy
Offering too few payment options
A terrible returns policy
All of these pain points create cumulative friction that can tank your conversion rates and demolish your revenue.
👉 Solution: Always show the total price customers will pay upfront. Alternatively, build shipping into the retail price and offer free shipping. Then, focus on streamlining your checkout flow by eliminating each stumbling block above.
3. They Can't Find the Info They Need
Customers need information to buy stuff.
If you're making it hard for them to figure out things like…
What size, weight, etc. your products are
What problems your products solve
How long delivery takes
How to return an unwanted item
…you can be sure lots of them are parking their purchase out of a sense of uncertainty.
And with 81% of shoppers researching their product online before purchasing, you can't afford to have any information gaps in the buyer's journey.
For example, one of the biggest pain points for buying clothes online is knowing if they'll fit nicely.
Fashion retailer, Zara, understands this.
They've created a tool based on millions of data points that helps customers choose the right size.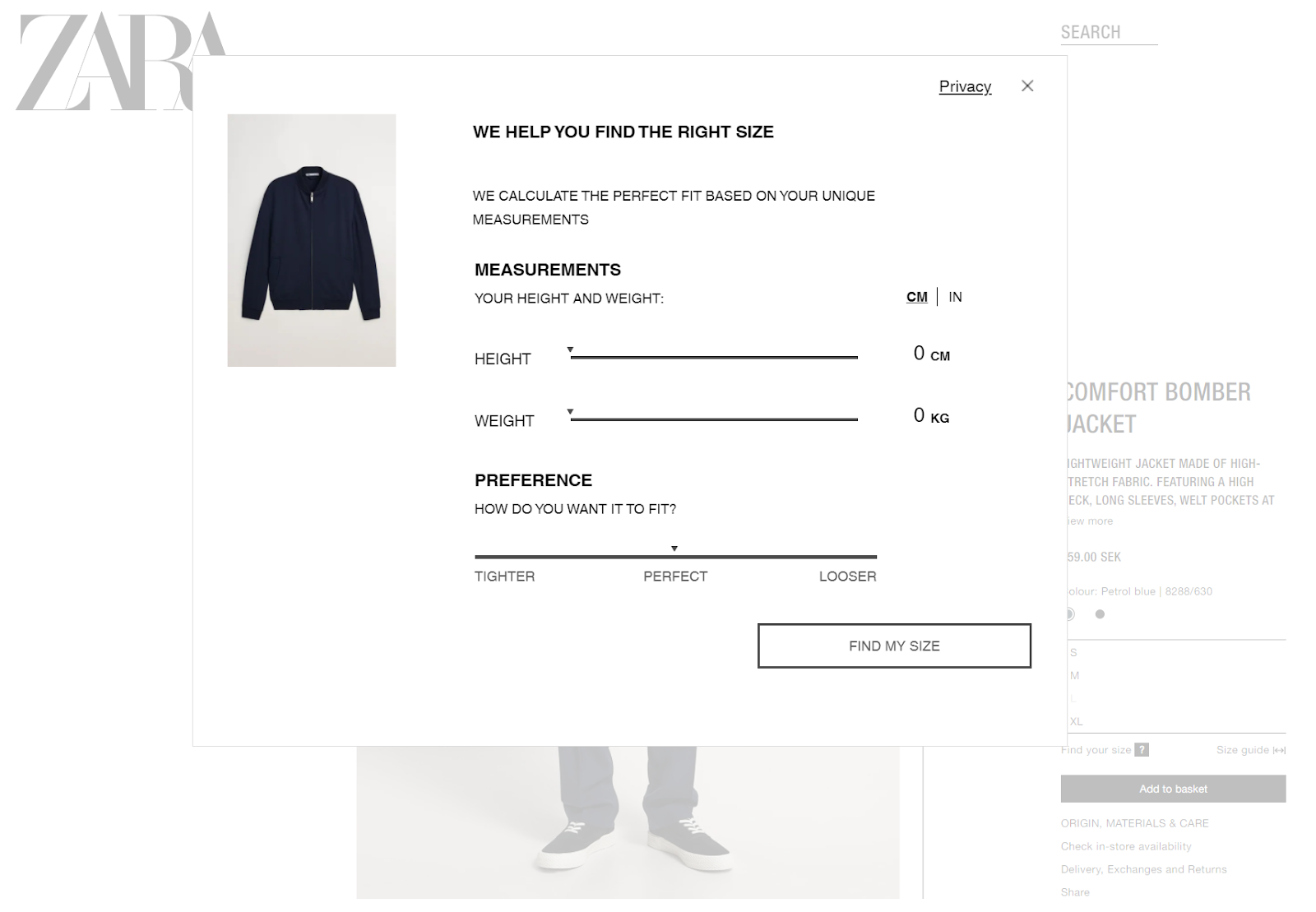 Now, you don't need to go to such extremes.
But think about ways you can help your customers get the information they need to make a confident purchasing decision.
👉 Solution: Scour your helpdesk and make a list of the most common customer queries. Use these to create info-packed resources for customers (FAQ section, blogs, gifs, videos, etc.). Make it easy to find critical information on your store's pages.
4. They Can't Reach Your Customer Service
If you've ever done battle with slow customer service, then you know how frustrating it can be.
And the thing is, customers who are trying to get in touch are already cheesed off.
So, asking them to 'please hold' while you blare a tinny rendition of Mozart's piano concerto down the phone or ghost their emails is a recipe for disaster.
Is there real damage, though? Yes.
A whopping 56% of people have stopped doing business with a company thanks to a sub-par customer service experience.
What's more, the average American tells 15 people when they've had a poor customer service experience.
So, for every unsatisfied customer, you'll have a soccer team plus four subs worth of folks who view your business in a dim light.
But thankfully, it works both ways.
If you flip the script and provide stand-out service, word of your incredible brand spreads like wildfire.
Lastly, a similarly annoying problem from a customer perspective is when there's no consistency across various support channels.
If customers send you an Instagram DM and push them to your email, they shouldn't have to start from scratch.
To solve this, it's best to streamline all support channels into a single helpdesk. You can do this with software like Gorgias and DelightChat.
👉 Solution: Figure out the channels (phone, email, live chat, or social media) that customers want to use and allocate resources appropriately. Determine if your current response times are enough to keep your customer happy, campers. If you can't manage it yourself, hire a Shopify virtual assistant to ease the burden.
5. Unintuitive Store Design
The whole attraction of online shopping is convenience.
So if your store looks like this…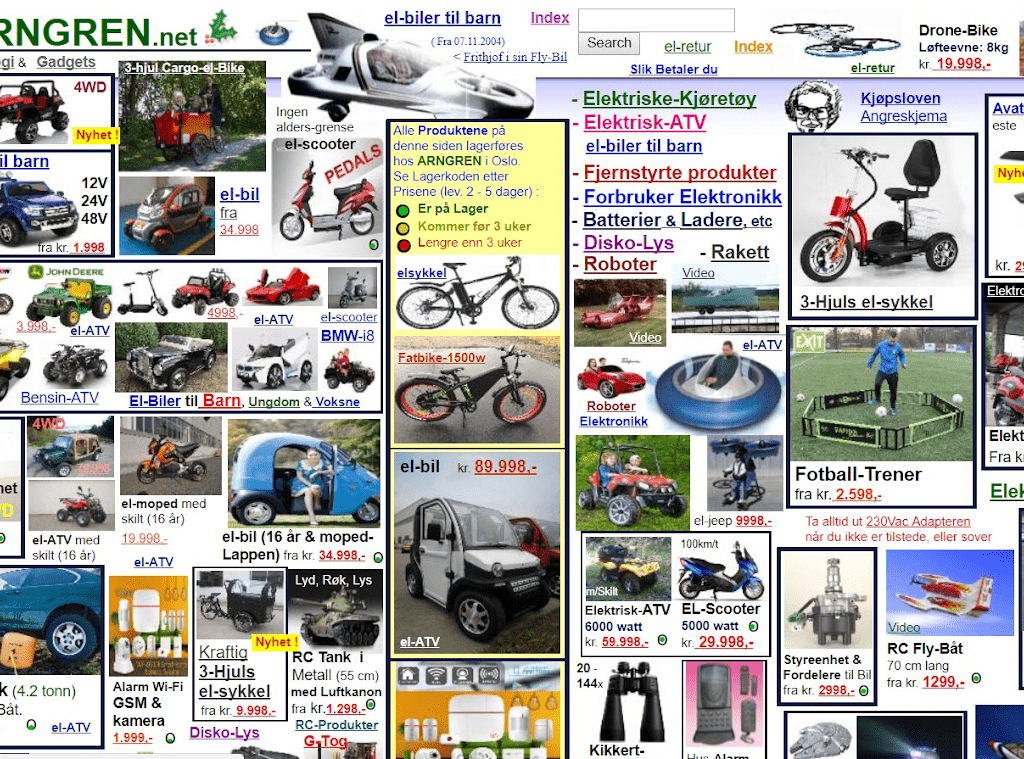 …you can bet your bottom dollar customers are running a mile when they land on your site.
See, modern customers expect an intuitive shopping experience that lays everything out in plain sight.
They need to be able to navigate through your store with ease.
So to make sure you're maximizing conversions, ask:
Can my best-selling items be found easily?
How easy is it to browse various collections?
Are my menus organized in a way that makes logical sense?
Do any pages have a high bounce rate? (i.e., pages where customers just click away after landing)
Is there a general consistency in my store design? (image sizes, fonts, colors, etc.)
Answering such questions will help you figure out where you need to improve.
👉 Solution: Anticipate the browsing and search habits of your customers and design your store accordingly. Also, add a functioning search bar. Using Apps like Hotjar can help you visualize how customers interact with your pages.
Go Forth & Solve Your Customer's Pain Points!
When you boil it down, humans spend money trying to achieve one of two goals: increase happiness and reduce pain.
If you take the time to unpack the specific challenges your customers face, you'll alleviate their pain and enjoy glorious profits.
Hopefully, this post has shown you how to figure out your customers' pain points and shed light on the most common conversion-scuttling issues with ecommerce sites.
While the solutions offered above are a great start, remember that nobody knows your customer's better than you.
You're like a human pain-killer who's in a unique position to unpack and solve the challenges they face.
So, use the steps in this article to start your pain-reducing effort, develop creative solutions, and keep your customers returning to a shopping experience your competitors can only dream of.
Now over to you! Do you know your customer's pain points? Did we leave any common pain points out? Let us know in the comments below!