EasyCall is all about providing you a click to call widget to allow customers to start a web-based call with you from any page on your website. We believe this is the future of voice calls- border-free, and country free.
But you asked, and we are here to provide- so we're introducing EasyCall phone numbers!
From now on, you can use the app to not only create a beautiful click to call widget on your website, but also buy a business phone number and receive calls through it.
In this article, I will take you through the process of buying a phone number with EasyCall, and talk about what you can do with it that you might not be able to do with a website widget.
Why Should You Buy a Phone Number for Your Business?
The simple answer is- it's another communication channel for your leads and customers, and you should be available for them on whatever channel they feel most comfortable.
Some customers would love a web-based click to call widget that allows them to reach you fast and with little hassle, but others would feel more comfortable picking up the phone.
But a phone number is not just another communication channel, it's also an important generator of trust.
Having an available phone number, rather than a personal mobile number, makes your business seem more legitimate and trustworthy- it shows that you are not hiding behind anonymous messaging platforms (which are amazing, and a must-have channel, they just can't be the only channel).
And lastly, a phone call provides you with your customer's phone number so that you can call them back- something that an anonymous click to call widget tends to lack on.
The big advantage of buying your phone number through EasyCall is that calls from your numbers and widgets all flow through a central dashboard. You can consolidate calls from these sources to a single flow, or separate it with different operating hours and call forwarding as needed.
How to Buy a Phone Number With EasyCall
Buying a phone number with EasyCall is a simple process that you can finish in a minute or less.
To start the process, navigate to the Phone numbers page in the EasyCall dashboard.
In the Phone numbers page, click Add Number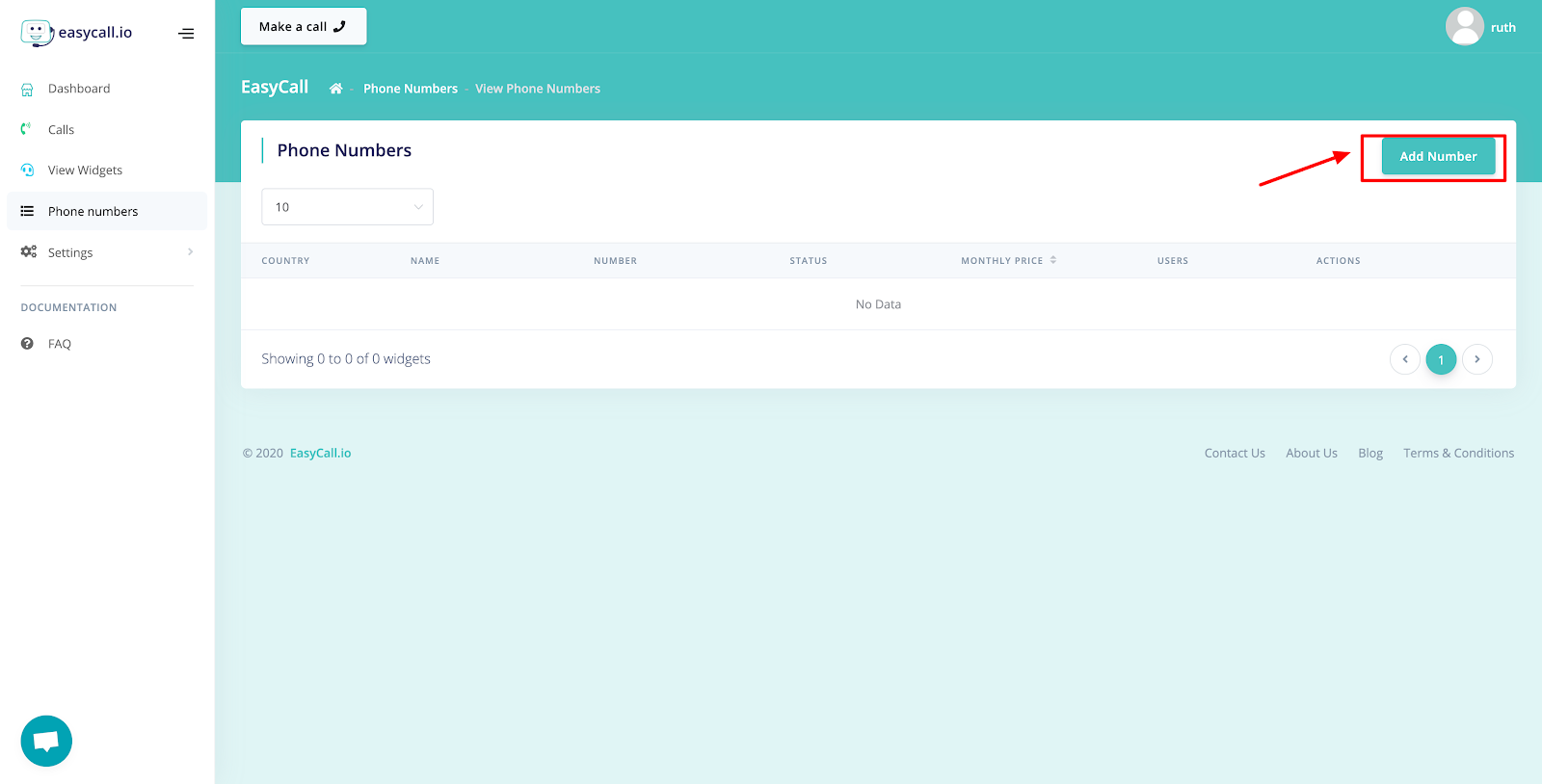 In the Create Number page, select your country and State/Province (only relevant to the US and Canada), and click Find Number

A number will be generated with the settings you selected, and the monthly cost for this number- this cost will be added to your monthly plan, and any calls made through this number will be billed according to your plan
To change the number generated, you can click Refresh
Click Next
In the Operating Hours page, you will set your operating hours and voicemail:

Under operating hours, select one of the options:

Always
Specific times
When I'm connected

Under the voicemail settings, select one of the following:

Upload an mp3 file- to upload a voicemail recording
Voice transcript- to use EasyCall's automatic transcription service

Click Next
In the Call Forwarding page, you can select 1 of 2 options to receive calls through:

Push notification- subscribe to push notifications through your browser
Phone number- connect your personal number to receive calls to your phone
You can also leave this blank to receive calls only on the dashboard
Click Next
In the Activate page, enter a name for your number, review the settings, and click Next
You will be redirected to the Phone Numbers page and be able to view and edit your number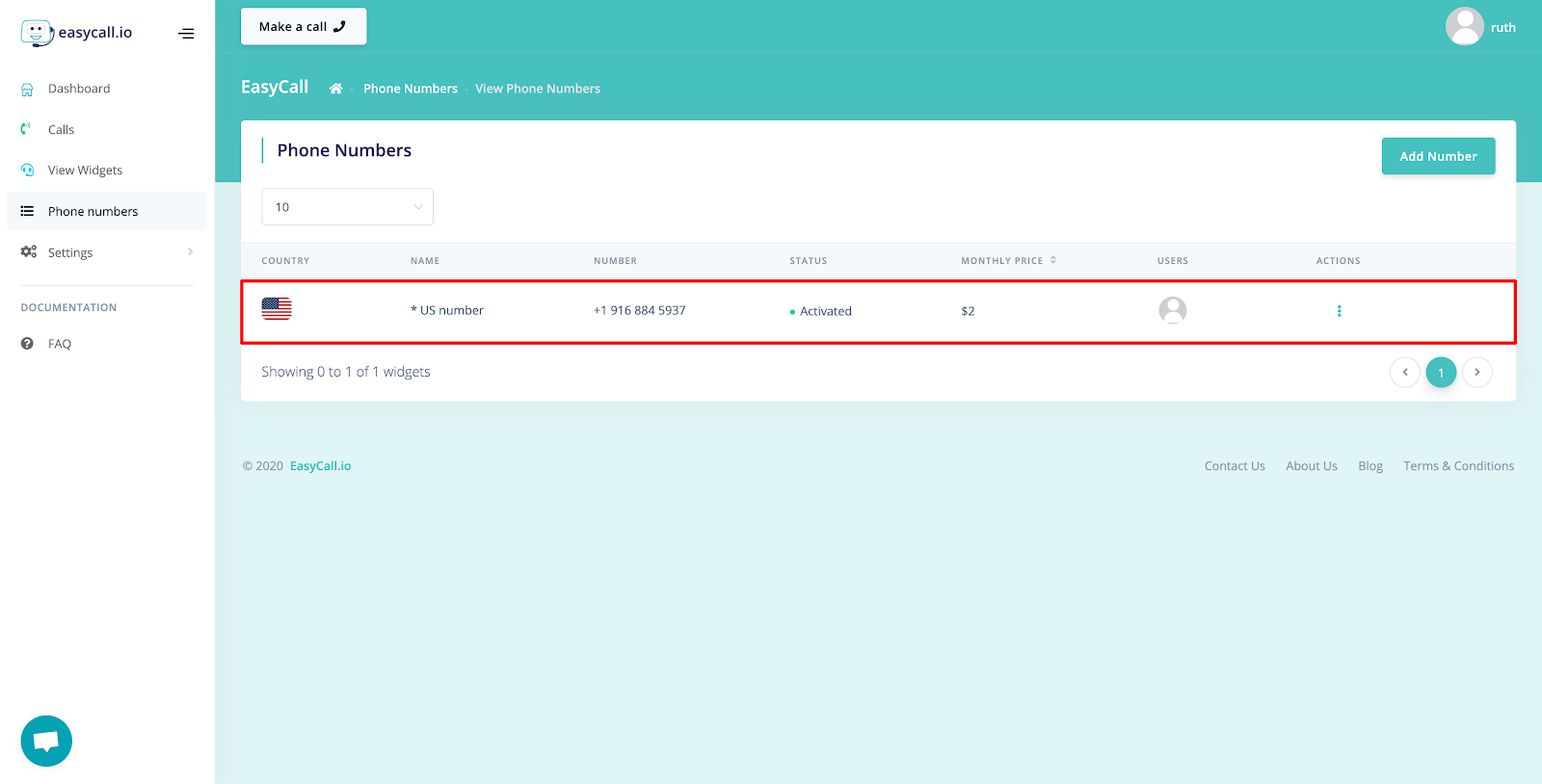 Done! You can now receive calls to this number, and make outbound calls from it. Learn how to make outgoing calls.