Choosing the best eCommerce CMS for your business can be tricky.
You want a solution that empowers you to develop the store you want, scale quickly and adapt to the latest consumer trends.
But with so many eCommerce CMS options on the market, paralysis by analysis is an all too common feeling for most entrepreneurs.
Thankfully, that ends here.
In this article, we'll break down:
What an eCommerce CMS is
Reasons why you should consider a separate eCommerce CMS
What to look for in a quality eCommerce CMS
The eight best eCommerce CMS solutions out there
So, whether you're just starting your store or running an established eCommerce brand, this article will show you how to choose the best CMS solution for your business.
Let's not waste any time!
What is an eCommerce CMS?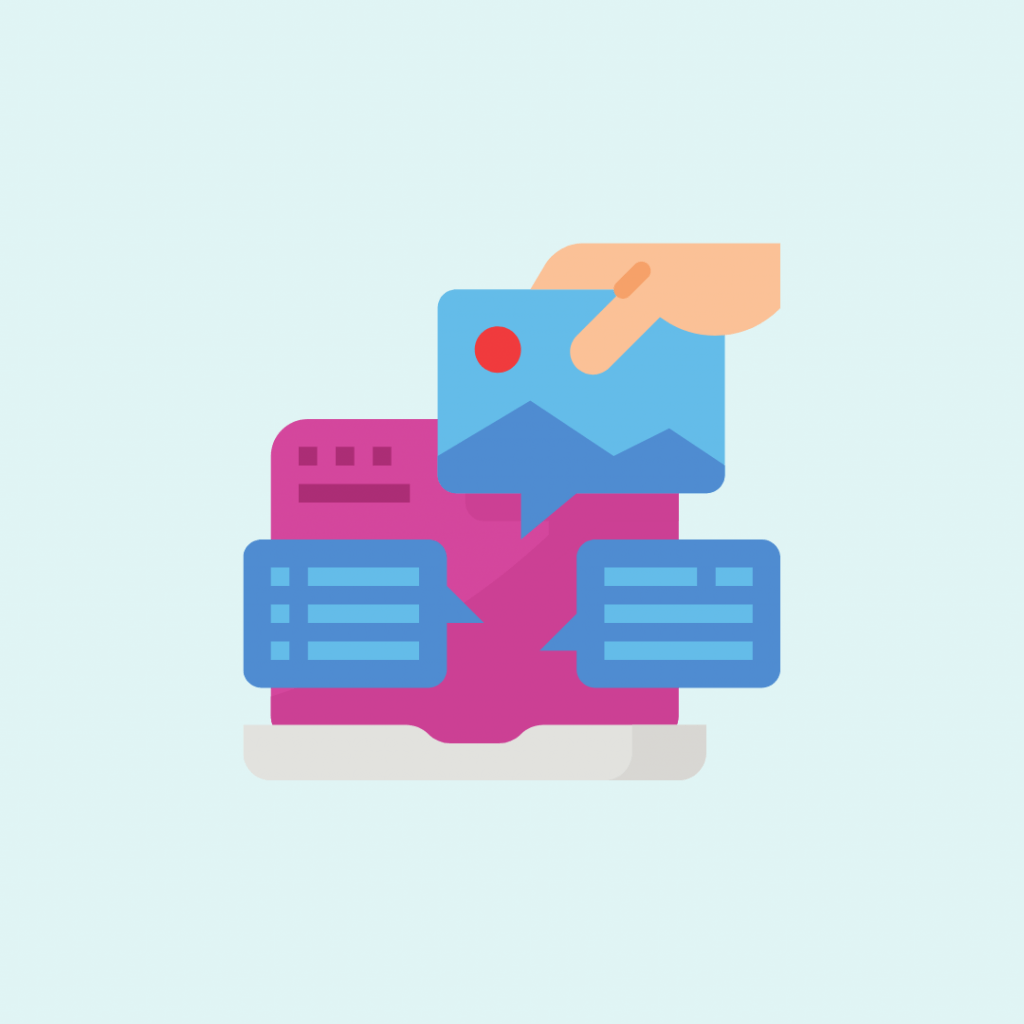 An eCommerce content management system (abbreviated to CMS) is software that allows merchants to easily create, publish and manage content without having to wrangle with code.
An eCommerce CMS will also allow you to change your store's look and feel, edit the layout, and add elements like promo banners on the fly.
When looking at eCommerce CMS software, you'll see that each solution falls into one of two categories: SaaS and Open Source.
Let's look at each eCommerce CMS model in more detail:
SaaS eCommerce CMS
A SaaS solution is a cloud-based service that doesn't need a separate server. You pay a subscription fee to access the software.
The good thing about SaaS is that you don't have to host, maintain or update the software – that's all handled by the provider.
Plus, most SaaS companies will have on-demand customer service to help you fix things when problems arise.
Some of the best-known SaaS CMS for eCommerce are Shopify, BigCommerce, Squarespace, and Volusion.
Open Source eCommerce CMS
Unlike SaaS solutions, open-source eCommerce software is self-hosted.
This means you'll be responsible for maintaining the server, installing updates, and more.
On the plus side, open-source software is often free to download and gives you complete control over your website's functionality.
Some of the best-known examples of open source eCom solutions are Magneto, WooCommerce, OpenCart.
Do You Need a Separate CMS in eCommerce?
The idea of using a separate eCommerce CMS may never have even crossed your mind until now.
So, it's essential to consider why investing in a new CMS system may (or may not) be a smart move for your business.
Ultimately, the decision comes down to how much you want content to be a part of your marketing strategy.
Obviously, eCom brands that focus on using content to drive sales and create new content regularly will benefit more from using a dedicated CMS.
However, if your store runs on paid traffic and doesn't need so many real-time content updates, then you can probably get by without a separate CMS.
That said, let's look at the benefits a quality CMS provides:
1. Painless Content Management
If you get anxious every time you need to edit something on your site, a quality CMS can help ease your frazzled nerves.
One of the main advantages of modern CMS solutions is that they're effortless to use and don't require advanced skills to operate.
This means you can manage all of your content updates on your own – from building landing pages to publishing blog posts.
Plus, you'll be able to keep all of your content assets organized in one place and accessible whenever you need them.
2. Minimal Back and Forth With Developers
Black Friday coming up, but your homepage is looking a mess? Great eCom brands know that moving fast is vital when it comes to pulling off record sales.
But your ability to edit your site's content quickly can be hampered when going through a middleman developer.
A quality CMS allows you to slash development time and easily make edits on the fly as they're needed.
Plus, you'll also save a large chunk of cash from your development budget to spend on other marketing campaigns – growth where we come!
3. Build a Collaborative Team of Content Marketers
Building an impressive content marketing campaign quickly involves lots of moving parts.
When writers, editors, designers, photographers, and marketers are all on the same page, you'll be able to streamline the production of targeted content at scale.
A great CMS facilitates collaboration and teamwork that will help you get better results faster.
What to Look For in an eCommerce CMS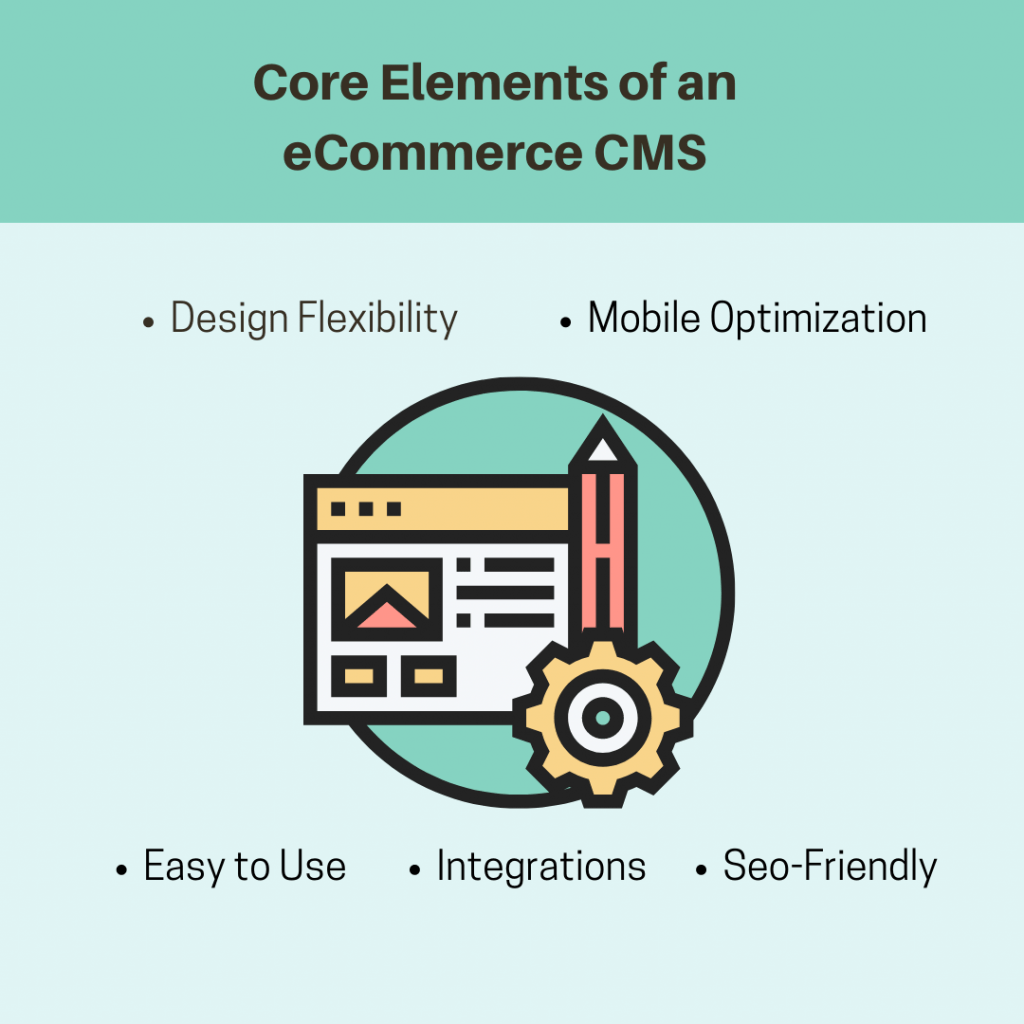 So, what should you look for when choosing an eCommerce CMS?
Well, with so many solutions on offer, it's easy to get bogged down comparing the more trivial differences between competing platforms.
A wiser move is to create a shortlist of CMS solutions that offer the following core features and then weigh up the benefits and drawbacks of each:
1. SEO-Optimization
As you may know, SEO can get pretty technical.
So, if you're not an SEO-guru, having an SEO-friendly CMS is an absolute must for driving organic traffic to your site.
Keep your eyes peeled for a CMS that offers the ability to add your keywords to:
Meta Title & Meta Description
Headings (H1,H2,H3, etc.)
Image Alt text
Page URLs
Also, you'll want a CMS that provides a high level of security (SSL is a must) plus rapid page loading times to stand the best chance of ranking in Google.
2. A Killer User Experience (UX)
Contemporary shoppers have sky-high expectations.
If your site's UX sucks, then would-be customers will high-tail it out of your store faster than greased lightning.
So, when choosing a CMS, make sure it delivers a smooth user experience. Seriously the importance of UX in eCommerce can't be overstated.
Specifically, the following features are non-negotiable:
a) Mobile Optimization
More folks are shopping on mobile devices than ever before.
Seriously, by the end of this year, mobile is expected to make up 55% of total sales.
So, whatever you do, ensure that your CMS adapts seamlessly to mobile devices.
Pay particular attention to things like page speed, mobile navigation, mobile design, and mobile checkout so you can ride the wave of mobile commerce all the way to profit-city.
b) Design Flexibility
Good design features are crucial to show your products in the best light and deliver a memorable shopping experience.
Your customers will have unique needs at each touchpoint along the buyer's journey – an initiative design interface empowers you to keep pace with industry trends and quickly modify your store for special occasions and promotional campaigns.
If you've got limited coding experience, an easy-to-use drag-and-drop builder and proven design templates are especially critical.
3. Integrations Galore
Every CMS will have its limitations, and it's unlikely you'll find one that'll meet all of your needs.
However, a CMS that integrates with a wide range of apps (with particular emphasis on your existing tool-kit) allows you to add functionality from third-party providers.
For example, let's say you want to add live voice support to your store so customers can instantly get help – No CMS we're aware of offers this feature – however, Shopify integrates with the EasyCall App to get set up in a couple of clicks.
Remember, even if a CMS appears to have everything you want, don't rule out the possibility that you'll need additional functionality in the future via third-party apps and integrations.
4. Simple to Use
As an eCommerce entrepreneur, you've got to keep many plates spinning at the same time.
So, the last thing you need is a steep CMS learning curve to eat up your precious time. Seek out solutions that you can use from the get-go, take minimal effort to set-up and come with a wealth of helpful resources.
No matter if it's formatting blog posts, changing page layout, testing new strategies, or installing plugins, you want a solution that empowers you to do more (not less), regardless of your technical ability.
Eight of the Best CMS for eCommerce Stores
Ok, now that you know what you're looking for, let's quickly examine 8 of the best options for your eCommerce CMS.
Of course, there are many more options to choose from, but this list is a fantastic place to start your search:
1. Shopify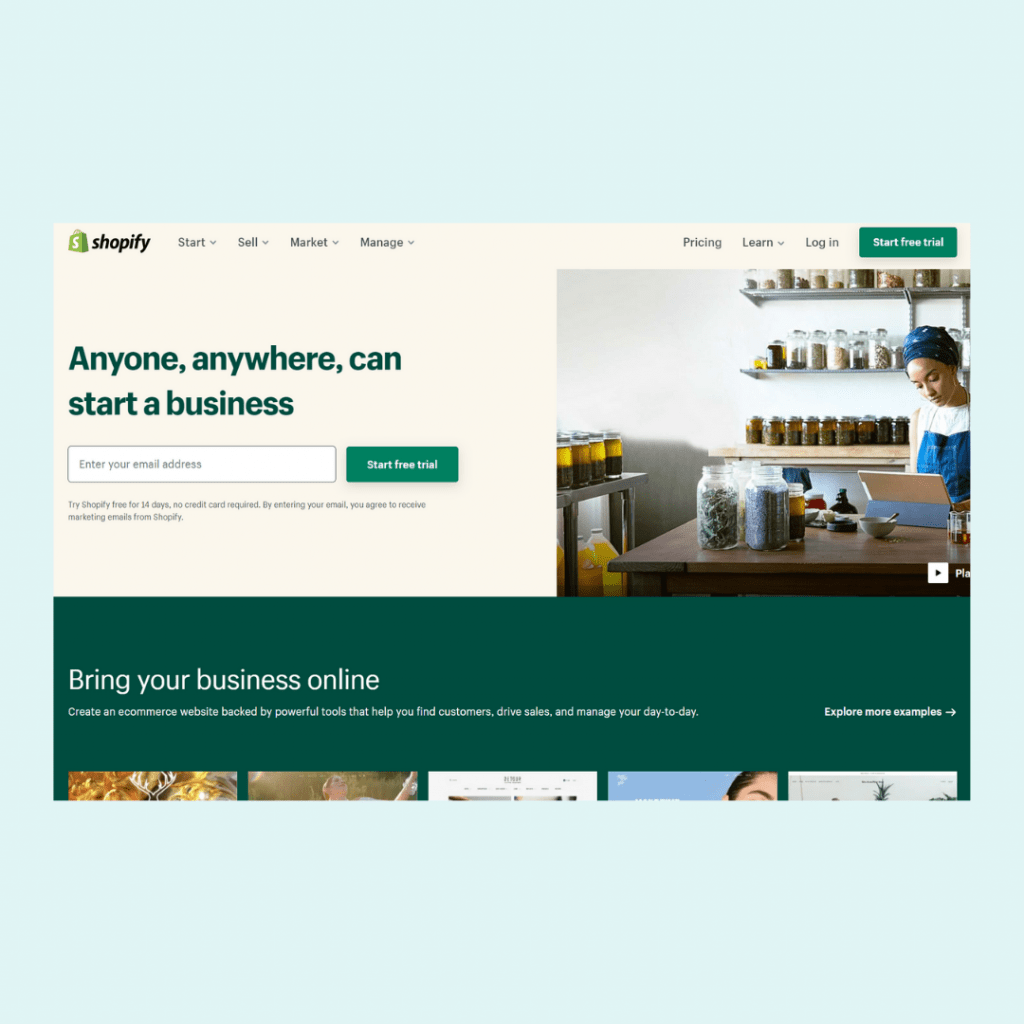 Affordable pricing combined with a super user-friendly interface has made Shopify one of the most popular eCommerce platforms on the block.
For smaller businesses and solopreneurs, Shopify makes it dead easy to take your business online with free themes, a wide array of app integrations, and 24/7 support.
That said, for larger brands, Shopify's CMS may disappoint. Depending on your goals, the platform may not be flexible enough to bring your ideas to life.
2. BigCommerce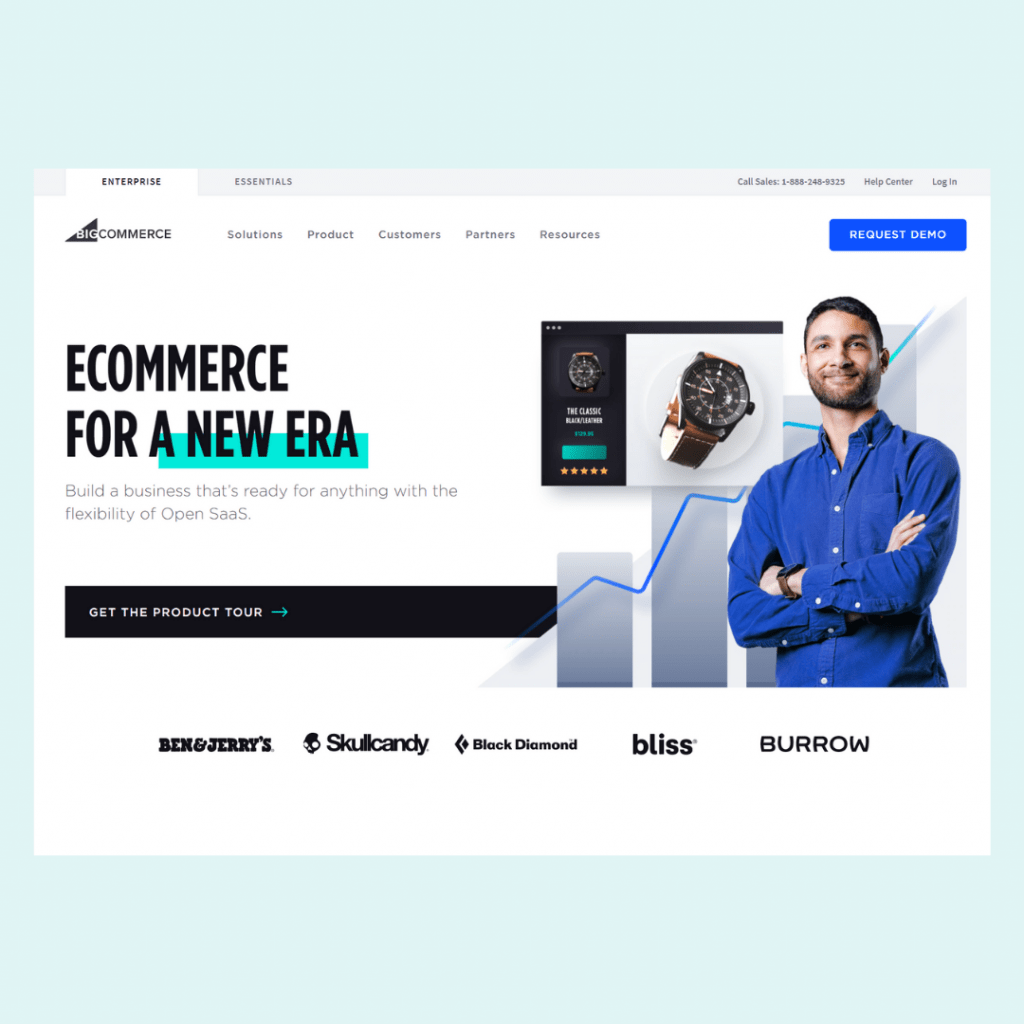 With BigCommerce, you'll be joining the ranks of brands like Toyota and Ben & Jerry's, who've been on the platform for years.
BigCommerce's strengths lie in its advanced SEO integration and flexible APIs, which allow merchants to connect to other CMS solutions while deploying the BigCommerce shopping cart in the backend.
On the flip side, BigCommerce will set-you back more cash than most of the other solutions listed here.
3. WordPress (WooCommerce)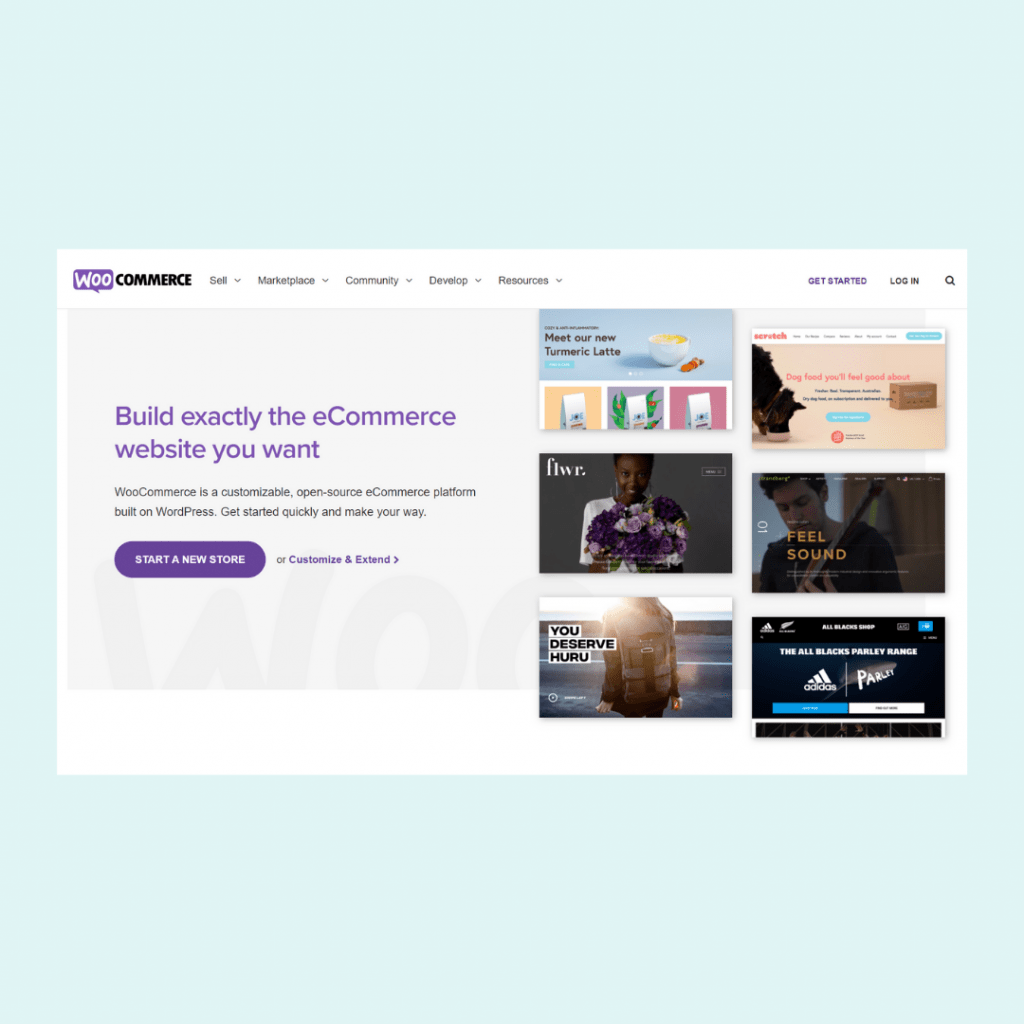 WordPress is the largest CMS platform in the world. However, it isn't an eCommerce platform by default.
To transform your WordPress site into an online store, you'll need to use the free WooCommerce plugin.
WooCommerce is popular because of its gigantic selection of themes and extensions, most of which are available for free.
These plugins can add incredible functionality to your site at the touch of a button (but be warned, adding too many can harm your site's performance and security)
Plus, the open-source nature of WooCommerce means that you can customize it to exact specifications, too – you're not limited by a third-party provider (note: you'll need a development budget or technical knowledge for this).
As touched on above, the downside is that if something goes wrong, support for plugins can be hard to find, and you'll also have to manage the hosting yourself.
4. OpenCart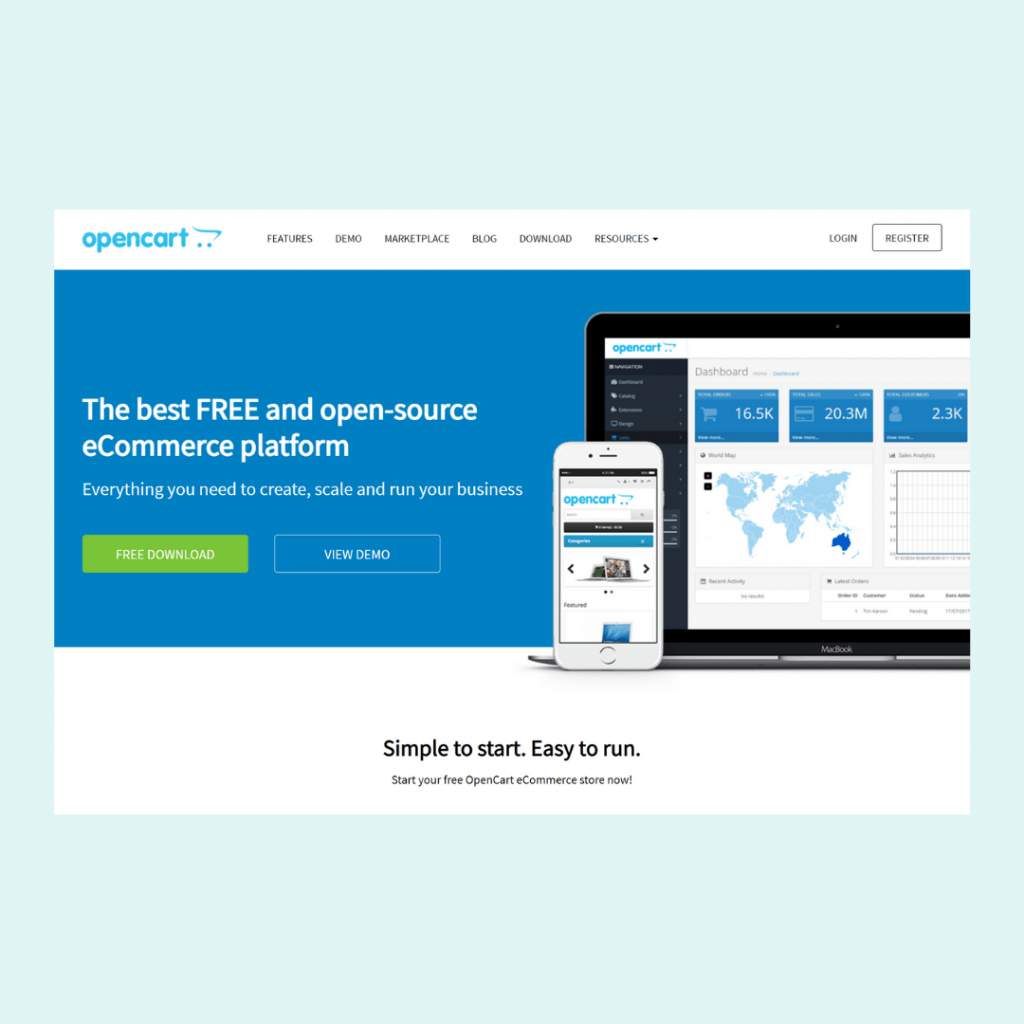 OpenCart is a free eCommerce CMS that offers a collection of well-designed templates for speedy set-up.
OpenCart also has a decent collection of plugins that add a degree of extra functionality to your website. Plus, the platform integrates with 25+ payment gateways and several shipping platforms too.
As a solid open-source eCommerce CMS with no monthly fees, OpenCart is a popular choice among those on a tight budget.
5. Sitecore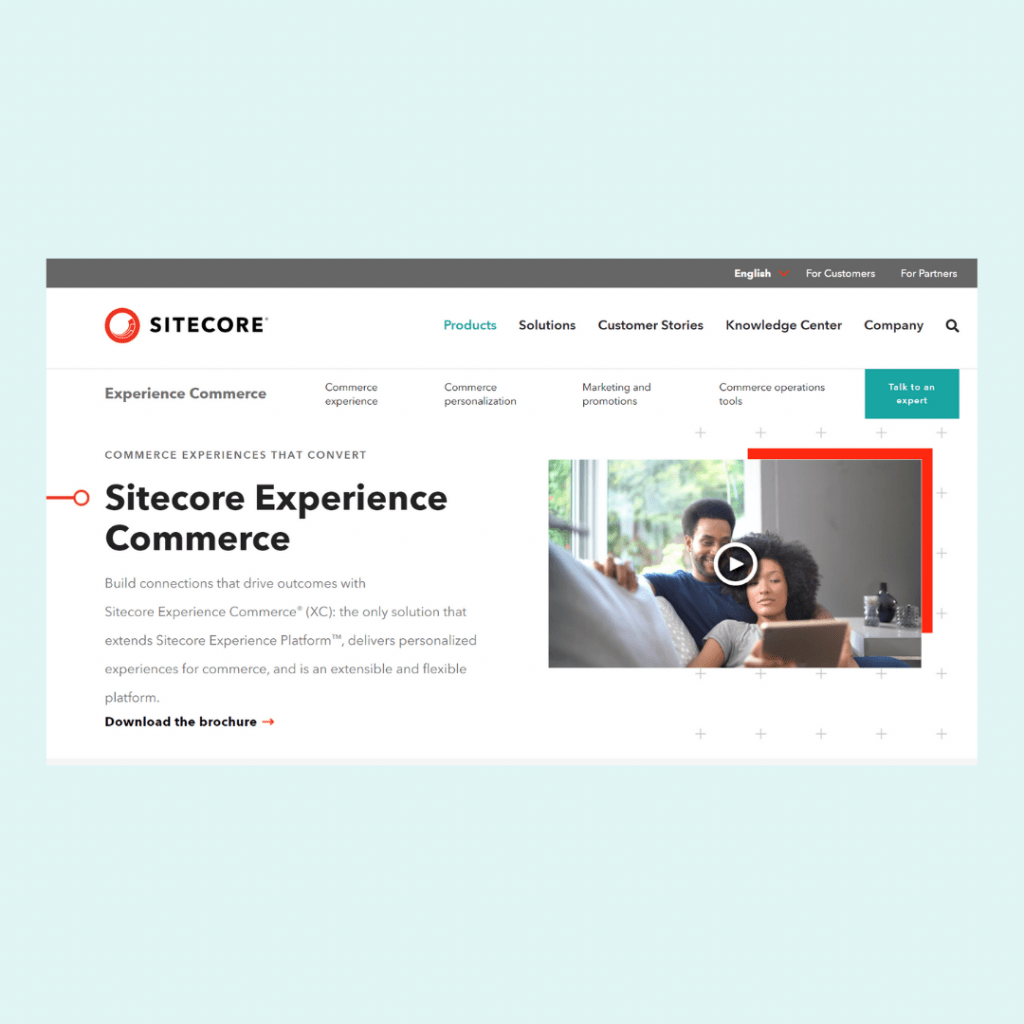 Sitecore is one of the best platforms that combines eCommerce, content management, personalization, and marketing automation with editing and design tools.
The platform empowers you to create memorable shopping experiences and deliver personalized eCommerce journeys to boost conversion rates and increase retention.
6. Magento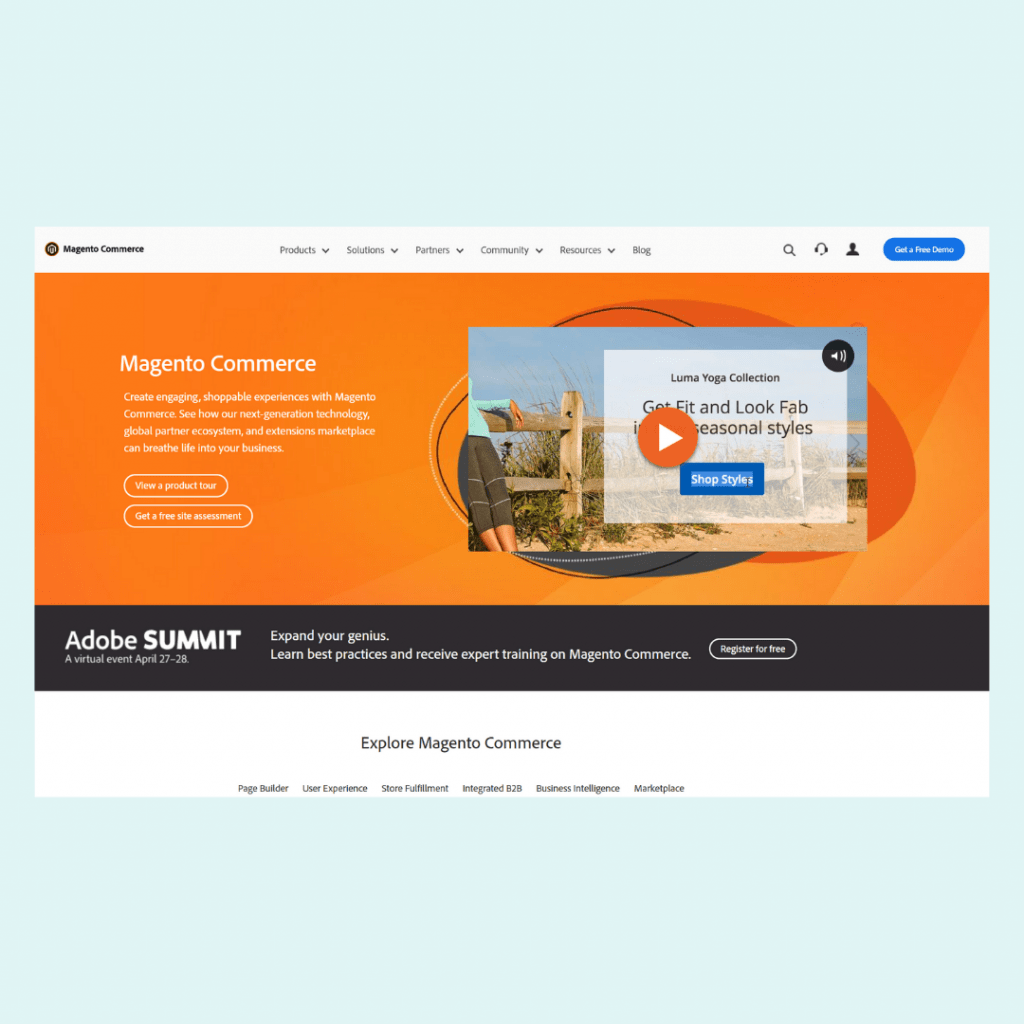 Magento is another open-source CMS for eCommerce merchants that supports nearly 300,000 merchants worldwide.
Magento is owned by Adobe and offers users a great deal of functionality and a wide range of integrations and extensions to help you achieve your eCommerce goals.
While Magento has all kinds of merchants among its ranks, typically, it's geared towards larger, enterprise-level users or stores that are scaling at a rapid pace.
7. Wix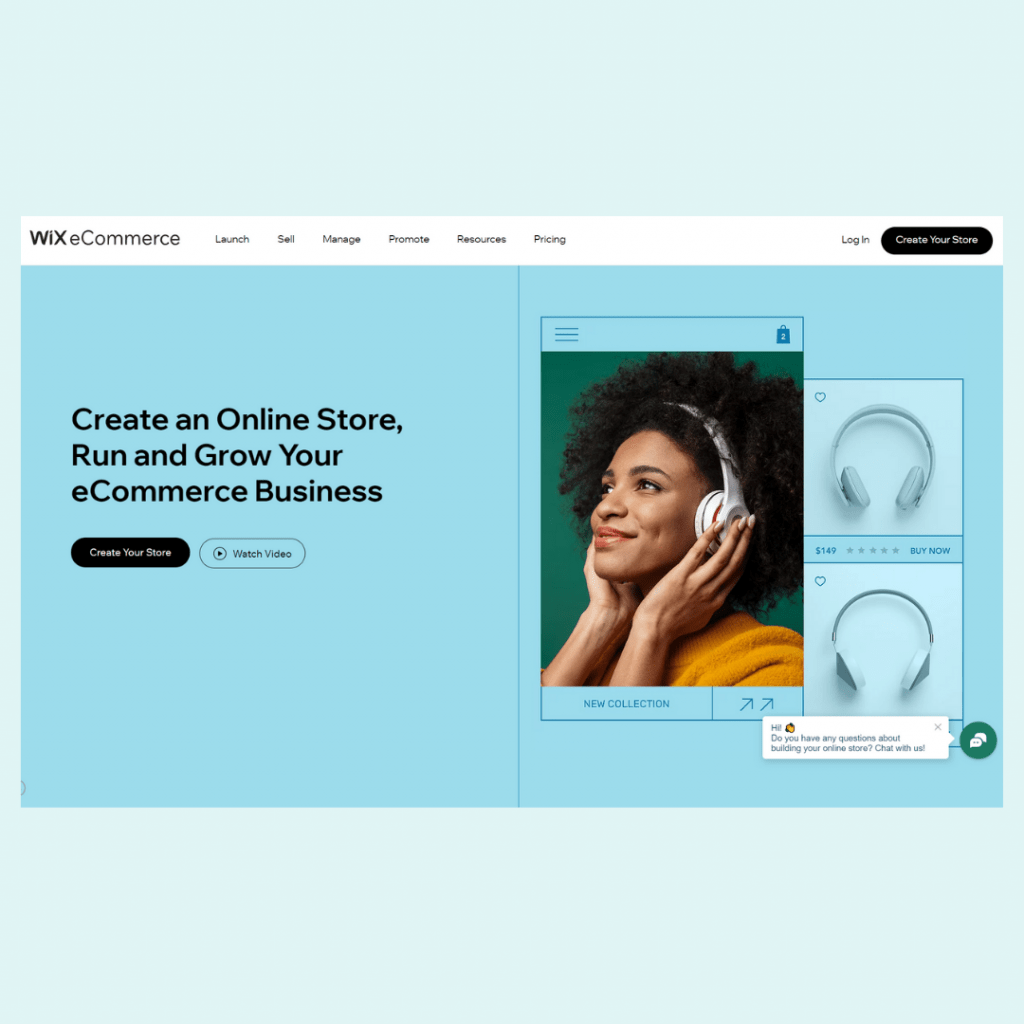 Wix is one of the best drag-and-drop website builders out there – and with the addition of their eCommerce module, you can now build a fully functioning web shop on the platform.
Wix has got a decent stack of templates and features with not a single line of code insight.
Be warned, however, due to its limited customization, Wix is definitely more suited to total beginners or merchants with a small number of products for sale who want to get their store off the ground as quickly as possible.
8. HubSpot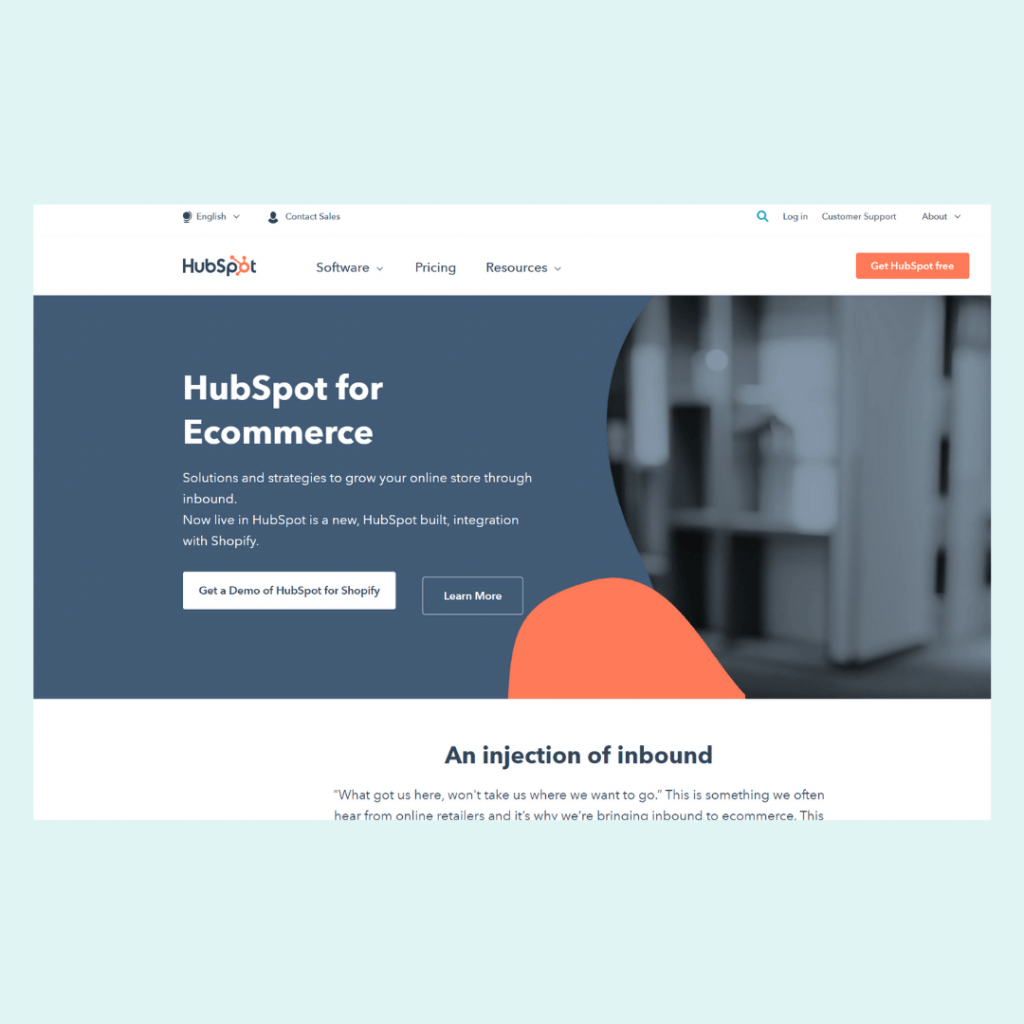 Hubspot is one of the OGs of the CMS and marketing automation game. They don't offer eCommerce functionality. However, you can integrate Hubspot with the likes of Shopify and BigCommerce to better manage your content, create automated marketing campaigns and learn more about your customer behavior.
Choose The Best eCommerce CMS Today
Choosing the right eCommerce CMS is no easy task.
The best place to start is to figure out your goals first.
Ask: "Is my business going to be a content-first or an e-commerce first brand?".
The answer will help point you in the right direction and select the best CMS or e-Commerce platform much more straightforward.
Remember, not every brand needs a separate CMS and eCommerce platform. For many companies, the built-in content capabilities of 'e-com first' of Shopify and WooCommerce will be more than enough to meet your needs.
But for brands that are serious about customizing their site and driving real organic growth, the suitable CMS can make a world of difference.