Did you know that 78% of millennial customers have moved their business elsewhere after a single poor customer service experience?
That's worrying, but it tells us that modern eCommerce businesses can't afford to think about customer service as an afterthought -because customer service can literally be the making or breaking of your online venture.
If you haven't been putting much thought into your customer service strategy yet, now is the time to take action.
This article will help you develop a robust and effective customer strategy for your own business.
By the end, your brain will be brimming with ideas about how you can craft the best customer service strategy, outshine your competitors, and deliver a truly memorable experience for your customers.
Table of Contents
The Importance of designing a customer service strategy
If you're like most eCom entrepreneurs, you like to keep things lean. Before you sink time or money into anything, you need a reason why. So, here's six ways a customer service strategy helps grow your business.
Customers pay more for good service: According to Hubspot, 50% of customers increase their spend after having a positive customer service experience. What's more, nine out of ten customers would pay up to 25% more for a better customer service experience.
It's a secret weapon against big brands: Going to war with eCom titans such as Amazon and Walmart can leave you feeling outgunned and out-funded. But thankfully, customer service is one of the battlefields where you can still outshine big business.
Retention is cheaper than acquisition: According to research, boosting customer retention by just 5% equates to a whopping 25% increase in profits. And at the heart of keeping customers loyal to your brand is exceptional customer service.
Happy support team = happy customers: As your business grows, your support team can start to feel overwhelmed and undervalued. A proper customer service strategy lets your staff deliver the best support while also avoiding customer service burnout.
Good customer service is excellent marketing: Hubspot found that 77% of customers who've had a positive brand experience share it with others. That means your customers can become one of your most potent – and cheapest – forms of word of mouth marketing if you delight them every time.
Improve internal operations: A good customer service strategy aligns all areas of your business. Among other things, feedback from support can help you design better products, inform your marketing strategy, and grow your business more efficiently.
How to Build an Award-Winning Customer Service Strategy
Exceptional customer service doesn't just happen by accident. Instead, it's a result of careful planning and execution on a stand-out customer service strategy. Here are ten tips for creating a world-class plan of your own.
1. Understand How Customers Interact With Your Business
The way your customers interact with your eCommerce business is a lot different from a traditional retail store.
In the digital world, regular business hours go out the window. Your store is open 24/7, and your customers expect that you'll be there to hear their concerns at a time that best suits them.
What's more, if you're selling internationally, you'll also need to be sensitive to your audience's varied cultural values and customs.
Remember, your business is more than merely an order and delivery service for products. Instead, it's the sum of all the interactions between you and your customers, pre and post-purchase.
To create an effective customer service strategy, you'll first need to identify all of these interactions.
Reason being; each interaction represents an opportunity for you to support the customer achieving their goals.
Think about things like:
– How do customers discover your business?
– What questions do they have about your products?
– What is their buying experience when making a purchase?
– What's their experience when waiting for delivery?
– What questions do they have after receiving the product?
Analyzing these types of engagements is essential for laying the foundation from which your customer service strategy will grow.
2. Identify & Use The Best Channels
After thinking about how your customers engage with your business, you'll likely realize that you interact via several different channels.
Research from HBR shows that a whopping 73% of online shoppers use multiple channels during their buying journey.
Therefore, excellent customer service needs to be available across all channels to support them through the buying journey.
Thinking about each customer interaction from step one, ask:
– How would customers prefer to get in touch with us? (Phone call, social, email, etc.)
– What type of information do they need? (Video, manuals, websites, audio, etc.)
– Do they need two-way interaction, or could a one-way resource solve the issue?
– Do they need empathetic responses or factual information?
– Do they need a response immediately, or can they wait?
The goal of answering these types of questions is to take support to your customers.
You want to be there for them, in the way they prefer, at the precise moment when they need help.
The days of letting customers do the leg work to get help are well and truly gone.
3. Facilitate Self-Service Support
Did you know that 89% of millennials use a search engine to find answers before making a call to get customer service?
That means if a customer has a general question about your business, you can provide answers via a help center on your website.
Providing handy information reduces the burden on your service teams, but it's also a great way to improve the buying process and give customers peace of mind when making a purchase.
For example, check out UK retailer Debenhams has created buying guides on their website. These guides help shoppers make the best decisions.
In turn, this reduces the rate of returns and exchanges, which saves them costs and results in better customer experience.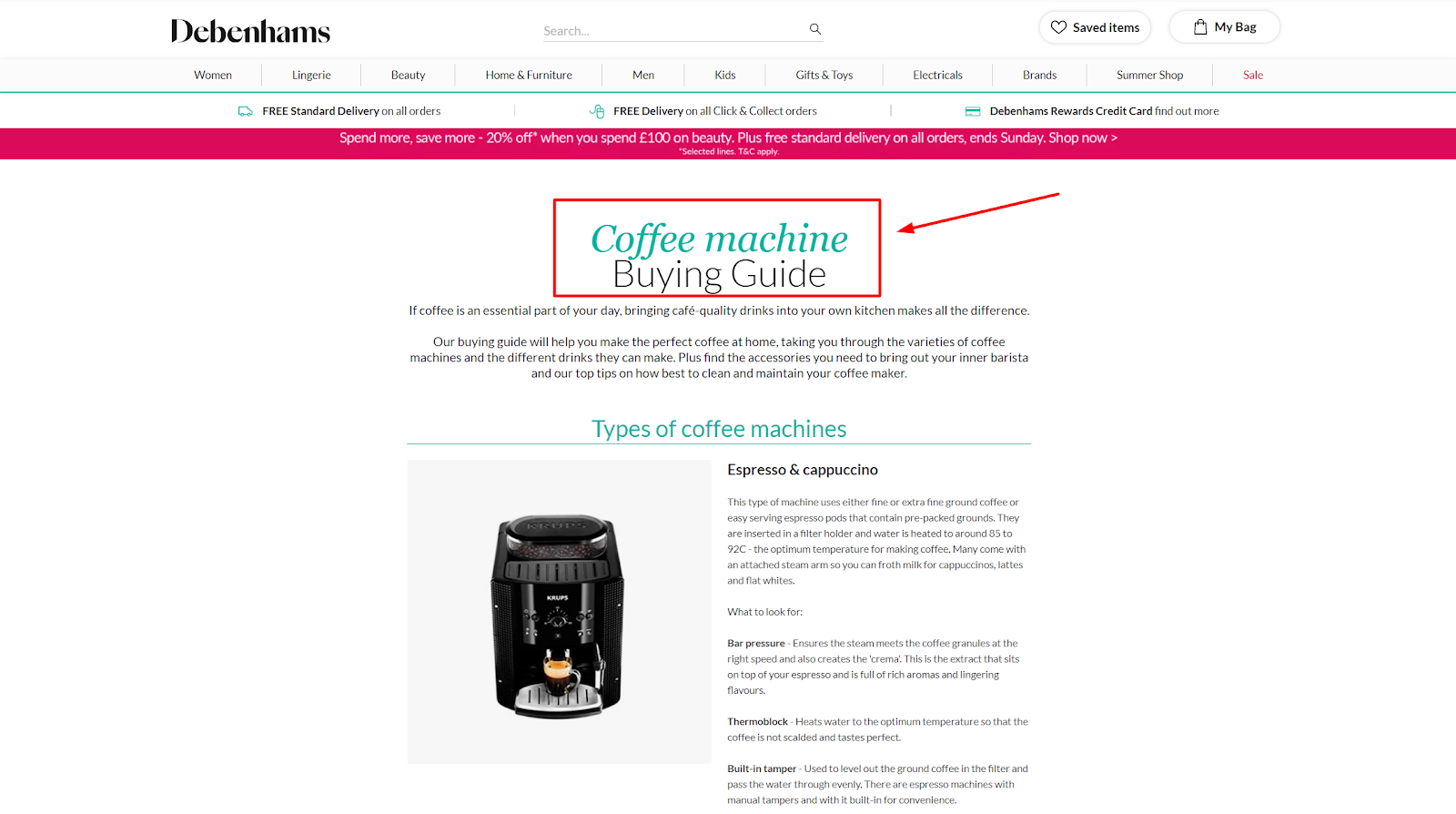 Another example is Nike's 'Quick Assists' page. Customers can easily view shipping options, order tracking, returns, and more, all without contacting support.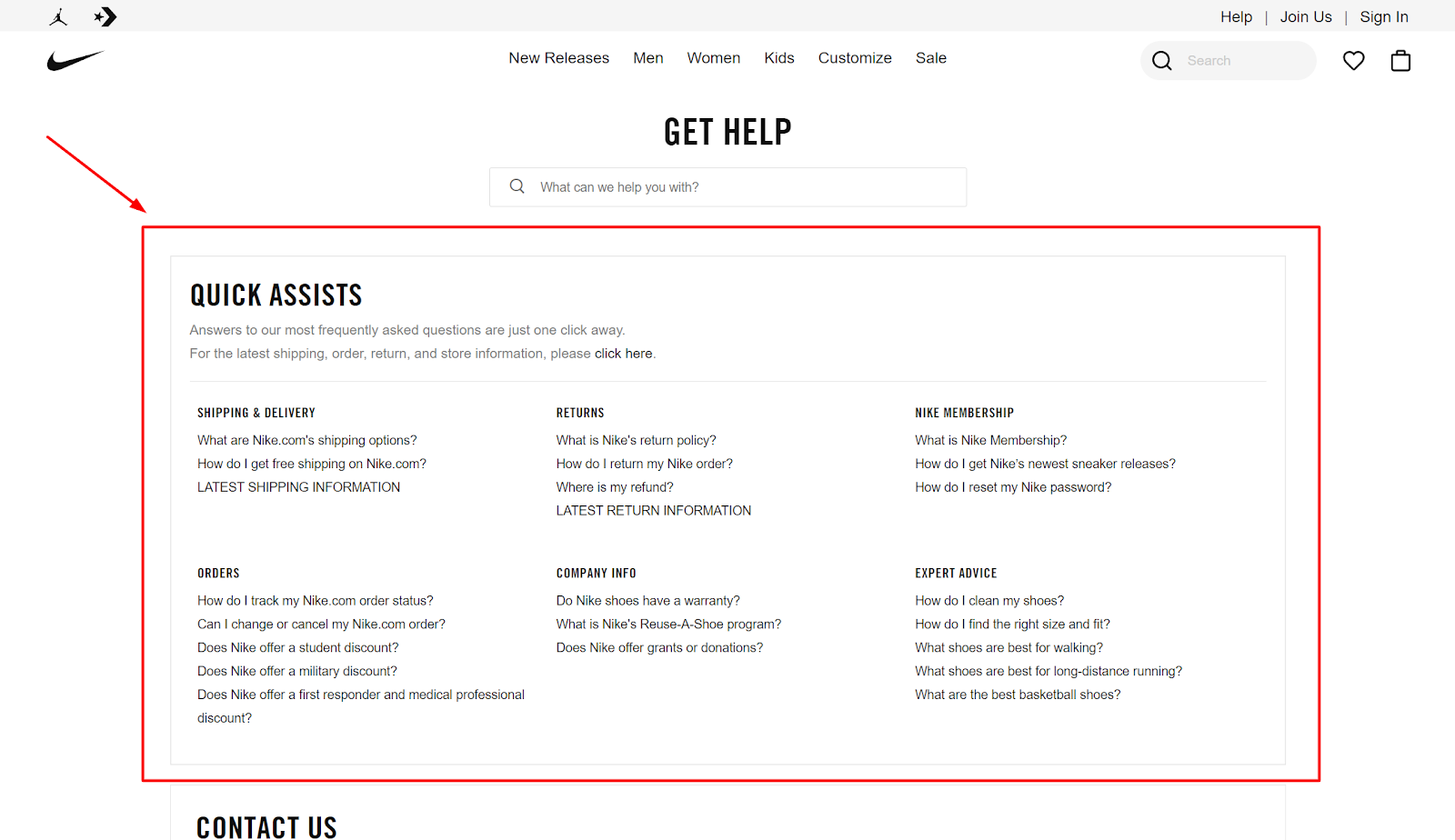 Snack company Pipcorn does an equally excellent job of removing barriers for customers with their short help section. The questions are cleverly crafted to give customers the answer they want and subtly promote their products' benefits.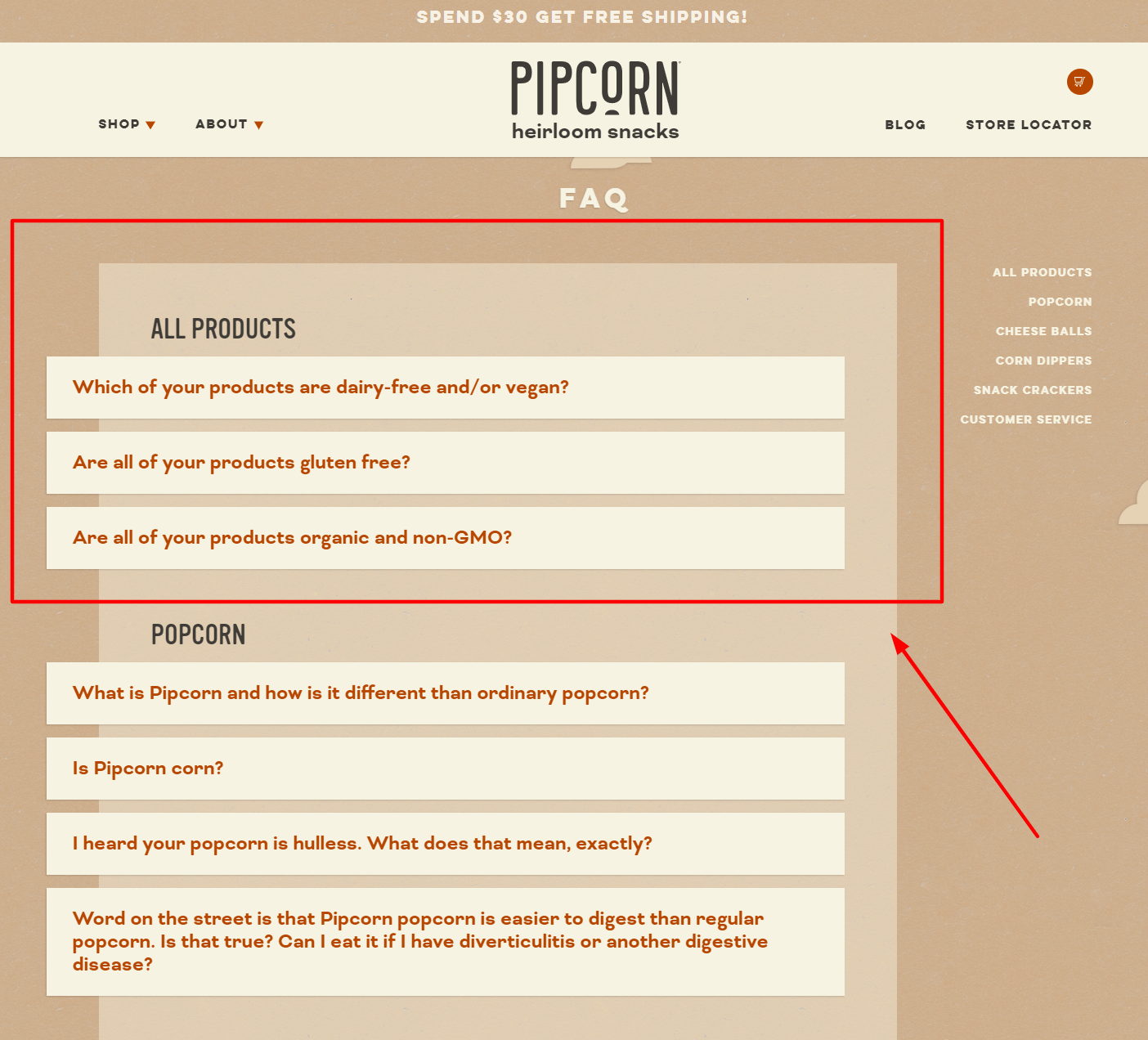 Adding resources like these to your website is the easiest win for your customer service, and needs to be a part of your customer service strategy.
Not sure what to include? Simply ask your support agents what questions they keep getting and go from there. Or if you're just starting, take a look at your competitors' websites. Chances are your customers will run into similar problems.
4. Offer Live Support
If customers can't find solutions via your help center, they will want to speak to a support agent quickly.
According to Econsultancy, 31% of customers want instant help online, while a whopping 40% of them expect to receive assistance in under 5 minutes.
The implication? Providing live support is vital to give customers the best experience possible.
Two of the best ways to provide live support are instant phone calls or instant chat. Both options have their pros and cons, so it's worth thinking about the products you're selling and the customers you're selling them to.
For example, if you're selling high-end drones to photography studios, they'll likely want to jump on a call with you or your team before pulling the trigger on such a large purchase.
EasyCall makes this process simple with a click-to-call widget where customers can dial your business for free.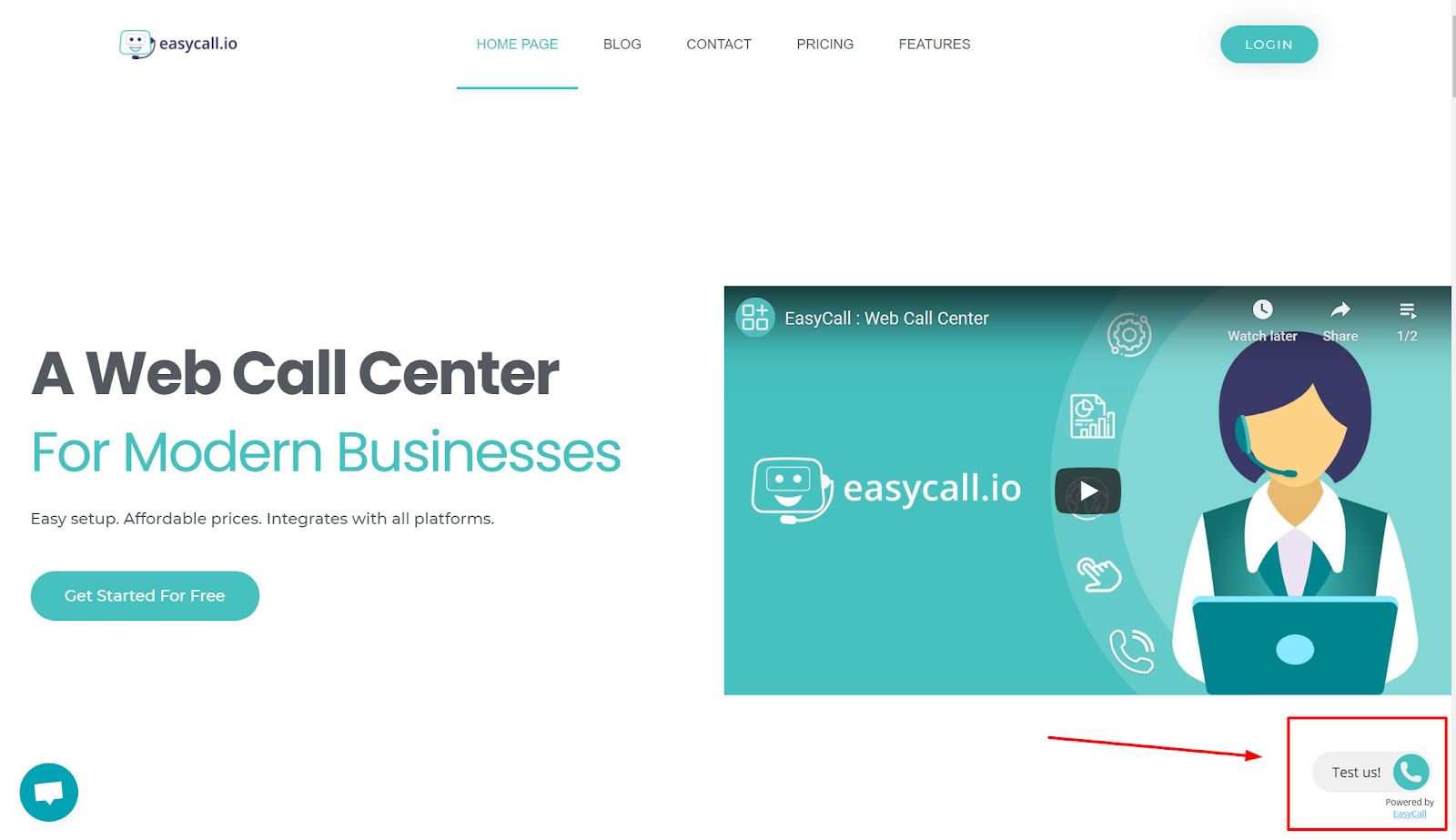 But, if you're selling less expensive items directly to consumers, opting for live chat like Gymshark has done might make more sense.
Ultimately, you'll need to figure out which live support solution is best for your business and your target audience. If budget allows, consider taking a leaf out of online mattress retailer Casper's book and offer both options to give your customers maximum choice: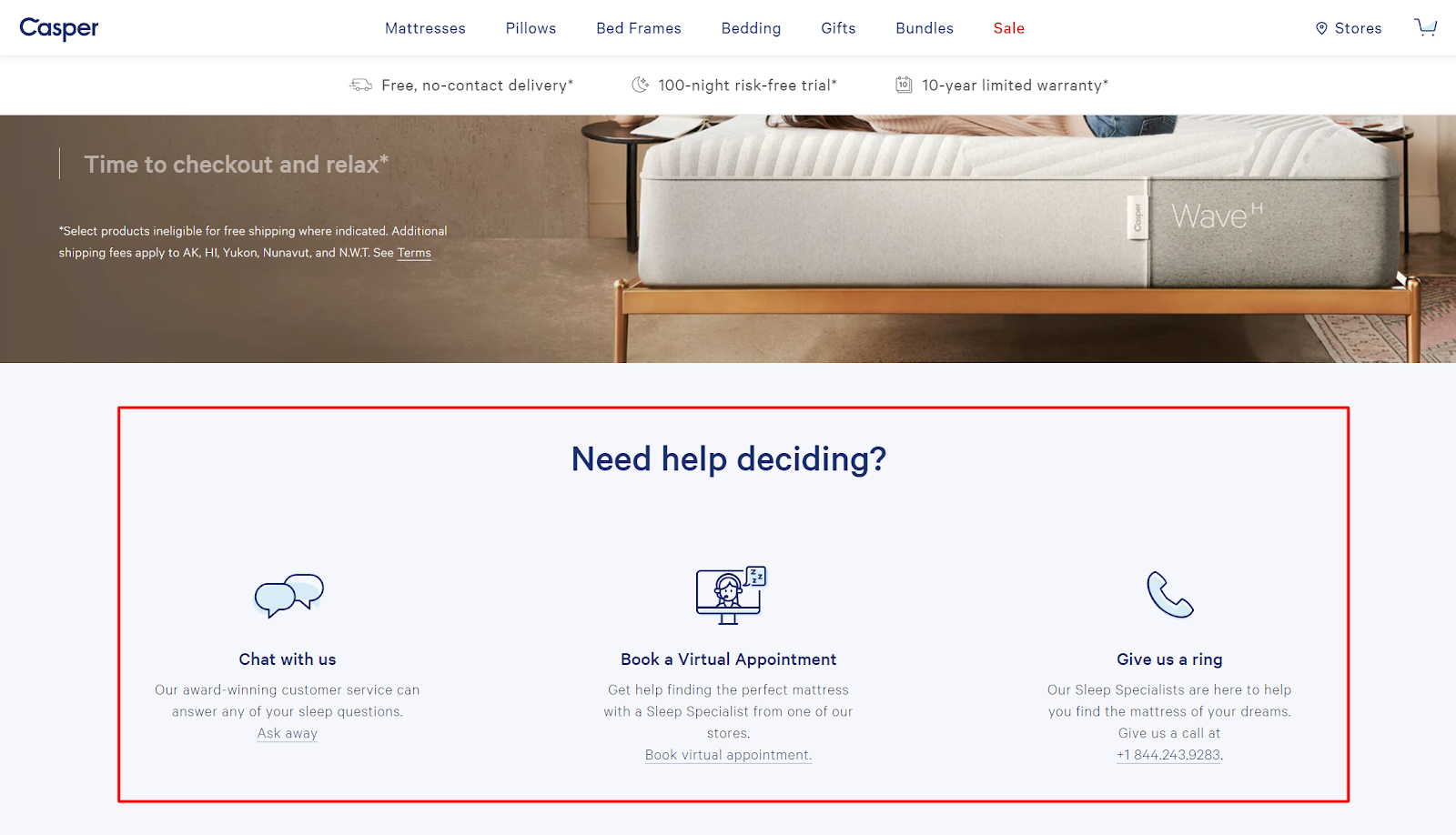 5. Create A Customer-First Mindset (across your whole business)
There's a common myth that customer service is strictly the reserve of frontline support agents.
But the truth is, you can't deliver genuinely remarkable customer service until your whole team focuses on solving your customer's problems.
One company with an incredible customer-first mentality is US-based grocery retailer Trader Joes. Most people have a positive story to tell about trader Joes, but our favorite comes from Reddit:
The daughter of an 89-year-old man was very concerned about her father being snowed-in his Pennsylvania home during the holidays. She couldn't find any store that would deliver groceries. But when she called Trader Joes, they broke company policy to get a special low-sodium delivery to the older man within thirty minutes.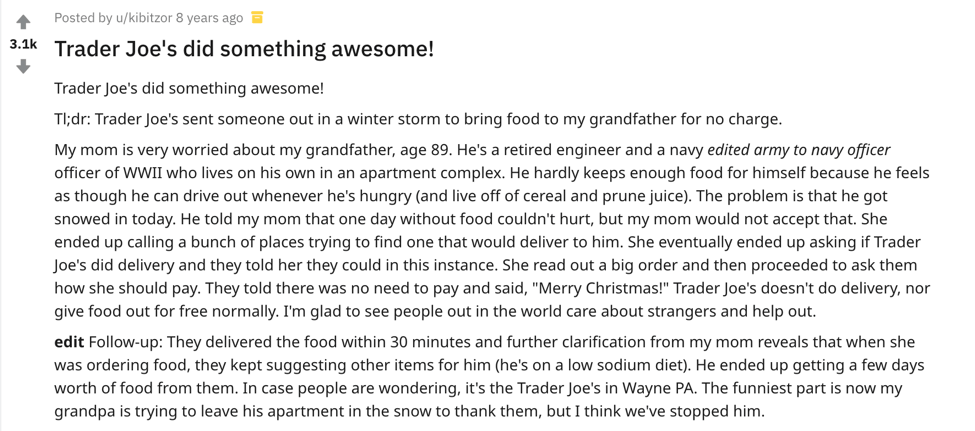 Without a customer-first mentality, the Trader Joe's team might simply have said, "Sorry, we don't do food deliveries" or "we don't have the logistics to handle that." But thankfully, that wasn't the case.
In your own business, imagine a customer contacts support to complain that their order arrived damaged. In a company where everyone operates in communication silos, your support agent might just offer a discount code and an apology.
But in a collaborative eCommerce business, your agent can contact fulfillment and ask them to re-ship the order with a handwritten note inside. Fulfillment can, in turn, pack orders more securely to avoid unhappy customers in the future. And so the upward spiral begins.
The key to going above and beyond customer expectations is to break down communication barriers between staff and unify everybody under a customer-first mentality. When that happens, news of your stellar customer service will spread like wildfire.
6. Optimize Post-Purchase Interactions
The steps outlined so far have emphasized the importance of pre-purchase interactions. But a crucial part of your customer service strategy is also how you engage with customer post-purchase.
After a customer has bought something, you get the opportunity to transform them from satisfied customers into a raving fan.
Modern eCommerce customers expect to receive digital receipts, order updates, tracking information, and delivery estimations whenever they make a purchase. As part of your strategy, you should seek to automate as many of these interactions as possible.
Also, make your returns as straightforward as possible. Some customers will inevitably be unhappy with their order, and they want to know you'll be there to help them out.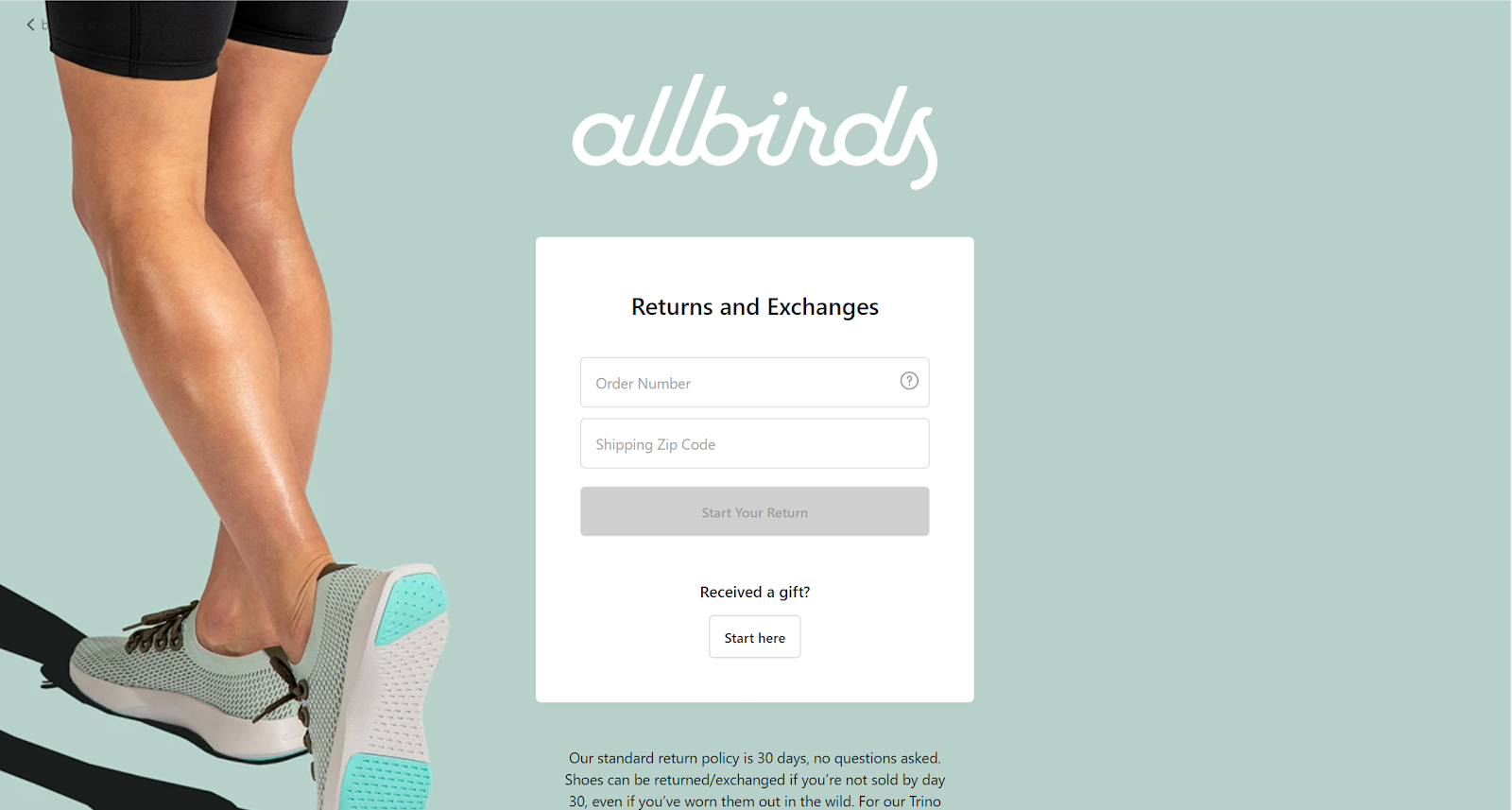 To go above customer expectations, you'll need to be proactive in your post-purchase customer service approach.
One excellent example comes from makeup business Glossier. One of their customer service strategies is to reach out to recent customers via their agents known as 'GTeam' and ask them how they're getting on with their order.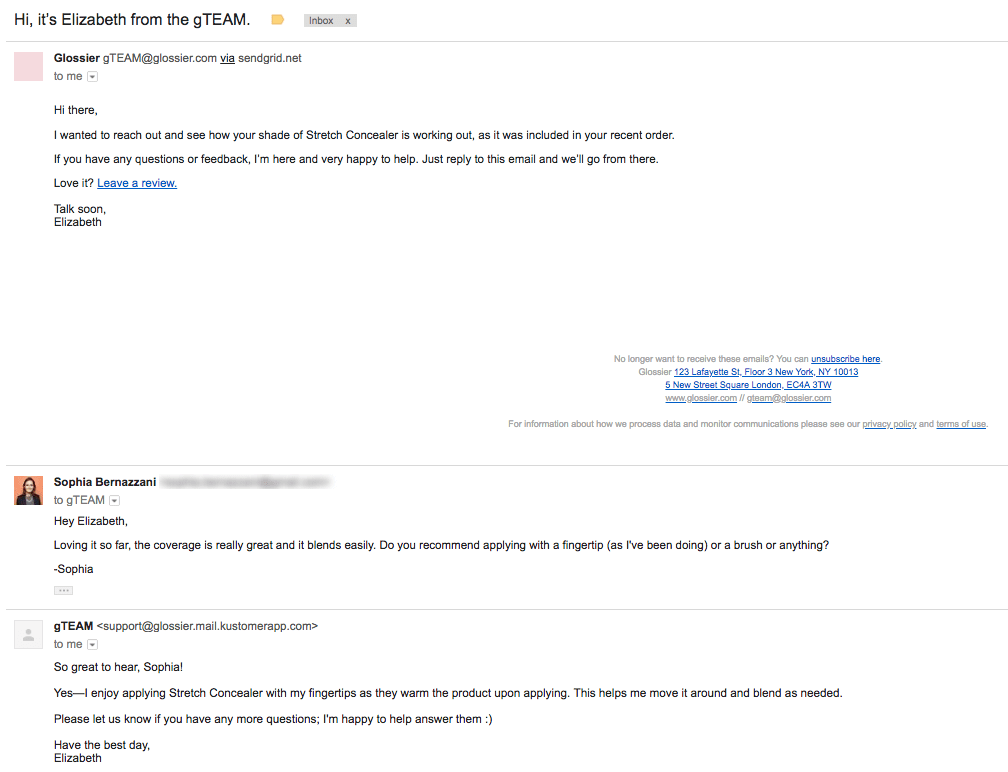 The fantastic thing here is that a real person wrote the email. It's a simple way to create a helpful and memorable experience that makes the customer feel heard.
Plus, since 96% of unhappy customers don't even bother to contact customer service, this is a brilliant technique to gather valuable feedback that might otherwise have been missed.
The bottom line is when your customers are well supported post-purchase, they'll be much more likely to shop with you again in the future. You'll enjoy higher retention rates, increased lifetime customer value, and more profits to boot.
7. Plan for Seasonal Demand
Both order fulfillment and providing customer service can come under severe pressure during peak seasons.
For many eCommerce businesses, the eight weeks before Christmas will typically be much busier than other times. However, if you're selling services online or something like swimwear, for example, then your peak periods may be different.
Your customer service strategy needs to ensure you can keep pace with seasonal increases in support requests. You might achieve this by hiring temporary staff around busy periods, investing in new automation software, or better managing customer expectations.
The main thing is that you're able to rise to the occasion and deliver superb customer service across the board, no matter how many customers need help.
8. Recruit & Train Your Dream Team
Your customer service strategy can go out the window if you don't hire the right people. If you're a small store, you may have been handling customer service yourself.
But as the number of tickets snowballs, you'll need to free up time to focus on other areas of your business.
One of the best options for eCommerce stores is to hire and train a remote customer service team. This is because, with agents spread across different time zones, you can offer customers 24/7 support.
Some places to find quality support staff are:
When interviewing candidates, keep your eyes peeled for people who have empathy, high levels of emotional intelligence, enthusiasm, and a knack for problem-solving.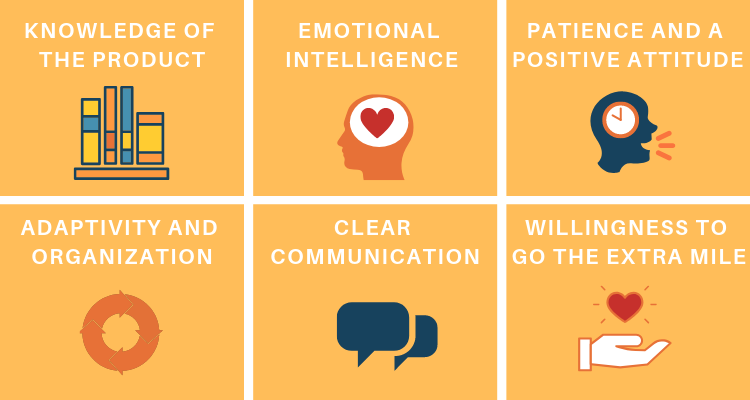 Source: Paldesk
Once hired, you should make them feel welcome, outline their responsibilities, introduce them to other team members, and set them up on your customer service systems.
Make a concerted effort to let them know they're valued. Not just because it's nice, but because, as Simon Sinek says: "Customers will never love a company until the employees love it first."
9. Choose The Right Technology
Jumping between accounts and platforms to respond to customer inquiries is a sure-fire way to deliver sub-par customer service.
A help desk is a software tool that'll allow your customer service reps to organize, track, and reply to customer inquiries across several different channels.
They can keep all customer interactions in one place, which helps your support team work more efficiently. If you haven't already got one, here's three easy-to-use help desks to start with:
– Help Scout ($8/user/mo)
– Zendesk ($5/user/mo)
– Front App ($9/user/mo)
It's also a good idea to create an internal knowledge base for your staff (the three help desk software above come with this functionality.)
Think of it as an FAQ section but for your support agents. If they run into a particular issue that's been resolved before, they can quickly consult the knowledge base and provide swift solutions to time-starved customers.
Additionally, over time, through the collection of feedback, your knowledge base can become a source of insight that can inform your business strategy moving forward.
10. Set Goals & Measure Success
No matter the specifics of your customer service strategy, the only way to know if it's working is to quantify your success.
First, you'll want to set goals that align with your overall customer service vision. So, start where you want to be and then work backward, building a roadmap that'll get you there.
Break broad goals such as 'retain more customers' and 'increase customer satisfaction' into concrete targets that are measurable and time-bound.
Then translate these specific goals into actionable steps that your customer support team can achieve daily.
In terms of measuring the success of your overall customer service program, you can use these two standardized metrics:
Net Promoter Score (NPS): This metric measures how likely your customers recommend your business to a friend. The best time to collect this data is immediately following a customer interaction.
Customer Satisfaction Survey Score (CSAT): This metric ranges from 1-5 and calculates a score from a standardized set of questions. These can be like "how well did our team handle your inquiry today?" or "How satisfied are you with the support provided."
Overall, you must benchmark your current scores and track how they improve over time.
Doing so will allow you to continuously develop your customer service strategy and reach your goals with the least amount of effort.
Use These Steps to Refine Your Customer Service Strategy
Developing robust customer service strategies will help drive your business towards success.
Remember to create a strategy that traverses the full breadth of your customer interactions – from pre-purchase to post-purchase to life long customer.
Getting this right involves being proactive, creating self-service options, developing a multi-channel presence, allocating resources, leveraging tools, and analyzing data.
It's not easy, but when it comes together, you'll have a more satisfied, profitable, and long term relationship with your customers.
In the words of CX-pro Clare Muscott, "Building a good customer experience does not happen by accident. It happens by design."
That means there's nothing left to do except roll up those sleeves and start designing!