According to Microsoft, over 50% of Americans have stopped doing business with a company because of poor service.
And while those heading for the door might cite things like 'rude agents' or 'long wait times' as the reason for their departure, often there are deeper issues at play here, namely the lack of a customer service philosophy.
Having a shared customer service philosophy unifies employees under the same goal and empowers them to focus on delivering stand-out service, no matter where or how customers interact with your business.
In this article, we'll examine how to build a customer service philosophy that incorporates your company values, facilitates better support work, and sticks a smile on your customers' faces.
What is a Customer Service Philosophy?
A customer service philosophy is a collection of principles and values that shape the way your business interacts with customers.
Think of it as a set of ideas that underpin your company's highest aspirational vision for customer service.
A customer service philosophy should set out where you want your level of customer service to be and outline how you want employees to interact with customers to build loyalty and improve retention.
7 Tips to Create An Inspiring Customer Service Philosophy
Crafting an effective customer service philosophy doesn't need to be complicated. It doesn't need to be something wishy-washy either. Let's examine step-by-step how to create a service philosophy for your business:
1. Define Your Customer Service Vision
The first part of creating an inspiring customer service philosophy is to come up with a customer service vision or mission. Think of your vision as the compass that points to where you want to go. It's usually one statement that sets the standard for how you'll serve your customers.
The key here is not to just scribble a feel-good vision onto a piece of paper and call it day. Instead, you should spend consulting with your team working out what really matters to them.
To help you lift the veneer that may be covering your purpose you can try asking:
– Why does your business exist?
– How do customers feel about your business?
– Why do they shop with you?
– How can you serve your customers better?
A fantastic example of a customer service vision comes from outdoor brand Fjallraven: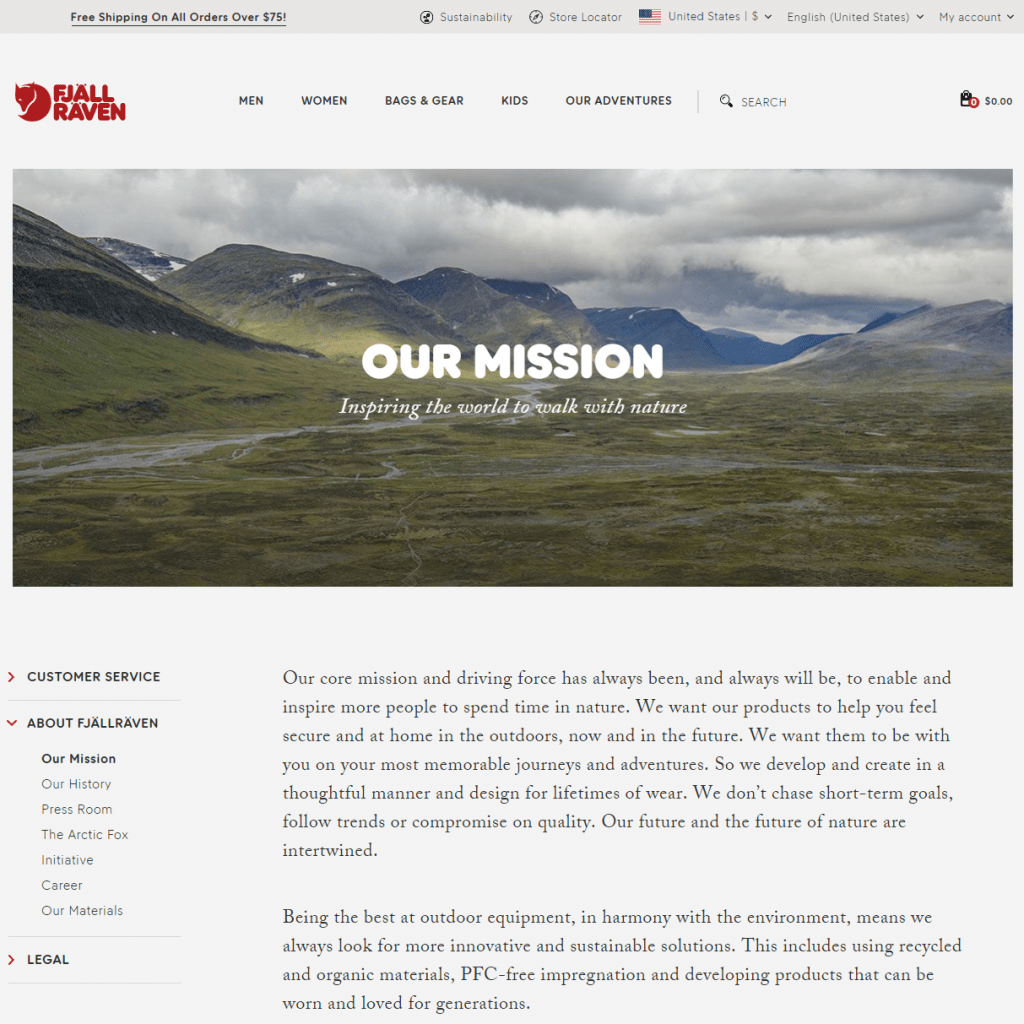 Fjallraven sells outdoor clothing, but that's not their ultimate purpose. Their deepest mission is to enable and inspire more people to spend more time in nature. Everything they do comes back to achieving that goal – from the materials they choose to products they create, to the way they serve their customers.
👉Suggested Reading: For more on developing a kick-ass service culture check out The Service Culture Handbook by Jeff Toister
2. Determine Your Customer Service Values
While many managers focus on software or process improvements that help their customer service team perform more effectively, often shifts in team culture can have the most profound impact on overall performance.
That's where your values come in. Customer service values provide context for employees to uphold your customer service vision. Again, it's crucial to ensure the values you select are supported by all team members. Use a survey tool to collect information from staff about what they think is most important.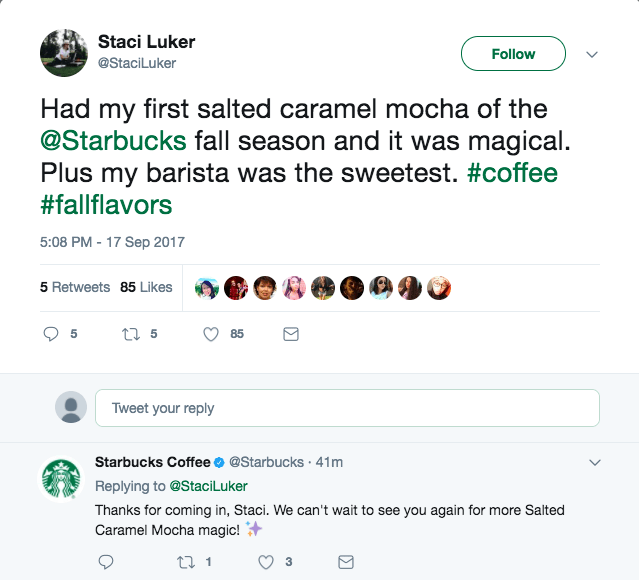 Some values for customer service teams might include:
– Accountability
– Authenticity
– Optimism
– Trust
– Respect
– Honesty
Deliberately choosing customer service values helps shape the ethos of all customer service interactions and policies. It translates your vision into more tangible terms that'll help keep your staff performing at their best and your customers beaming from ear to ear.
3. Translate Values Into Day-to-Day Behaviours
A customer service philosophy is only useful in so far as it can actually be implemented by your team.
Take things a step deeper and define how your values will influence behavior on a daily basis. This is the key to realizing your vision from step one. The best way to do this is to define a list of actionable behaviors for your team to follow.
To illustrate, here's an example from hotel chain Ritz-Carlton: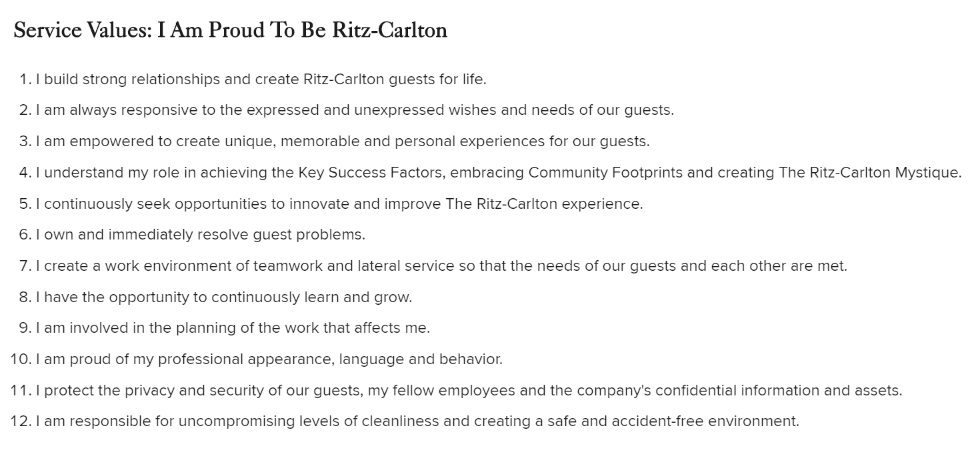 It's also helpful to decide which service metrics are the best barometer for measuring the success of your philosophy.
For instance, many eCommerce stores aim to deliver lightening fast customer service. However, a fixation on reducing average handle time may negatively impact other areas of your customer's experience.
So, it's important to consider how satisfied your customers really are. Do they feel that their concerns are valid? Are they happy to recommend you to a friend? Is your customer loyalty on the up?
While all metrics can be useful to a point, it's best to hone in on those that best represent your your philosophy in action. That way you'll be track your vision as it comes to life, and make appropriate adjustments on the fly.
👉Suggested Reading: The No-BS Guide to Customer Satisfaction Metrics for Ecommerce
4. Get Out of Your Head and Into Your Customer's
When creating your customer service philosophy, it's easy to get dragged down the rabbit-hole of what you think it should look like. When this happens you'll end up with a paltry, generic philosophy that your staff or customers don't care about.
The magic rule when devising your philosophy is simple: think like your customers. What I mean is, imagine you're going to buy something from your store. Ask yourself questions like:
– How would I like to be treated if I had a question?
– What's the most time I'd like to wait for a response?
– Would it be helpful if it was easy to call the store?
– What tone of voice would support use?
The answers to these questions may seem obvious, but the point of this exercise is to uncover how your philosophy can impact a customer's experience.
Thinking along these lines ensures your philosophy doesn't end up being merely a feel-good placeholder but instead ensures that it's having a direct impact on the day to day experiences of your customers.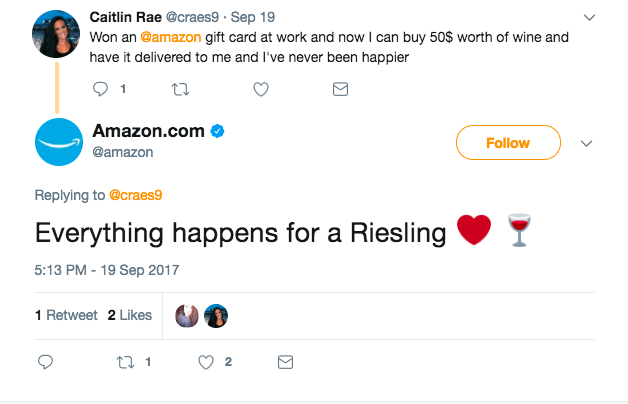 5. Brutally Honest With Yourself
One of the most important differentiators between stores that deliver excellent customer service and those that don't is their ability to be honest with themselves.
It's tempting to take the path of least resistance and write a service philosophy like 'we strive to delight our customers'. But while such statements are nice sound bites, you and I both know they don't mean much.
See, the thing is, you want to create a functional service philosophy. One that translates into real steps staff can actually use to deliver better support.
This means you'll need to consider the scope of your current capabilities. There may be many real-world restrictions such as costs and time that make it difficult to always keep your customers happy.
For example, if part of your vision is to respond to customer support tickets within 60 minutes, you're probably going to need 24/7 customer support. If you can't provide that, then your vision is out of kilter with the nuts and bolts of your business (a.k.a it's not serving its purpose)
Similarly, if you're dropshipping products that take 2 weeks to be delivered, but your vision is to provide an industry-leading customer experience, you need to reconsider either the logistics of your business or re-work your philosophy.
A robust customer service philosophy should address how you'll work around such limitations while keeping customer expectations in check. Ultimately, your philosophy needs to be grounded in reality and most of all, it needs to be honest for you and your customers.
6. Distribute Your Philosophy
At this stage, ideally, you'll have a document containing a shiny new customer service philosophy to share with your team. You'll want to distribute this right throughout your business sending it to top-level decision-makers, product teams, and of course to your customer service team.
While your customer service agents will be the ones to use implement your philosophy on a day-to-day basis, a customer-centric philosophy is most powerful when it echos through every echelon of your business.
Print it out and stick it only your wall. Include in in onboarding processes for new hires. And don't be afraid to regularly return to it for a fresh dose of inspiration.
Nudging all teams towards a customer-first mindset is what will allow you to affect real change, boost revenue and transform your the future of your business.
7. Set the Standard
Your team is never going to be able to put your philosophy into practice if they don't see you wearing the values on your sleeve first. And if they're over-worked, under-appreciated, and underserved, there's a slim chance they'll be able to treat customers in the way you want.
You need to create the conditions under which your philosophy can flourish. Think of your behaviour and your company culture the soil from which a world-class customer service team can grow.
For instance, if one of your core values is 'optimism', your team needs to see you being optimistic about their work. If you're constantly highlighting the negative aspects of their efforts and painting a pessimistic picture, you can bet your bottom dollar that such a message will pass on to your customers.
The fastest way to throw off your customer experience is by abandoning service values at a leadership level. Your personal philosophy as a team leader will trickle down to your employees and eventually color your customer's experiences.
Inspiring Customer Service Philosophy Examples
We've already looked at a couple of examples of customer service philosophies. And while each philosophy is the product of a unique set of company values, it's great to get inspired by others too.
Zappos
Pretty much everyone has heard a good story about Zappos' legendary customer service. Their vision, which permeates their entire business, is 'To deliver happiness to customers, employees, and vendors' and its support by 10 core values.
But Zappos' vision isn't just an idea. They translate it into tangible experiences that their customers love. For example, they've no time limits on service calls, they have a phone number on every page of their store, they don't use scripts, they have a 365-day return policy, and more.
Starbucks
Starbuck's customer service vision is "To treat people like family". Interestingly, on the inside of each employee's green apron, Starbucks has sewn a short customer service manual. This serves as a reminder for them to always uphold the coffee giant's core service values.
Starbucks empowers frontline employees to make a real difference to their customers day. And with over 30,000 stores worldwide, it's fair to say it's working for them.
NordStrom
Clothing retailer Nordstrom has a vision "To serve customers better, to always be relevant in their lives and to form lifelong relationships". They recently put this vision into practice by redesigning their website for easier browsing.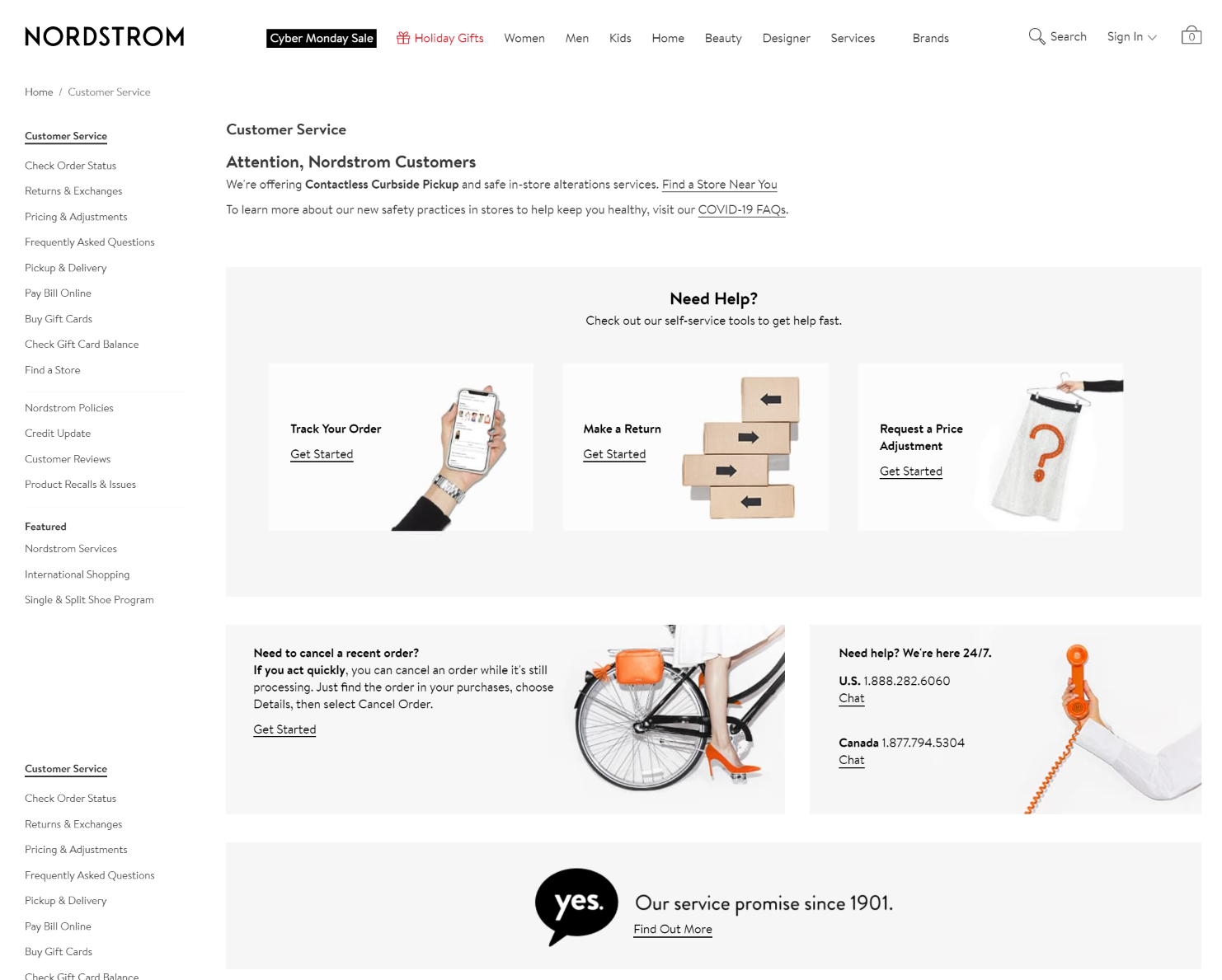 While traditionally a brick and mortar retailer, Nordstrom is bringing their service vision online too with the addition of easy-to-reach online stylists, designers, and beauticians to help customers get the best experience.
Customer Service Philosophy Quotes
Sometimes quotes can help us capture the essence of our customer service philosophy, here's a selection to spark your imagination and get you thinking about what you want to stand for.
"Just having satisfied customers isn't good enough anymore. If you really want a booming business, you have to create raving fans."

Ken Blanchard
"Excellent customer service is the number one job in any company. It is the personality of the company and the reason customers come back. Without customers, there is no company."

Connie Edler
"I've learned that people will forget what you said, people will forget what you did, but people will never forget how you made them feel."

Maja Angelou
"Your most unhappy customers are your greatest source of learning."

Bill Gates
"People do not care how much you know until they know how much you care."

Theodore Roosevelt
"Customer service should not be a department. It should be the entire company."

Tony Hsieh
Don't try to tell the customer what he wants. If you want to be smart, be smart in the shower. Then get out, go to work, and serve the customer!"

Gene Buckley
So, What is Your Customer Service Philosophy?
A customer service philosophy isn't just a collection of feel-good statements. It's a guide for employees to help them deliver a memorable experience for your customers.
A robust customer service philosophy allows you to shape your team's support behavior and deliver a consistently high level of service to your customers.
When done right, it's a powerful tool that'll help give you the edge over your competitors and drive real revenue growth.
Now over to you! What are your thoughts on customer service philosophy? Have you developed a philosophy for your customer support team? Let us know in the comments below!