A few winters ago, an 89-year-old man was trapped in his In Pelsynvanian home by a snowstorm. His daughter became worried he would run out of food.
She frantically contacted every grocery store in the area, hoping to arrange delivery. But no luck. That is until she rang Trader Joe's.
The staff at Trader Joe's went against standard procedures to put together a special order and delivered it free of charge to the older man's house in under 30 minutes.
This story is a perfect example of a customer service oriented business —a business dedicated to helping its customers.
And why does this matter? Because companies that focus on helping their customers no matter what, find it much easier to make or sales and grow their business.
See, customers don't just buy whatever, wherever these days. Instead, they shop with companies that treat them well. And the research says they're willing to pay more for it too.
But here's the thing: becoming more customer service oriented isn't easy. It's not something you can do overnight or simply check off your list of tasks. It usually involves large shifts in company culture.
In this post, we'll explore what it means to be a service oriented company and share our favorite strategies to help you get there.
Let's jump in.
What Does it Mean to Be Customer Oriented?
A customer service oriented company prioritizes the needs and desires of their customers above pretty much everything else.
Now, I'll be the first to admit that definition reads like something off a corporate 'about us' page. But hear me out.
Because while most of us intend to behave well towards our customers, their needs usually come after our own needs. The majority of businesses prioritize things like acquiring new customers, maximizing revenue, upselling. Customers' needs come later, as it were.
While marketing and sales are an indispensable part of business, genuinely customer-oriented enterprises think about their customers' needs first and then about how other factors will fall into place.
For example, imagine you sell two products: a basic product that nets you $30 per sale and a premium product that earns you $60 per sale. Naturally, you'll want to nudge customers towards the higher-margin profit item.
But in a customer service oriented business, you might pause to think; does the buyer need the more premium option? We know the higher-ticket option is better for your needs, but the question becomes: is the better choice for the customer's needs?
Behaving like this might sound like lunacy to some business owners. We're so often engrossed in a revenue-focused mindset that looks more like this: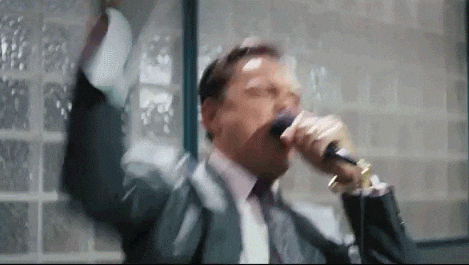 But here's the thing – becoming more service-oriented doesn't hamper you in your goal for growth. In fact, putting your customer's needs at the core of your business is arguably the most efficient way to boost lifetime value and power-up your bottom line.
The 3 Levels of Customer Service Orientation
Being customer-oriented isn't something you either are or are not. Researchers at Chicago State University classify it into three levels of proficiency.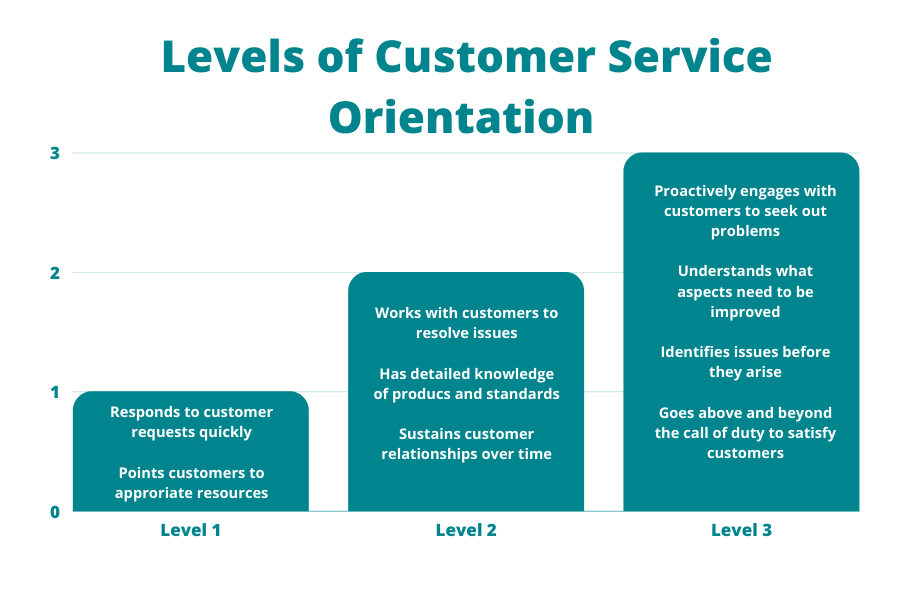 Level one involves 'knowing customer profiles,' 'responding to customer requests promptly,' and 'showing positive attitudes that indicate customers' are important.'
For most folks, this sounds like a pretty customer-centric business already. But for a genuine customer service oriented, such proficiency is the bare minimum.
As you move up to level two, you'll be actively working with customers to figure out solutions to their problems and building real relationships over time.
Finally, level three is where most service-oriented persons aim to be. At this stage, you'll be proactively communicating with customers to resolve issues before they arise. You'll also be going above and beyond the call of duty to put a smile on their faces.
No matter where you are on the service orientation spectrum (yes, even if you're at 0), striving to reach the next level will unlock many juicy benefits. Let's examine some of those now.
The Benefits of Being Customer Oriented
While a service-oriented approach will make your customers happy, it'll also bolster your business. And it's not hard to see why. Satisfied customers tend to do things that help you grow. Here's what to expect when you put your customers first.
Customers will stick around for longer.
Think about the last time you received extraordinary customer service? Chances are you've got an immensely positive perception of the company responsible for it even if something went wrong in the first place.
Indeed, research tells us that 96% of consumers worldwide say customer service is a crucial factor in their choice of loyalty to a brand.
Compare this to what we know about consumer behavior following a negative interaction. A worrying 47% of consumers have switched brands due to lousy customer service within the last year.
So, the way you interact with customers is a critical factor in determining how many you'll hang onto over time.
And given that we know it costs up to 7x more to acquire a new customer than to retain an old one, being customer oriented could quite literally be the difference between big profits and shutting up shop.
Customers will tell their friends about you.
Retaining customers is fantastic. But there's more to it than that. When customers are delighted with your products and services, the word about your business will spread like wildfire.
Treating customers well can transform them into one of your most powerful marketing assets, especially when you consider that 92% of consumers trust suggestions from friends and family more than advertising.
With your customers selling for you, you can afford to spend less on costly advertising and still reach a vast audience. And while a great product is non-negotiable for mastering word of mouth marketing, it's your customer-oriented approach that'll seal the deal.
You'll Boost Your Social Proof.
Reading through reviews for a product or service, it's likely you'll notice how many times positive responses refer to customer service.
So much of our band perception can be traced back to how they try to meet our needs. And in a world of increasingly similar offerings, what makes a company stand out from the rest is our memory of how they interacted with us.
If you're anything like most people, you place an enormous amount of value in online reviews. Customer service-oriented companies attract positive reviews. This means they find it easier to build trust with prospective buyers and convert browsers when the right moment arises.
How to Adopt a Customer Service Oriented Mentality at Your Business
Now that you've got an idea about the benefits of becoming more customer service oriented, let's look at how you can create a customer-first culture in your business.
1. Get Company-Wide Buy-In
It's important to emphasize that becoming a customer-centric business is about more than how you respond in emails or talk via live support.
To do it right, you'll need to embed a customer-first mentality into the very DNA of your business. All departments are complicit in this.
The late Tony Hsieh, CEO of the e-commerce site Zappos, is the perfect embodiment of this. He describes Zappos as, "A customer service company that just happens to sell shoes."
In other words, the company has less do with their product than they do with serving their customers.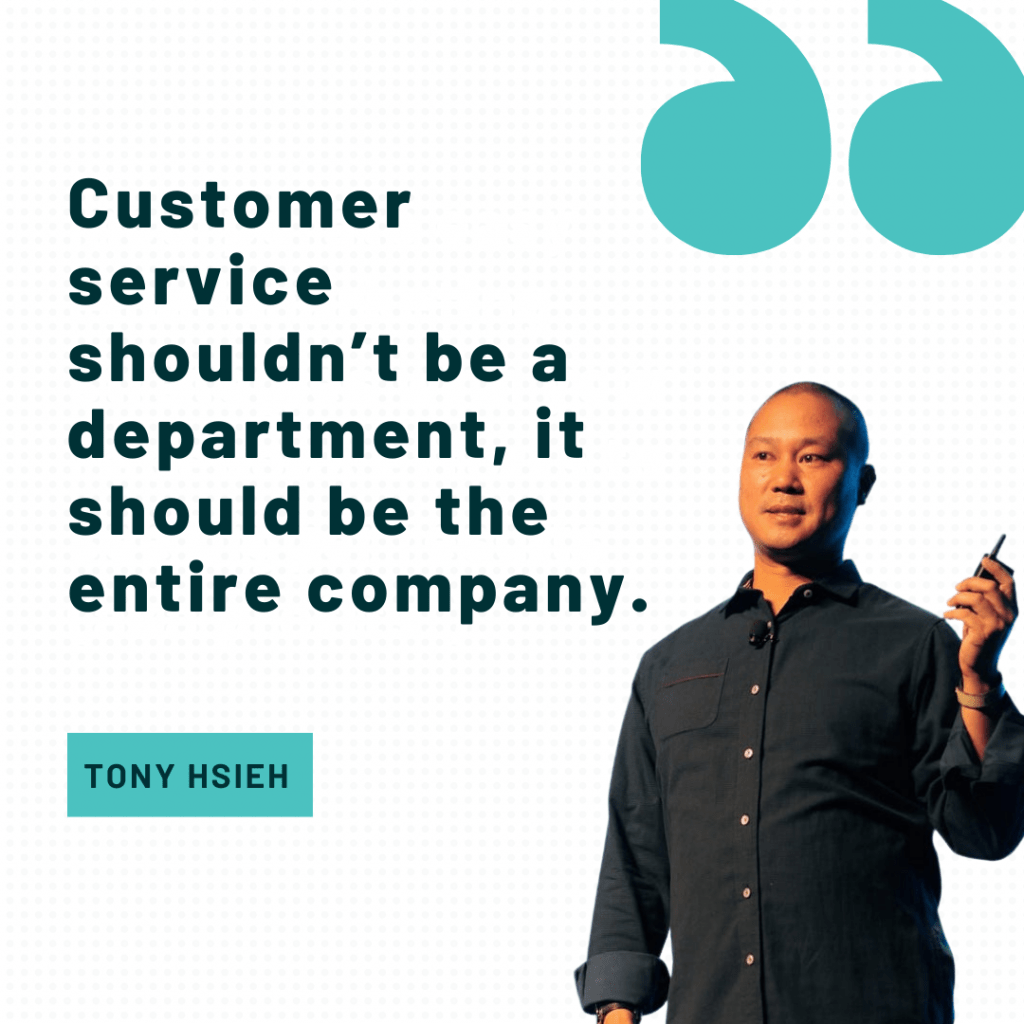 Zappos's tagline – "Powered by Service" instill a unifying message that reminds employees, no matter their job title, that their ultimate goal is to meet the needs of Zappos' customers.
From marketing to product sourcing to customer service, beginning with your customer's best interests at heart creates an experience that'll keep them coming back for more.
2. Hire Staff With Customer Service Oriented Skills
This one seems to go without saying, but you'd be surprised at the number of businesses who hire the wrong talent.
This is because customer-oriented skills don't have a lot to do with professional qualifications or training. Usually, they're personal qualities that people naturally picked up throughout their lives.
Some core traits to look for are:
– Empathy: the ability to relate to another's feelings
– Active listening: the skill of being able to listen so that others feel heard
– Proactivity: the ability to preemptively see issues arising and resolve them early
– Patience: the ability to listen to customer complaints fully and not rush through them
– Tenacity: The ability to go out above and beyond the call of duty when it matters
Employing staff endowed with customer service-oriented skills at every level of your business means you'll abolish annoying Robo-style customer service.
Instead, you'll have a team of relatable humans who can ask the right questions and act in your customer's best interests.
3. Make it Easy for Customers.
Question: do you prefer when a customer service rep walks you through a solution or when they just go ahead a fix it?
After surveying 75,000 customers, the Harvard business review found that most folks just want the issue resolved asap. Interestingly, they found that the easier agents made it for customers to fix a problem, the more significant its impact on customer loyalty.
The implication? Outstanding service-oriented agents make fixing customer problems a walk in the park. They don't put the onus back on the customer or rattle off a list of steps to follow. They just do it themselves.
It's probably not the most mind-blowing idea, but implementing it can have a fantastic effect on your customer relationships. By efficiently getting them to a resolution, you'll reduce the stress they feel and bolster their faith in your brand.
4. Get Proactive
The top-levels of customer service orientation don't only cater to customers when something goes wrong. They're able to assist customers before they need to reach out to support.
In eCommerce, this could mean using a system to keep track of order shipments and reaching out to customers to notify them that their parcel might be a couple of days late.
It could also mean establishing a system where you follow-up with customers after they've contacted you for assistance. Or better still, since only 4% of unhappy customers will complain, why not follow up with every new customer, asking them if they're satisfied with their order?
In a world where consumers feel like brands don't care about them, a simple message asking how things are going can make a world of difference.
5. Create a Concrete Customer Service Philosophy
A customer service philosophy is a collection of principles that shape the way your business interacts with customers. It lays out the customer service level you expect from your staff and guides you towards your highest customer service goals.
Creating one is a fantastic way to make sure everyone is on the same page. Get out of your head and into your customers. Ask your staff what they value. Create a document that captures the vision for where you want to go. Your philosophy will serve as a road map to guide your team towards customer service's top tiers.
👉Suggested Reading: How to create a customer service philosophy
Customer Service Orientation examples
Transforming your business into a well-oiled a customer-oriented machine is all about delivering happiness to your customers. Let's look at a few examples of companies who excel at this:
1. Casper
Mattress retailer Casper does a lot of things right when it comes to eCommerce. But one thing that sets them apart is their dedication to their customers.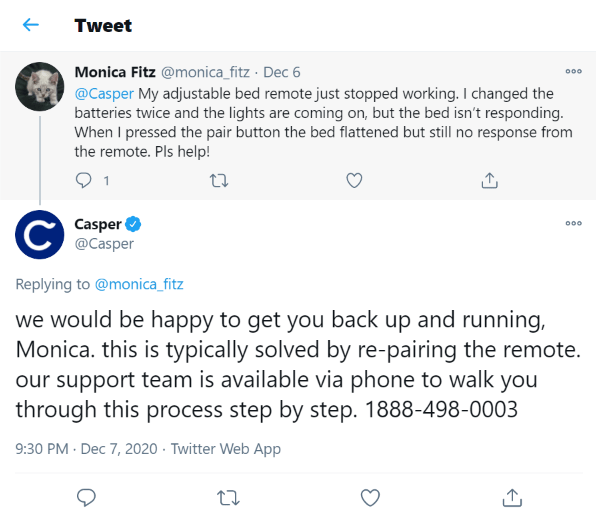 In this example, you can see Casper are using twitter as a way to connect with customers in the place where they feel most comfortable. In this case they provide a phone number to provide instant support for the unhappy customer.
Pro tip: Use EasyCall to add a dedicated business phone number to your Shopify store.
2. Zappos
We've already talked about Zappos legendary customer service. But they're that good they deserve a second mention.
This specific example might surprise you because the customer they're replying to isn't complaining about anything. The tweeter 'chris' didn't even tag Zappos.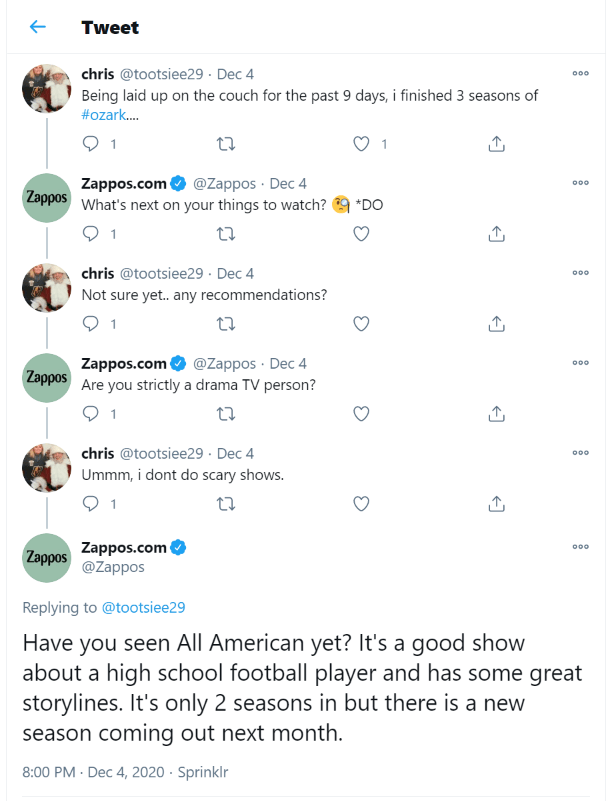 But incomes Zappos support team to talk about what's good to watch on Netflix. This is totally unrelated to their product, but they're behaving like a friend would – sharing suggestions of good shows with their customers. A perfect example of how fantastic service goes beyond just resolving customer problems.
3. Patagonia
Outdoor equipment company Patagonia is known for having a loyal tribe of dedicated customers. And it didn't happen by accident. Patagonia is in tune with it's customers values and beliefs about the world.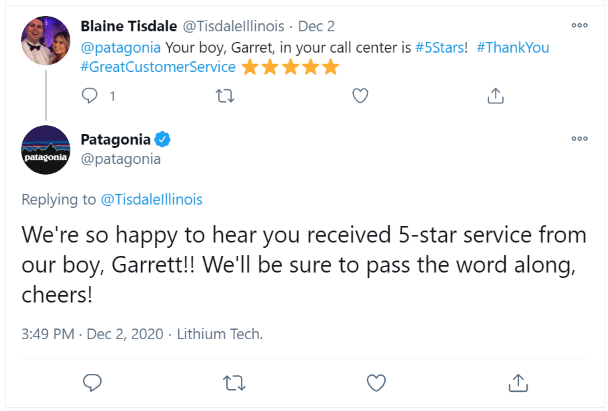 They strive to realize their customer highest aspirational goals, specifically around climate change and sustainability. They don't aim to profit for the sake of profit – and their "don't buy this jacket" campaign and is a testament to this.
Closing Thoughts
Creating a customer oriented culture is essential for businesses to excel in the modern age. Caring deeply about your customers is at the core of what it means to be customer service oriented.
That doesn't mean that you should neglect your interests. You are a business, after all. But too often, we tend to skew things in the direction of our priorities. It's all about finding that sweet spot – the natural intersection of your customer's needs and your business needs.
Ultimately, creating a service oriented companyis about treating your customers like you'd like to be treated yourself. There's no business where things will always go right. That's ok. What matters is how you respond when things go wrong.
So, put yourself in your customer shoes and call to mind the great quote by Maya Angelou:
"People will forget what you said, people will forget what you did, but people will never forget how you made them feel."
Best of luck!