The thought of starting an eCommerce business might conjure romantic visions – being your own boss, managing your business from a laptop, earning 5, 6 or even 7 figures a year from your business and just making it big.
But consider this: there are 12-24 million eCommerce websites in the world. This is your competition. How many of them have you ever heard of?
Running an eCommerce business is like running any other business. It requires effort, time, resources, and it is way harder today than it ever was.
Yes, the dynamics of doing business have changed in the past couple of decades. Businesses have dissolved geographical barriers and you do not need to be a multinational corporation to sell your goods and services to an individual on the other side of the world.
However, newer challenges have emerged and those who are able to address them, and find creative ways to solve them, often see themselves on the greener side of the eCommerce pasture.
How Having Customer Support Distinguishes You From the Crowd
The Holy Grail of eCommerce has always been customer support, and customer satisfaction is no longer enough. You need to connect with your customers at a far deeper level to be able to create loyalty in them for your brand.
There is only so much that you can do if you are selling the same products and services as a million other websites. But what differentiates a great eCommerce brand is its relationship with its customers and its ability to inspire customer loyalty. And the best way to do that is with great eCommerce customer support.
Take Zappos for instance, they have, in their own words, a "customer-obsessed culture." The company's eCommerce customer support stories are the stuff of eCommerce legends. Remember their almost 11 hours long service call? Who talks to a customer for that long for a single sale?
Other examples of brands that have great customer support are Amazon, the world's favorite eCommerce brand, Nordstrom, Netflix, and Swanson. So what is the guiding philosophy of these companies that are known for awesome eCommerce customer support and service?These companies have built their businesses around the customer and not around their products and services. For them, customer service is not a department, it is ingrained in everything they do.CLICK TO TWEET
Their "customer" is not defined by an individual who pays for their goods or services. It is any stakeholder – a vendor, a shareholder, an employee or even a candidate looking to find a job in the company. This is how they inculcate a true customer service mindset that permeates every element of the company and doesn't simply "get turned on" when talking to a paying customer.
So how do you create your eCommerce customer support strategy that will differentiate your eCommerce business from millions of competitors? Let us take a look at some best practices, which are more like guiding principles that should help you define your own customer support philosophy.
These are principles you can use to build a truly remarkable eCommerce customer support system, and delight your customers and build your brand reputation as a business that cares.
1. Automate, But Not at the Expense of Human Interactions
It is no wonder that technology has radically changed all aspects of business, especially eCommerce.
The one aspect that you might one would feel obviously belonged in the human domain is also being "taken over by the machines." AI chatbots are redefining eCommerce customer support, and advances in machine learning are helping create better bots that chat organically and almost as naturally as we do.
Chatbots are a great tool to help you control support costs and give customers a faster way to interact with you.
Take eBay's ShopBot for instance, it's a virtual personal shopping assistant that helps customers find the right products on eBay.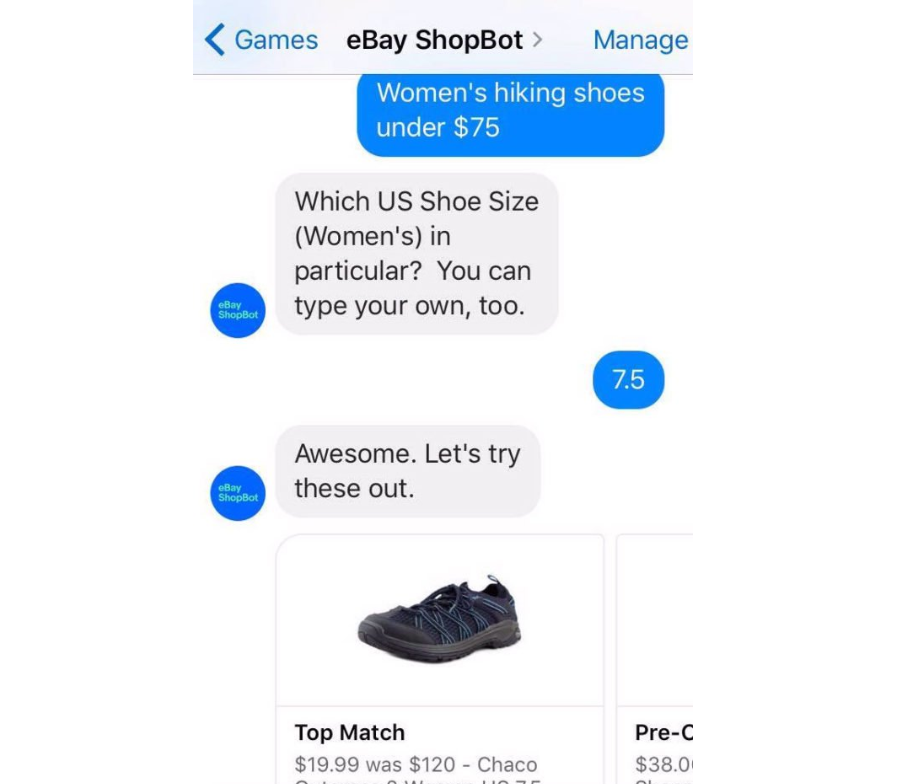 Statistics show that people are loving these chatbots. 1 in 5 consumers said they would consider purchasing goods and services from a chatbot and that they are willing to spend more than $400 through a chatbot.
For an eCommerce business, chatbots are appealing as they reduce customer support costs, they are available 24×7 and can handle multiple customer requests at the same time.
However, as an eCommerce business owner, you should never rely solely on an automated customer support system.
Due to their inability to understand certain queries, chatbots can seem annoying, and customers may leave your site in the absence of satisfactory customer service. Because AI-powered chatbots need a lot of data to learn and have limited responses, which can be a huge turn-off for many customers.
Take a look at a persistent bot developed by The Wall Street Journal, that simply wouldn't take no for an answer. As soon as a customer unsubscribes, it would promptly re-subscribe them and overwhelm them with more news. It prompted many customers to complain to the media house, which had to take the bot down for some time until they figured out what the problem was.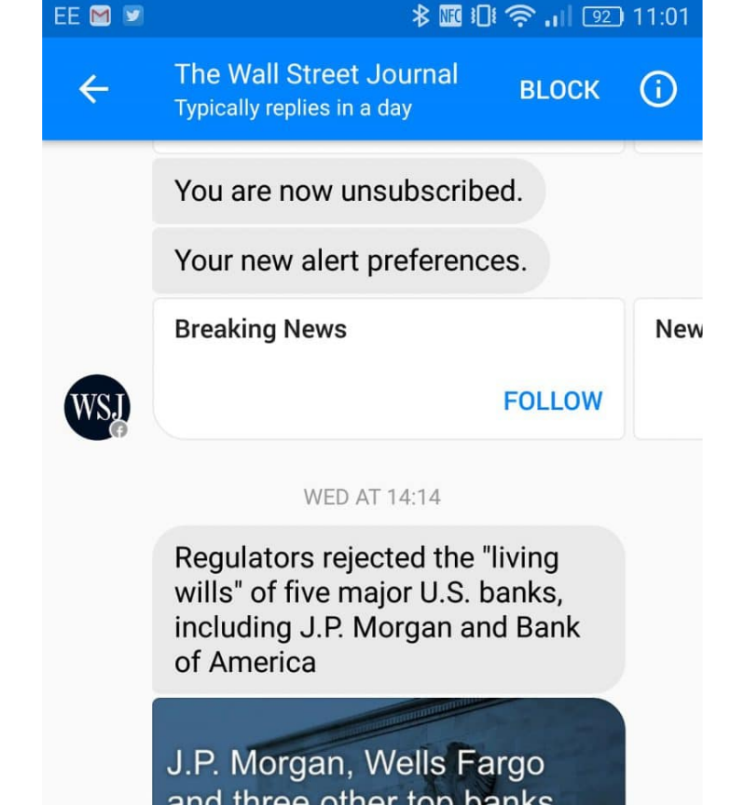 Let us turn our focus to Amazon again- Amazon uses chatbots, but only to gather basic customer information. This saves a lot of time for the support rep and he/she is free to cater to the customer's genuine concern.
Chatbots are very helpful if used in the right way. You can combine automation with the human touch – use chatbots for commonly asked questions but also give customers the option to skip the automated responses and talk to a human representative.
2. Empower Your eCommerce Customer Support Staff
When you create an awesome customer support system, you have to truly empower your service representatives. Only when they are able to relate to customers' distress or understand what customers actually need, can they help them.
Don't let service quality be dictated by dry company rules, make going "out of the way" a norm. Any service rep of a company that delivers great customer service will tell you that. Just as Randall told me.
I spoke to Randall, a customer support champ over at Zappos. He was kind enough to chat with me even though I had no intention of buying anything. In a conversation that lasted around 15 minutes, Randall shared a few pearls of wisdom:
"We try to be direct and personable. We take care to address and solve customers' problems and not send them up the "chain of command," or make them jump through multiple hoops."
Randall said Zappos trusts him to do whatever is necessary to delight the customer, and not follow any rule book on what he can and cannot do. When I asked him what his personal best call time was, he was quick to say that he never measured call times, he always endeavored to genuinely connect with customers and always intended to help them, in any manner possible.
Another brand that empowers its employees to go over and beyond in their efforts to help customers is the Ritz-Carlton, which can provide great insight for any business – physical or online.
One of their many heart-warming stories is about how a chef in a Ritz-Carlton in Bali called his mother-in-law in Singapore, asking her to buy special food items for a visiting couple's child with food allergies, and fly to Bali to deliver them!
Simon Cooper, Ritz-Carlton's COO, believes in empowering employees to deliver an amazing experience to their guests. He says:
"The goal is to develop such a strong emotional engagement between the hotels' staff and their guests that a guest will not consider staying anywhere else, even if they have an option."
3. Empower Customers With Self-Service Tools
Believe it or faint, the last thing your customer wants to do is speak to your service/support rep.
According to a truly shocking finding, a service/support interaction is four times more likely to result in a disloyal customer. The reasons behind this are – repeat contacts, channel switching, transfers, repeating information, robotic service, policies and processes customers have to endure and the "Hassle factor."
All of these are clubbed together into what is known as "customer effort." The more effort is required from the customer, the higher the chances of you losing him are.
So even though you would provide multiple ways for the customer to contact you for support, the customer will always look for ways to resolve his own queries without having to interact with you.
For this reason, you can actually create great customer support through the strategic use of self-service tools.
By creating self-service tools, you are also freeing up valuable resources in the form of your support reps who now have time to solve more complex issues. The above-mentioned study also shows that a low-effort service experience will help you save up to 37% of costs.
Research also shows that customers love self-service tools, and 91% of participants say that they will use them to solve their queries before contacting a support rep.
Trust your customers to solve their own problems; just give them the right tools to do it. Some ideas for effective self-service tools that you can offer are:
How-to videos – you can create informative and self-explanatory videos to resolve common issues faced by customers. You can lace the videos with a bit of humor to make them interesting to watch.
Step-by-step guides – step-by-step guides are always a great way to explain a process. For instance, you might want to show your customers that your checkout process is easier (and different) from other eCommerce sites. Create a step-by-step guide with screenshots and some animations to make it easier for customers to understand and appreciate your process.
FAQs – the Frequently Asked Questions (FAQs) section is another helpful resource for customers looking to find a solution to their problems. You can identify the most common problems faced by customers and create a common question and a comprehensive answer to it.
Automated support through chatbots – you can provide a twist to regular text-based FAQs with chatbot-enabled support. Customers can type their questions in a box and the bot can provide predefined answers to them. Chatfuel is a great chatbot and the world's leading chatbot platform for Facebook.
4. Use Omnichannel Communication
There are multiple channels through which people communicate today. Oftentimes customers initiate communication through a few different channels- they would write on social media, then write an email and later make a phone call to the customer support call center.
For them, these are simply different means to communicate with the business, for them to choose from. For the business though, it is extremely difficult to keep track of all communication with a single customer happening on different channels.
So it is your responsibility as a business to a) give omnichannel access to customers, and b) keep track of communication across multiple channels so that the customer gets a seamless experience.
It is also vital that you make it easy for a customer to contact you. Check out Swanson's home page- notice the Help/Support and Chat options on the top and bottom of the page. These options are placed in such a way that makes it easy for the customer to contact them, rather than trying to find the "Contact Us" tab.
Remember, low customer effort, higher customer loyalty.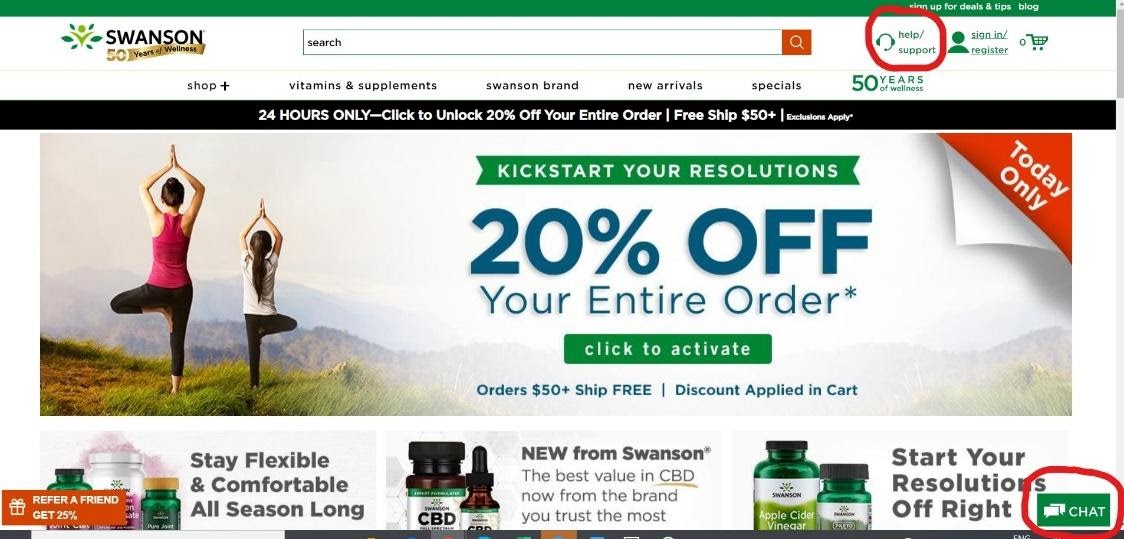 Now, take a look at this eCommerce site- Flipkart is one of India's biggest eCommerce websites. But a quick look at its home page and you won't find any means of getting hold of their customer support. Neither does it give any chat options, nor does it mention any customer call center number.
That means you can only talk to support if you have bought anything from their site. Not a great way to boost confidence in a potential customer.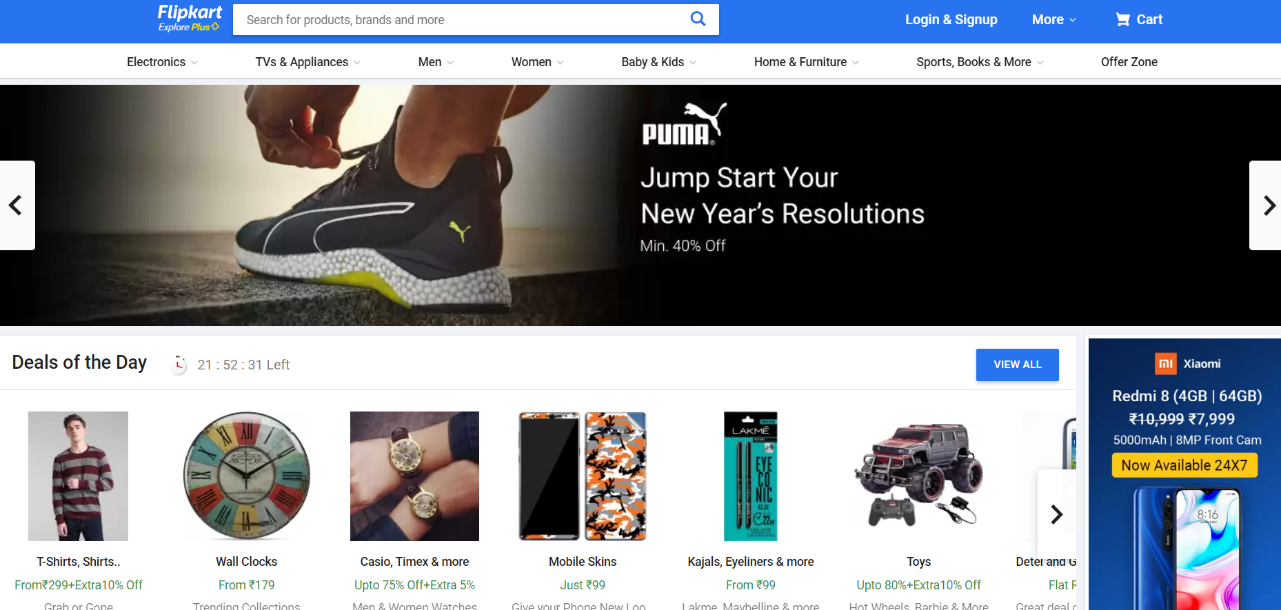 It is important that you make contacting your support center as easy and seamless as possible. You can use multiple channels for customer communication:
Live chat – this is the easiest option you can provide your customers to contact you. A live chat widget at the bottom right of the page is often seen on many eCommerce sites. It prompts customers to ask questions directly to customer support. There are many live chat providers to choose from, a few examples are: ZenDesk, Tawk, Olark, Drift, Intercom, LivePerson and SnapEngage, but our all-time favorite live chat app for eCommerce is Gorgias.
Email – communicating through an email is a method many customers feel comfortable with. Mention your customer support email on your site such that it is easily visible
Voice call – a powerful method to engage customers and make it easy for them to call support is the voice call feature. Use an app like EasyCall to create a click-to-call widget on your website through which you can provide voice support to your customers. Similarly to live support chat, the call widget follows customers through all pages, so that they can call, if needed, without disturbing their journey on your site.
Social media – another cost-effective, yet extremely efficient, manner to provide customer support is by providing links to social media accounts and allowing customers to contact you through them. Shopify, for example, has a Twitter account dedicated to customer support.
5. Hire the Right People
Unless you hire the right people with the right mindset, you simply cannot build a great customer support system for your business.
As mentioned earlier, customer service needs to be the driving philosophy of your business and not an afterthought. So you need to hire people who have the ability to learn and the desire to help people.
Remember, the customer support team is your businesses' touchpoint with the world. How they interact with customers will directly determine your success.
What Qualities Should You Look for When Hiring for This Role?
Empathy and self-motivation- your perfect candidate should be able to understand the customer's concerns so when you are interviewing for this role, look for people who are naturally empathetic. They should be patient and should be able to put themselves in the customer's shoes.
The role of a customer support rep is not an easy one, it can become repetitive and mundane after a while. This is why you need people who can motivate themselves every single day with the primary aim of genuinely helping customers.
And when you do find the right person, with these qualities, do not give them a company rulebook to follow blindly. Instead, let the rulebook assist their interactions according to specified customer support guidelines. But also empower them and give them the control they need to own responsibility to help your customers in any way possible so that they can keep customers happy within the guidelines of the company.
To drive home the message of what I am trying to say here, you should hear the story of Mike Mears, a Netflix customer support executive. He was contacted by a customer who had trouble streaming a particular episode of a series he had been watching.
Now, talking to an angry customer can be a distressful experience, so here's what Mears did: he quickly sifted through the customer's viewing history and found out that he was a big fan of Star Trek.
Mears got into character and started with "This is Cpt. Mike of the good ship Netflix. Which member of the crew am I speaking with today?" This was a real icebreaker. The customer, too, got into character and replied with "Greetings, Captain. Lt. Norm here. Engineering has a problem to report."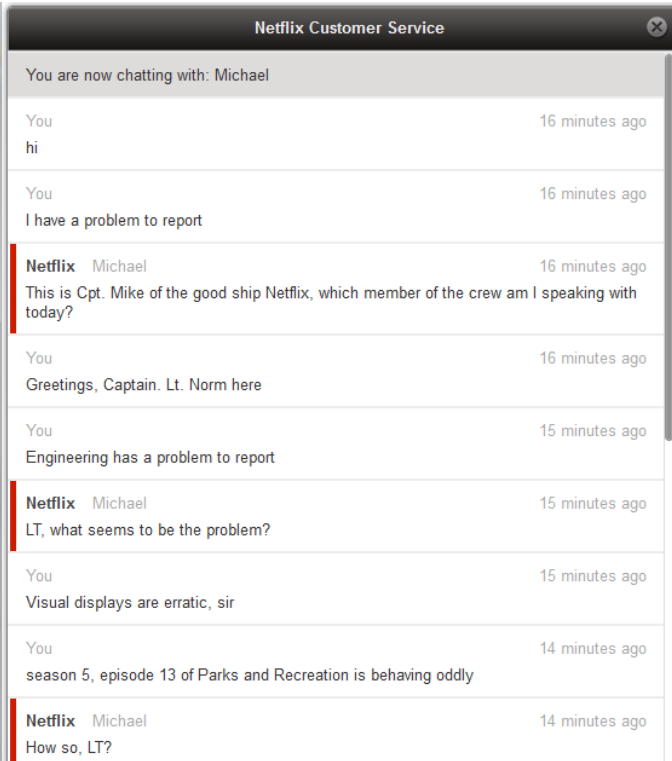 The conversation has to be seen to be believed. It soon became viral. Mears was invited to headquarters and also to a talk show (along with William Shatner himself!) and was congratulated for the creative manner with which he handled the customer issue. This is the perfect example of a support rep being empathetic to a customer's concerns and going the extra mile to soothe them.
Parting Thoughts
In this day and age of fickle attention spans and shifting loyalties, companies with amazing customer support are the only ones who can acquire a crowd of loyal customers. These customers swear by the company's products and defend the brand vehemently on social media. They are awesome brand ambassadors, providing something even millions of marketing dollars cannot buy.
An eCommerce customer support strategy shouldn't stay on paper, to be used in training manuals. It should be a part of your businesses' DNA. Only then can you succeed in these times of extreme competition.