How Brand Reputation Management Builds Long-Term Success
Brand reputation management is one of the most critical pieces of the ecommerce puzzle.
Why?
We're in the digital age, so word travels fast.
And that includes the word about your business.
The ecommerce businesses that get the most customers are the ones that have spotless track records and raving loyal customers.
And today, we're going to teach you how to create that spotless reputation.
So without further ado, let's get right into it.
How to Earn (and Keep) a 5-Star Reputation for Your Business
Unfortunately, offering a great product isn't enough to keep a 5-star reputation anymore.
With all of the competition out there, you've got to give customers a reason to choose your business over the rest. Then, you'll need to make sure that your online reputation is good enough to attract more customers.
And we'd advise not leaving that process down to luck.
The best brands are the ones that offer great products and have marketing departments that are capable of getting the word to spread.
To do that, you'll need a well-defined brand reputation strategy.
Form a Brand Management Strategy
An effective brand reputation management strategy includes a few pieces.
First, you'll need to set your foundations up; these will be the pieces that everything else can stand on.
Then, you'll need to focus on developing an excellent customer service approach.
Next, you'll want to ensure that your post-purchase care is just as strong as everything leading up to the sale.
And last(but far from least), you'll want to foster a community that makes those happy customers into loyal advocates for your brand.
Makes sense? Great; let's get right into each of those steps and how you can implement them in your own business then.
Build Your Brand Reputation Management Foundations
Without getting your name out there, it won't matter much whether you have a 1-star or 5-star business rating.
You also need to get your business in front of potential buyers in the first place- that way, they can see that reputation you've built.
And that's what this step is all about.
The first step to a 5-star online presence is the foundation.
Or, to be more specific, you've got to lay down channels for your reputation to shine in the first place.
Once these are down, you'll have the groundwork for everything else to launch off of. So let's talk about the best channels to focus on for your brand reputation management strategy.
Create a Presence on Various Social Media Platforms
One of the most critical channels for brand reputation is social media.
To earn consumer confidence, it's useful to have a strong presence on all relevant social media channels and keep your page active on it.
Not only that, but discussion travels faster on social media than on pretty much any other platform. And the word of a brand with a great reputation is no different.
Careful though, critical and unhappy customers can be some of the most vocal anti-advocates out there on social media, so you'll have to make sure every customer walks away happy. (More on that later)
Each industry has its own relevant social media channels, so you should do a bit of research on where your competitors have the most success on social media and emulate their approach- with your business' spin on it, of course.
Create a Google My Business Page
Google My Business, or GMB, is one of the most neglected channels out there for online stores (and the offline ones too).
What is a GMB?
For the uninitiated, a GMB is the store result that appears on top of search results. It looks like this: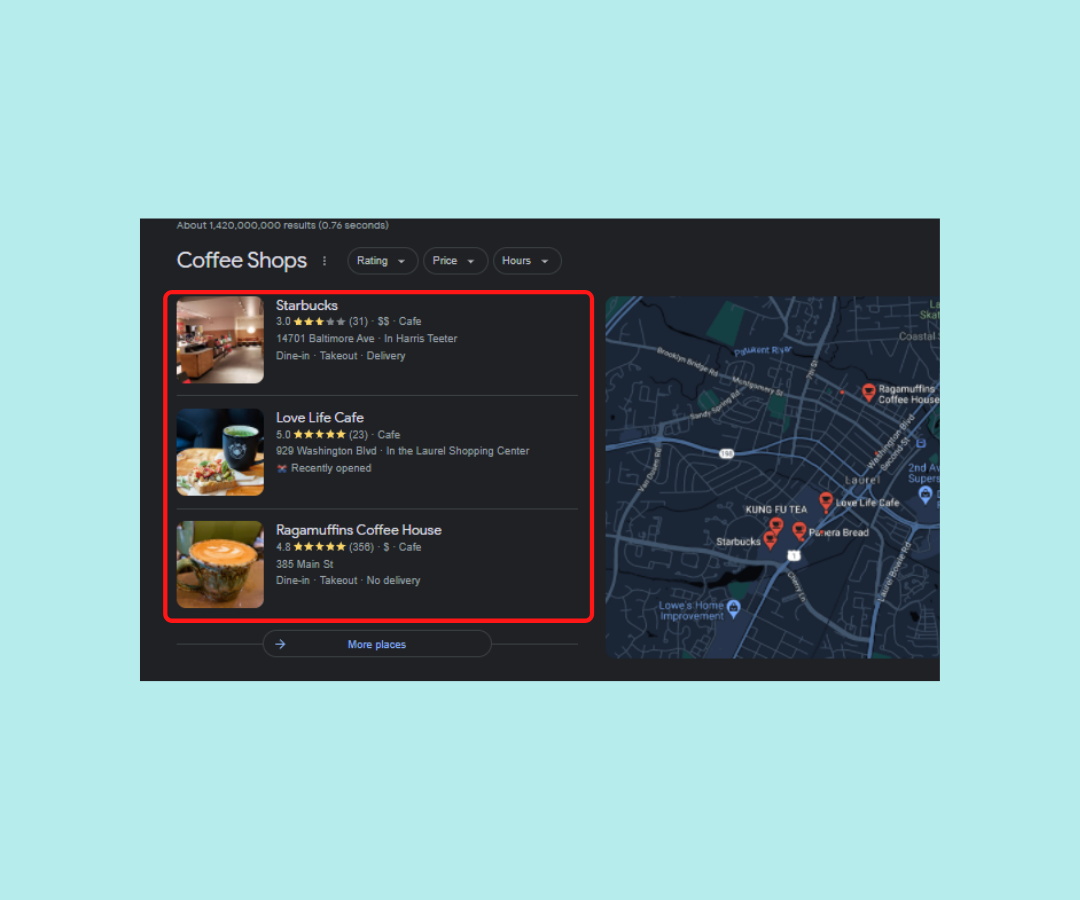 A list of GMBs will appear when you're doing a map search on Google as well.
Now, if you have a physical location- it's likely that your business has a GMB already, but you'll still want to claim it. An unclaimed GMB isn't the most enticing of digital store fronts: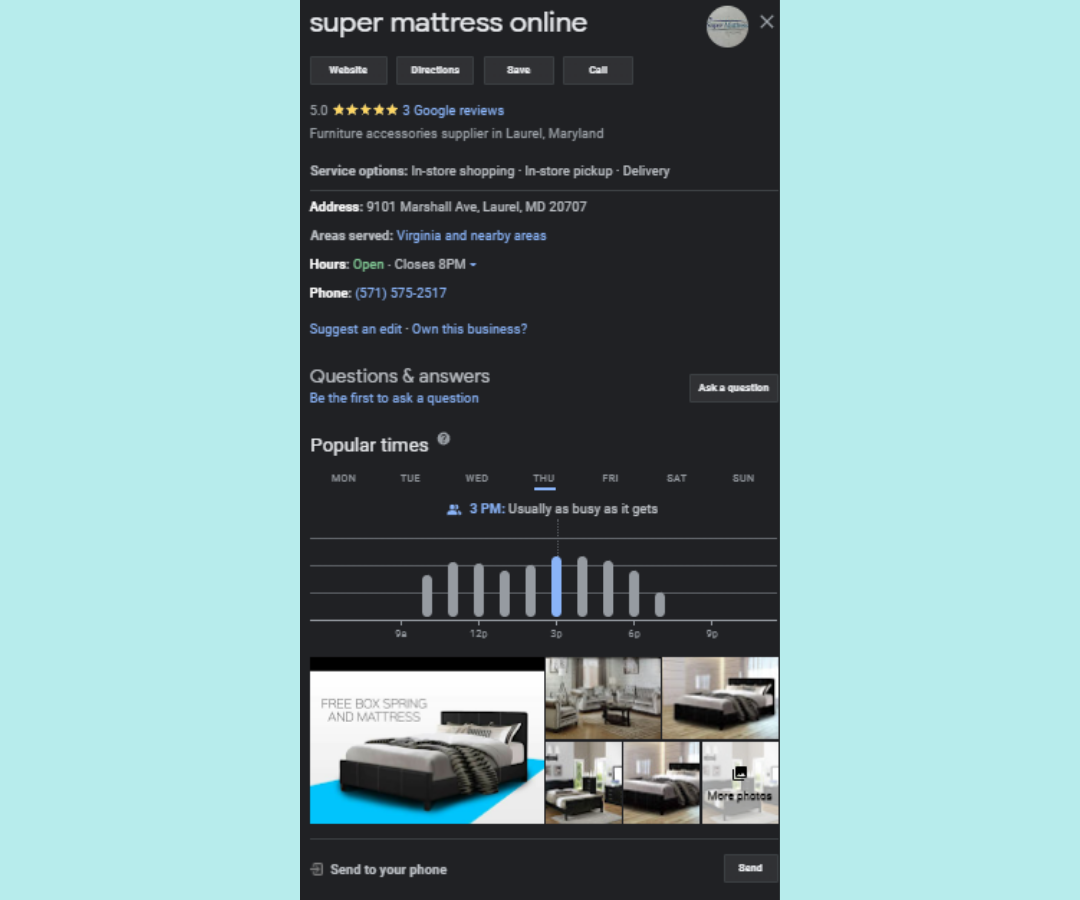 And if you have a non-physical store, you'll likely have to create a GMB.
GMBs are vital for a few reasons.
The first of which is that they help you appear in search results. Businesses with GMBs have a significantly higher chance of showing up on organic searches, and they look a lot more trustworthy for the customers who do see them.
GMBs also allow you to take up more "digital real estate" and show off your brand before potential customers even click on your site- and it's free to make one.
All in all, there's no reason not to create or claim your GMB.
It's super simple, too. Just use this link to find out if your business already has one to claim or if you'll need to create a page from scratch.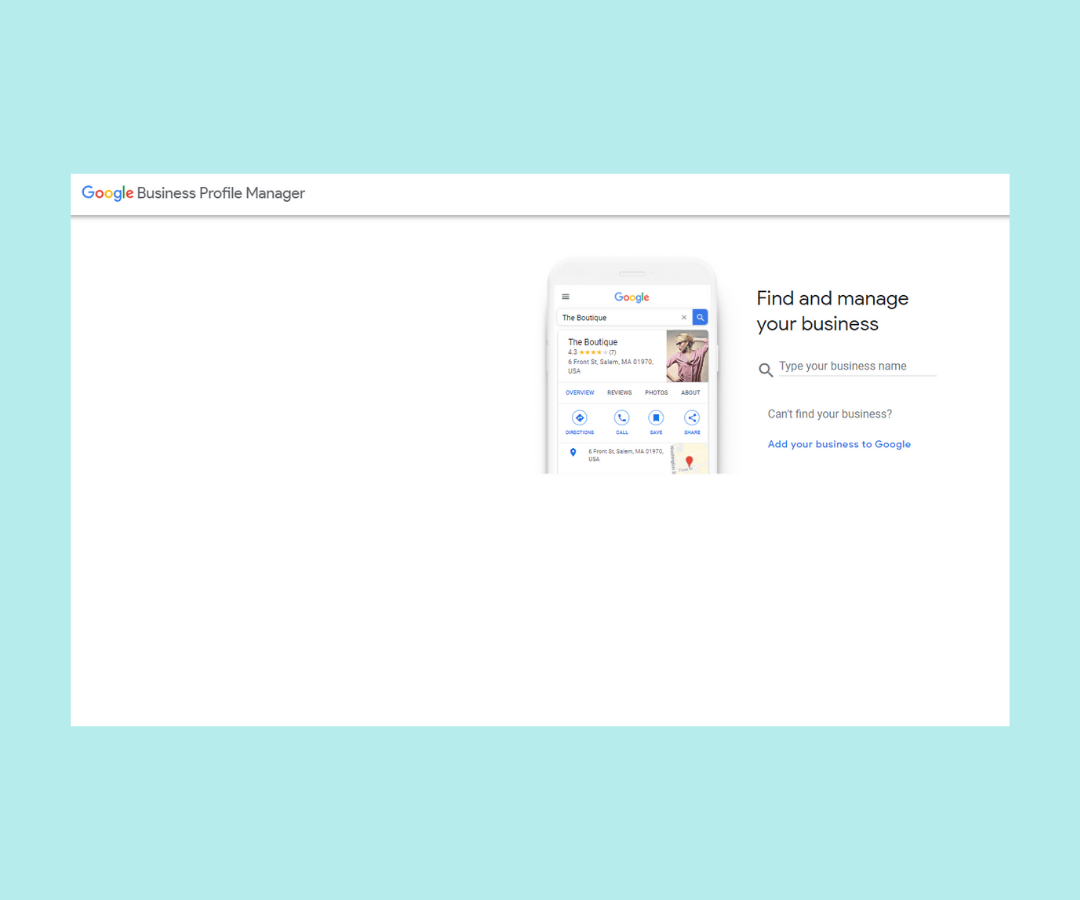 Provide Helpful Content
Content marketing is another vital part of brand reputation.
Putting out content through channels like a blog or LinkedIn allows you to provide useful tips and information to customers and prospects alike.
After all, a brand that's looking out for consumers is one that has a much easier time earning consumer trust.
The best social media and blog posts are ones that provide value without asking for anything back.
Run an athletic clothing store?
Provide exercise and health tips for readers.
Offer an accounting software tool?
A guide on how to manage taxes for ecommerce businesses might be a welcome addition to your content pool.
Focus on the questions and concerns your customers have and use your content channels as a way to answer them preemptively.
Implement Excellent Service to Increase Customer Confidence
No one likes waiting in a customer support queue that lasts an eternity.
Nor do they like interacting with agents who don't seem to care about customer concerns.
And for the companies that don't even have customer support sections? It's even worse.
The customers who keep coming back and spread the good word about your business are the ones who have good experiences with it.
And 5-star customer service is one of the best opportunities to turn any customer experience from good to great.
Strive for 100% Satisfaction for Every Customer
One of the main tenets that your customer support team needs to nail down is customer satisfaction.
Pure short-term profit isn't always the focus; in fact- it's often better to prioritize happy customers than it is to maximize the money you get from each one.
If a customer receives a faulty product, don't be afraid to send them a new one.
If a customer want to send a product back in exchange for another- Make it an easy process for them.
Whatever the problem or concern is – make sure their satisfaction is at the top of every rep's mind.
And always make sure to ask if their experience was a good one.
If not, find out why and what could've been improved.
Remember, satisfied customers aren't just returning customers, they're also the best brand advocates out there.
Develop Multiple Communication Channels
Have you ever been in need of quick customer support, and been greeted by a contact page that looks like this?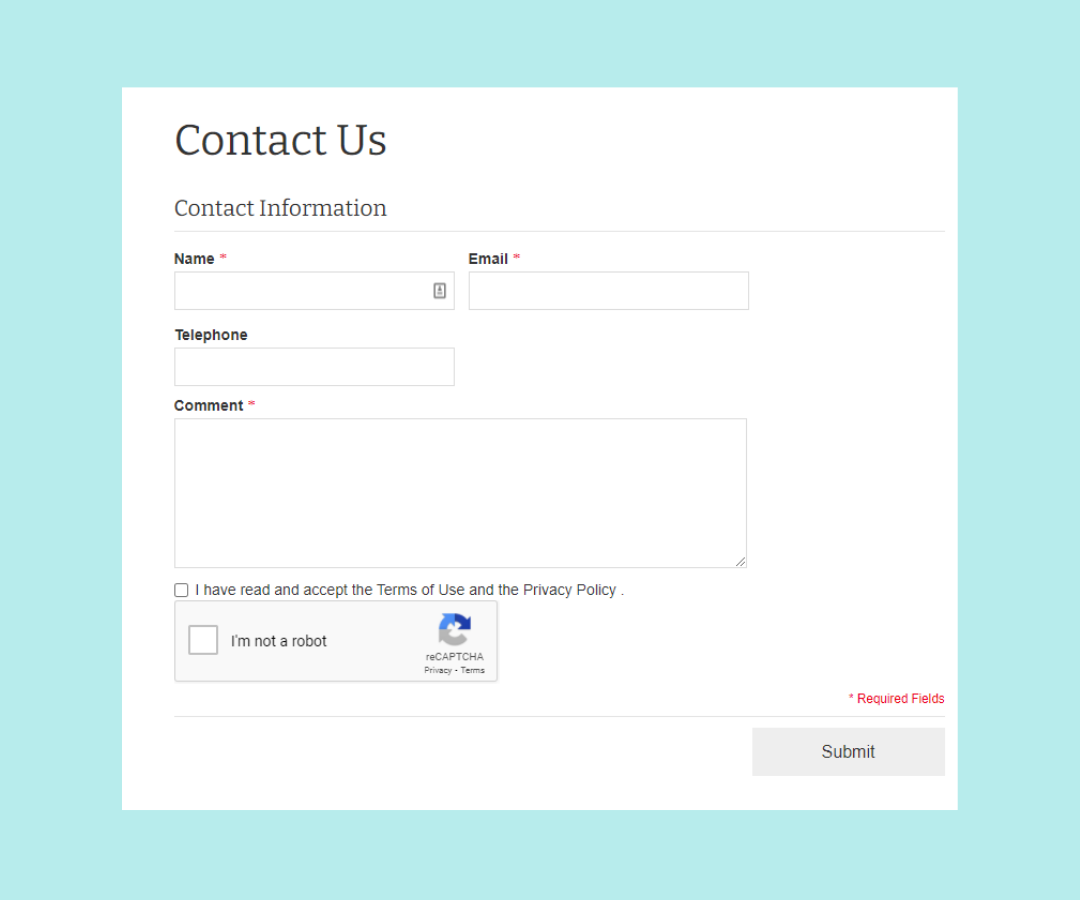 Where the only option in sight is a form…
All too many businesses make this mistake, and it's not hard to see why.
Developing multiple communication channels for customers to contact you is tough. Whether it's a phone line, live chat, or email- each one takes quite a few steps to get right.
But despite that, it's still vital to build out those channels.
Consumers trust companies that make it easy to contact them, and providing multiple channels means that there's an option for each customer's preferred method.
And luckily, there are plenty of apps out there to make it much more straightforward.
From live chat apps to ones that help you create full-fledged call centers with just a few button clicks – luck EasyCall, for instance. EasyCall makes it easy and affordable to implement your own business phone line and works for over 195 countries.
Train a Top-Notch Customer Care Team
Customer service isn't just about creating multiple channels, though.
You'll also have to make sure that when customers do contact you, the rep they interact with is trained to make sure that customer walks away happy.
If you're hiring team members for your customer support team, make sure to systemize your training process so you can ensure that every representative is at the top of their game.
Create SOPs, walk each member through the process, and work with your teams to make sure they're ready to greet whatever customers may throw at them with a smile.
Every Brand Needs a Post-Purchase Care Plan
Always Request Reviews from Your Happy Customers
If a customer is happy with their experience, the odds are that they'd be more than happy to leave a shining review.
The problem?
People are busy, and oftentimes we just don't think to leave one.
That's why it's so vital to ask customers to leave reviews.
One quick reminder can be the difference between 0 ratings and a 5-star review from an ecstatic customer. And unfortunately, this is where far too many stores trip up.
Whether offline or online, reviews make a massive impact on customer trust, and as a result- your business' success.
Make sure to ask for a review on the most popular sites (Yelp, Google My Business, etc.) after every positive experience with a customer
Educate Consumers During the Pre & Post-Purchase
A confused mind isn't a buying mind, nor is it a satisfied mind.
To help your prospects understand your product's value, you should do your best to educate them on every aspect of it.
You should show them why they should purchase and how to use it with the most success- And once the purchase is over, your job isn't finished.
For many products, you'll want to provide content and information for the post-purchase too.
Great ways to do this are through FAQ sections, instructional blog posts, and even customer success representatives if it makes sense for what you offer.
Remember that the customer journey doesn't end with the purchase, each customer relationship is a seed that you need the nurture going forward.
Once you've put enough value into each of these seeds, they'll blossom into another loyal brand follower.
And each die-hard fan is another advocate for your product.
The Most Common Brand Reputation Management Mistakes
Never Fail to Respond to Customer Comments & Reviews
It's critical to engage with customers regularly, but that doesn't just mean the ones who have positive opinions towards your business.
In fact, it's potentially more important to interact with the ones who've left negative reviews or comments.
Each unanswered negative review is another bad mark on your reputation, which will have a lasting effect on your brand.
When customers leave negative feedback, it's vital that you respond publicly, and then work to improve their experience to make up for it.
When you've made amends, ask them if they'd be willing to change their review.
Odds are that many customers will be willing to change their public opinion if you've done the work to ensure they walk away satisfied.
Don't Prioritize Short-Term Profit Over Customer Satisfaction
Profit is great, that's a given.
But maximum profit in the short term isn't always the goal.
Because in the long-term, a happy, loyal following and strong reputation is always going to be the more sustainable approach for your business.
The businesses that focus on short gains over customer satisfaction are the ones that get left in the dust. The ones that make sure their customers feel heard are the ones that become household names.
So remember to put customer needs first and foremost on the hierarchy list.
Define Your Crisis Management Plan(s)
A crisis can come in many forms – From a PR disaster on social media to something ultra-relevant to all businesses- the pandemic.
And in times of crisis, your business needs to adapt and move quickly to keep its reputation in line.
Despite that, 95% of business leaders say that their crisis management plan could use improvement.
What every business needs are plans for various types of crises.
If your business faces an unexpected social media disaster, do you have the resources and plan to deal with it before it escalates?
If large changes happen to your market, do you have the resources to ensure each customer still receives top-tier service?
If you can't answer those with a clear "yes," you need to revise your crisis management plan.
The Wrap Up: Brand Reputation Management is Key to Every Sustainable Business
The way customers see your business online is a game-changer.
A negative reputation for your brand could be the end of the line, while a reputation of quality service could be what skyrockets your profit.
So make sure that reputation brand management is at the top of your priority list for smooth sailing ahead.
Still have questions or concerns though, make sure to let us know below and we'll make sure to respond!
And if you found this guide useful, check out some of the other guides on our blog