Live chat apps for Shopify are becoming one of the best ways to painlessly resolve customer concerns, build relationships and even drive sales.
For example, we know that website visitors who engage with your business via live chat are worth almost five times as much as those who don't. We also know that average order value gets boosted by 10% for customers who used your live chat service.
So, what does these stats mean? Well, it's obvious: as a merchant, you need to offer instant support on your eCom store.
But with a plethora of live chat solutions to choose from, how do you know which is the right live chat app for you?
Well, we've done the dirty work and deep dived into the best live chat apps for Shopify so you don't have to. Check out our top picks below – you'll learn the benefits, drawbacks and pricing for each live chat solution.
Let's get to it!
---
Before We Talk About Live Chat….
Did you know that customer calls have an average 30%-50% conversion rate? Yup, and live chat is nowhere near that percentage.
So, while live chat is something you should consider, it's also wise to give customers a way to reach you directly over the phone.
EasyCall is the easiest, fastest, and most affordable way to create a call center for your Shopify store – for customer support, sales, or any other objective. Your customers will now be able to call you with just a single click. See it in action by clicking the widget in the bottom right corner of your screen now!
---
The 8 Best Live Chat Apps for Shopify in 2022
Ok, without further ado, let's dive in and break down what we liked and didn't like about the best chat apps we could get our mits on.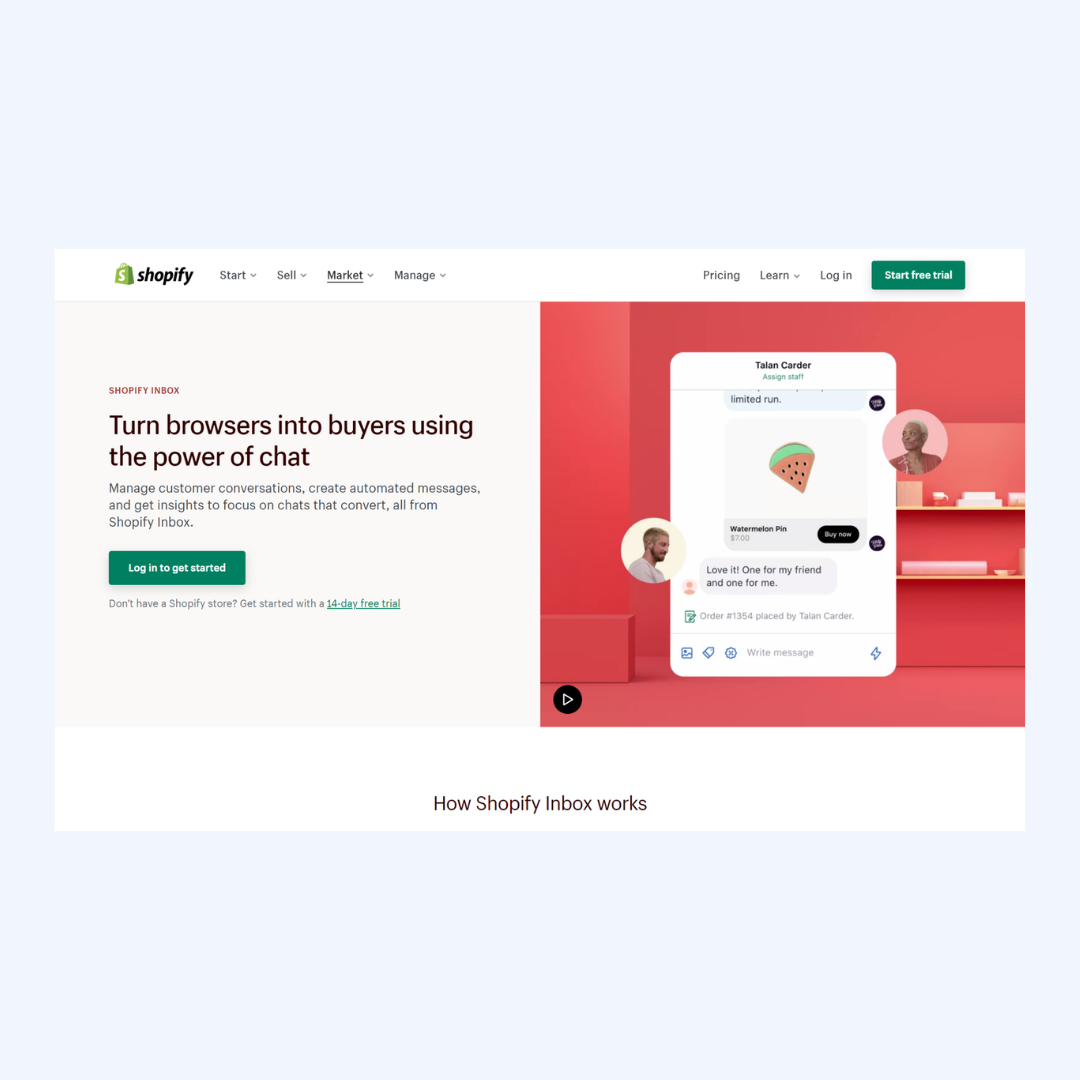 First up on the best live chat apps for Shopify, we've got – Shopify's very own chat app! Shopify Inbox live chat is loaded with features that can help you deliver a more engaging and profitable shopping experience.
You can enable the for free app from your Shopify dashboard, customize your chat widget and start engaging with shoppers no matter where you are with the handy mobile app
The backend analytics will give you deep insights into how your chat is performing so you can better plan your growth strategy. Possibly the best thing is how the app lets you turn conversations into checkouts by sending customers custom discount codes right within the chat window.
Plus, Shopify Inbox live chat also comes with FAQ chat functionality and automated messages so customers can self-serve their own support and ease the number of tickets your team needs to resolve.
Pros:
Free if your store runs on Shopify
Useful insights to monitor chat performance
FAQ functionality for when you're offline
Cons:
Pings for new chats can be slow to come through which memes customers may leave the store before you can respond.
Not the most customizable chat widget
Pricing:
Free as part of your Shopify subscription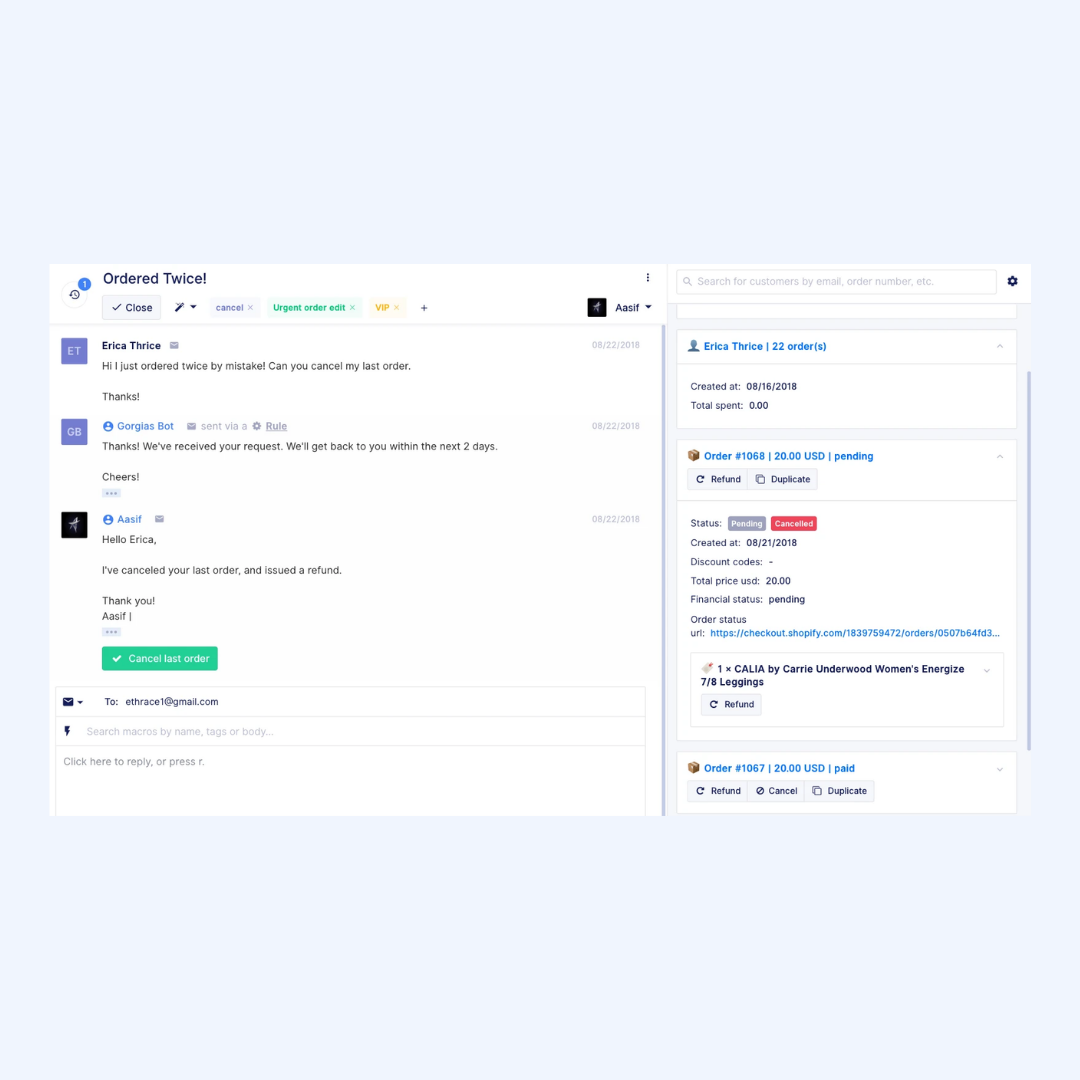 Gorgias is a help desk built specifically for eCommerce merchants. It's loaded with a bunch of awesome features that'll help you deliver more customer happiness.
One of the best things about Gorgias is how seamlessly it integrates with Shopify (and other eCom platforms too). You can pull all your customer data and previous interactions into one single space.
The chat campaigns feature is easy to use and also empowers you to prompt chat messages on specific pages for maximum interaction and conversions.
Pros:
Seamless omni-channel communication with customers from a single dashboard
Can support multiple eCommerce stores from one place
Pre-made canned responses for speedy support
Automated responses and chat-bot features
Beautiful, intuitive UX
Cons:
Pricing model could impact high call volume merchants
Somewhat limited reporting features
Pricing:
Plans start at $50/month. Free trial (7-days) available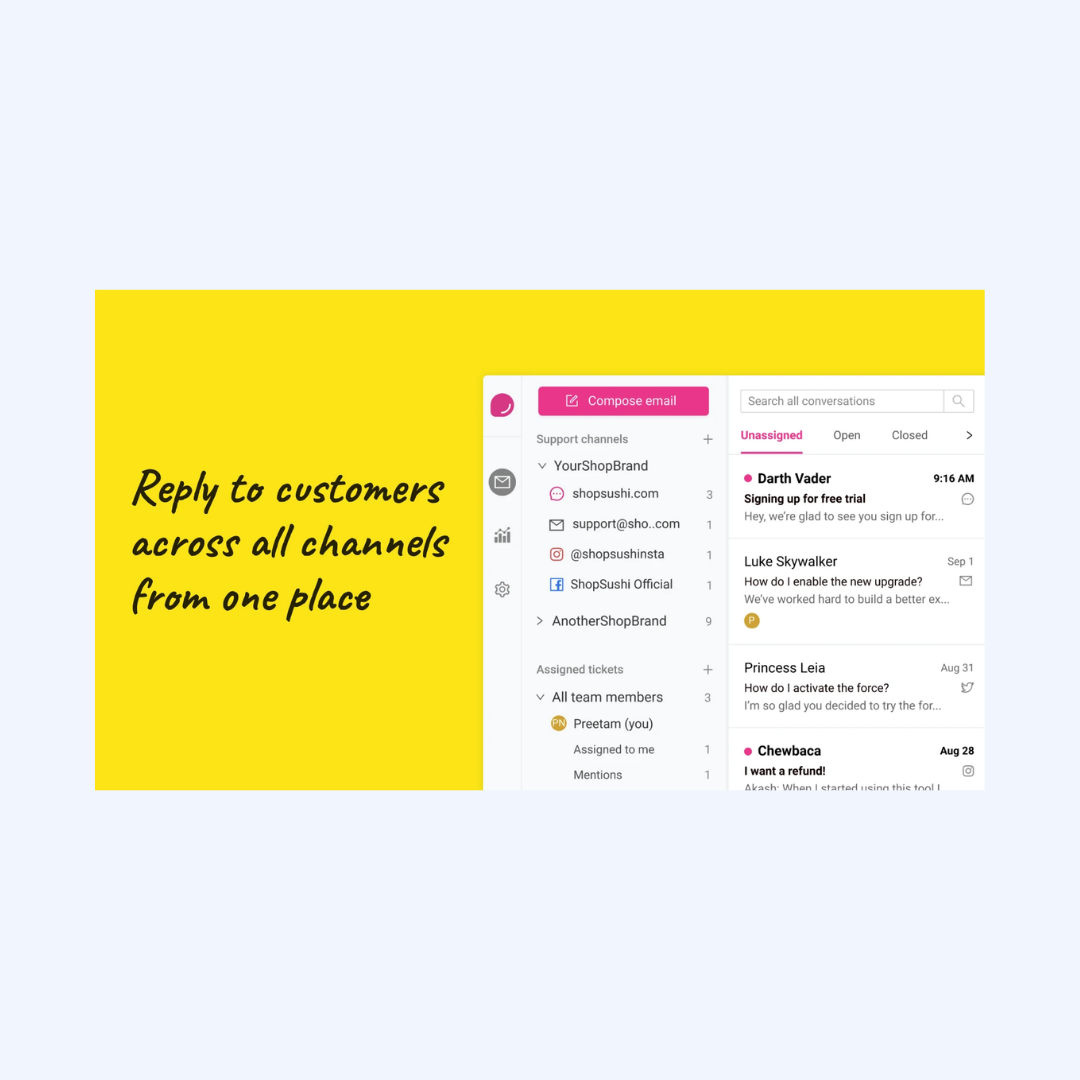 DelightChat is another feature-rich helpdesk for Shopify. Similar to Gorgias, it allows you to pull support tickets from multiple channels into a single, organized place.
You can consolidate your Instagram DMs, Facebook Messenger, FB/IG comments, Email and WhatsApp into one dashboard. DelightChat also has useful automation tools to help you deliver speedy responses while reducing the burden on your support team.
DelightChat also offers a handy mobile app for both Android and iOS which makes handling support on the go a breeze for solopreneurs or those without dedicated support agents.
Pros:
Easily authomate up to 30% of your support tickets
Intuitive email-style inbox for omni-channel support
2-click fast reply templates for quick response times
Cons:
No ability at present to directly edit orders or issue refunds within the app
Pricing:
Free up to 100 tickets/mo. Paid plans start at $29/mo with a 14-day free trial.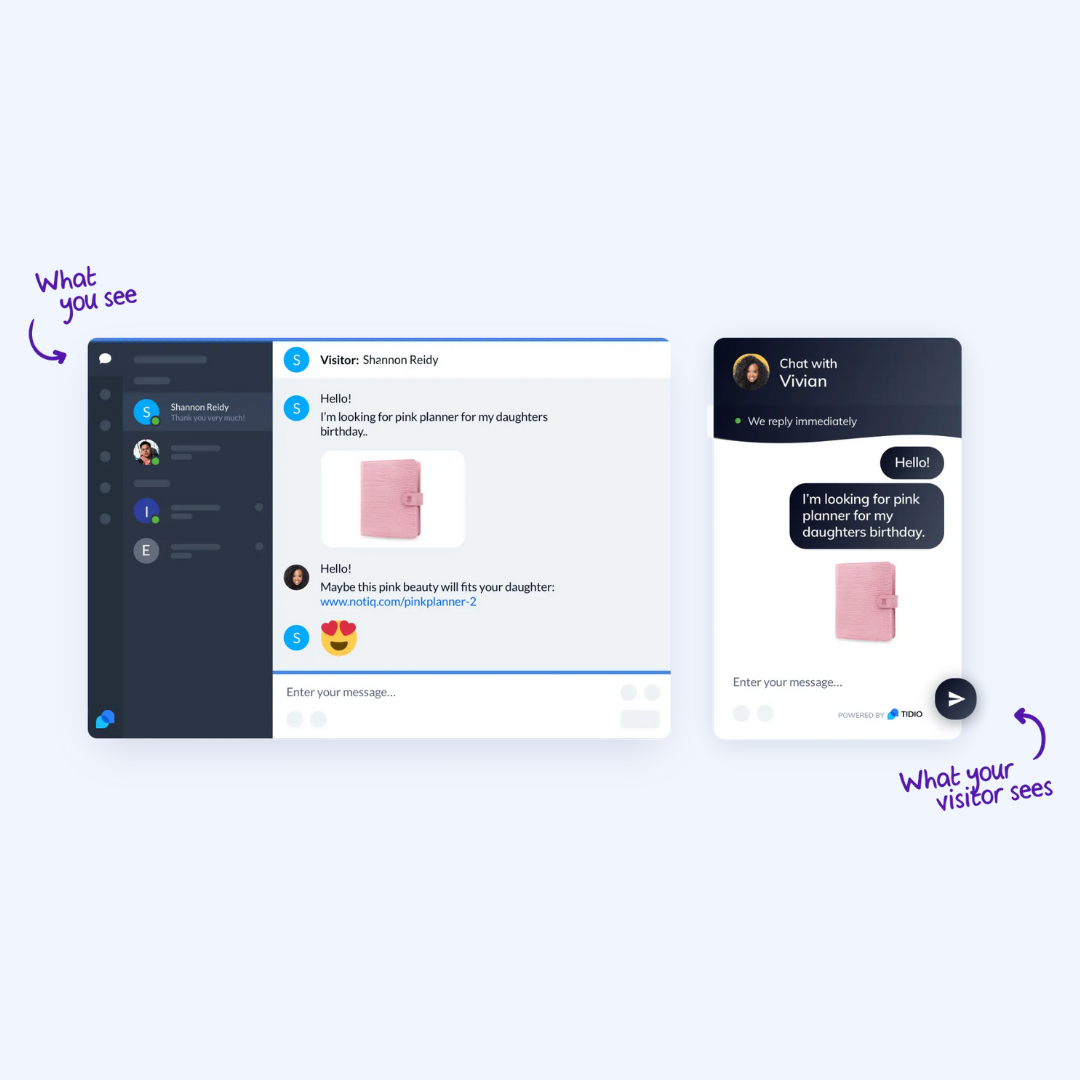 In terms of reviews on the App Store, Tidio Live Chat is the best Live Chat App for Shopify. There's certainly no denying how good it is. Tidio is a dedicated live chat app that brings together chat, AI-bts and marketing automation to help you boost your sales.
The chatbots are especially useful if you're running a one person business as they can help provide support 24/7. Tidio has a great abandoned cart feature too – something many of the other chat options don't offer. You can also easily customize Tidio to match your branding so everything looks super professional and tidy.
Pros:
Premade bot automation templates dead easy to get started
Chatbots available in multiple languages
Great customization options for the chat widget
Clean, elegant user interface
Cons:
More suited to small-medium sized online stores
No post-support survey to gather feedback
Pricing:
Free entry level plan. Paid plans range from $15-39/mo.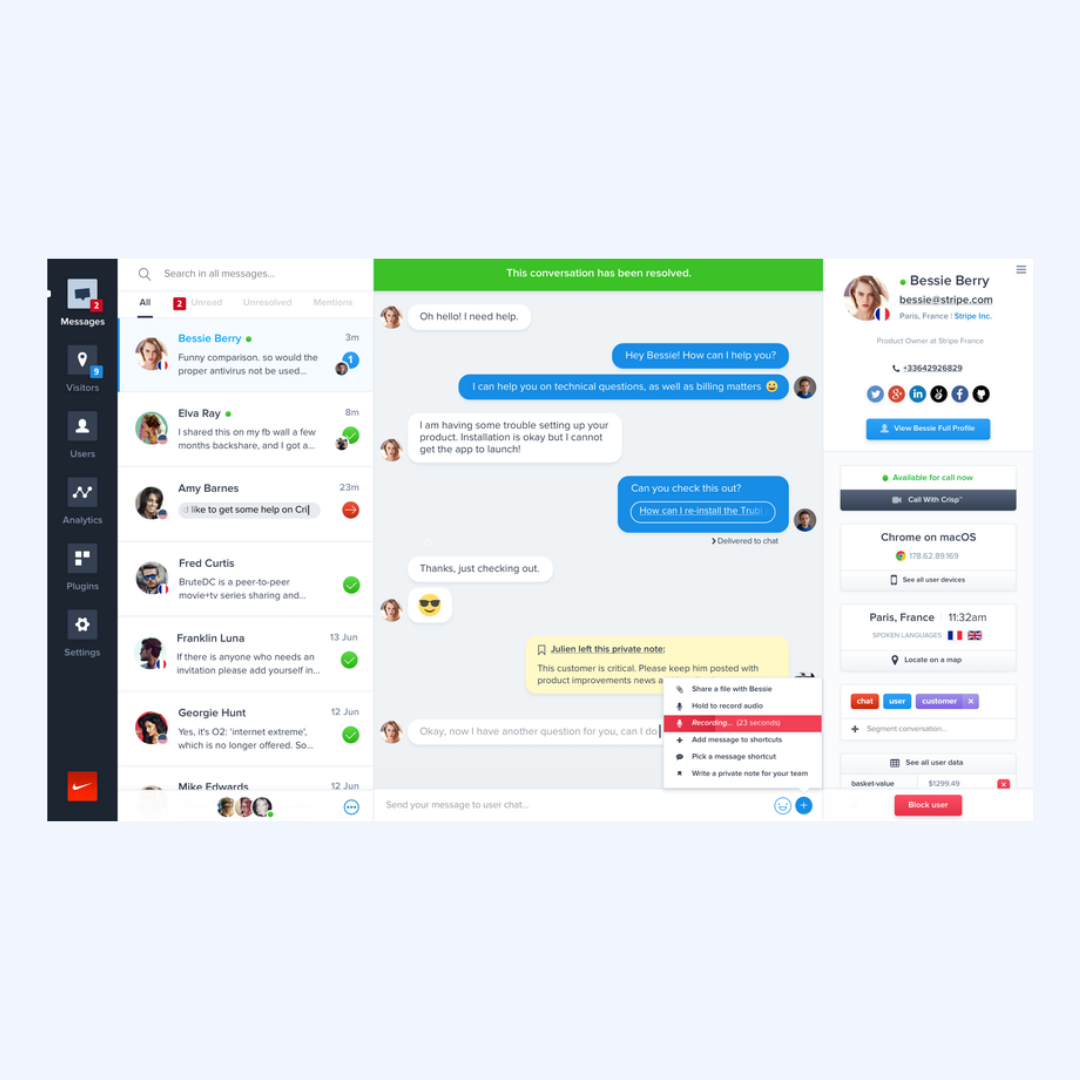 Crisp Live chat for Shopify lets you harness the power of their impressive helpdesk and apply it to your eCommerce store.
You can pull your Shopify data into Crisp so that you've got everything you need to solve customers' requests faster, no matter which channel they reach out on.
With Crisp, you can also access orders' details in your team inbox, refund customers from your ecommerce helpdesk, or get direct access to your customers' details in Shopify so you can modify a shipping address.
Plus, it's easy to automate the boring or time consuming ecommerce stuff with Crisp's AI-chatbots. You can provide 24/7 hands-off support for your most common customer support requests.
And the best part? Crisp integrates with EasyCall which empowers you to offer both chat and voice support to your customers.
Pros:
Free plan to let you test the waters and get used to the platform without risk
Multi-language and translate feature allows you to chat with customers around the world
Very easy to use with a clean user interface
Cons:
No ability to refund orders within the Crisp platform
Pricing:
Free entry level plan. Paid plans range from $25-95/mo and come with a 14-day card-less free trial.
6. Chatra Live Chat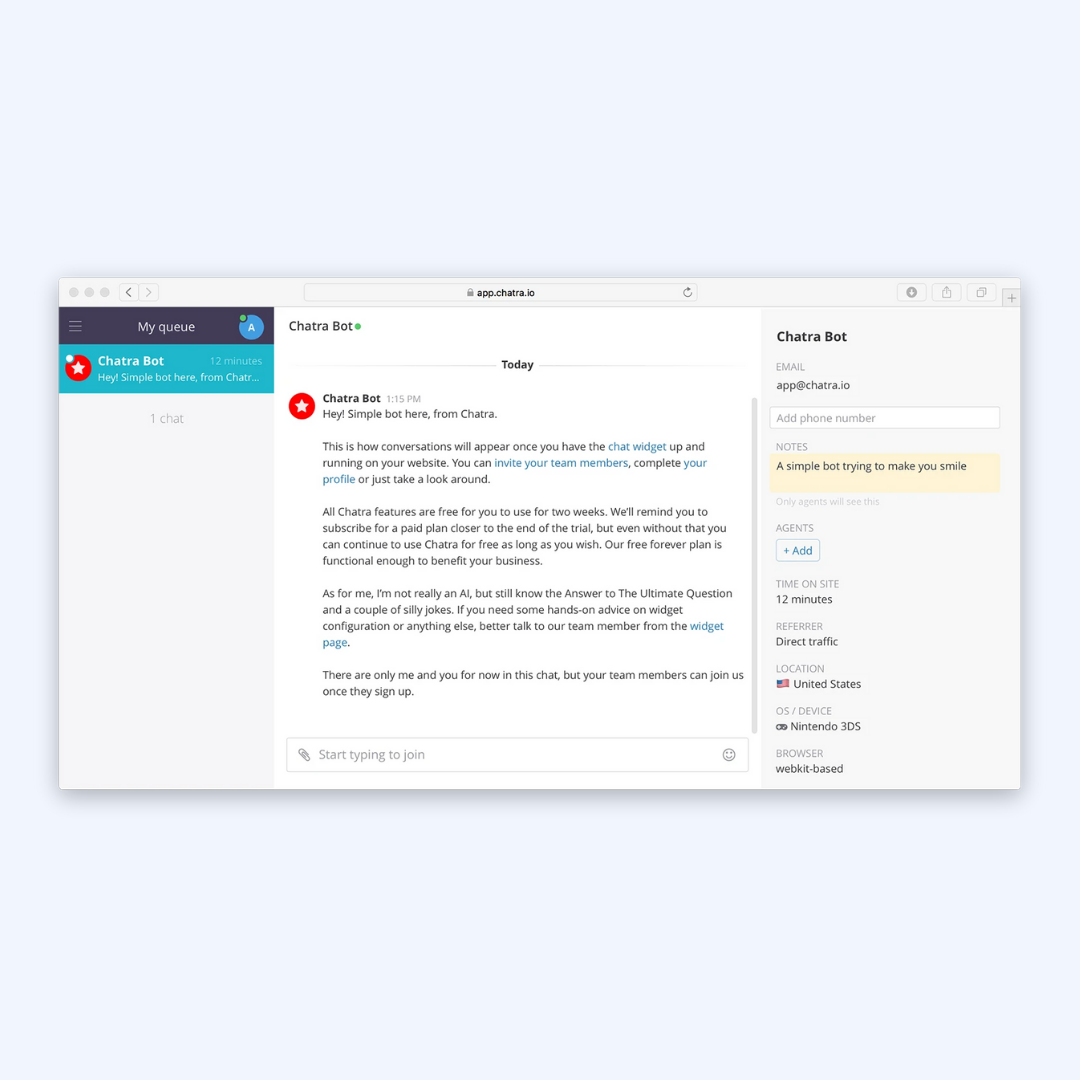 Chartra is a live chat app for Shopify aimed at helping you sell more products and answer customer queries. Chartra allows you to see what's in your shopper's cart in real-time, identify the most lucrative customers and provide assistance when it's most needed.
The way Chartra lets you know what your customers are looking at, makes the interaction kind of like a virtual shopping assistance experience. Plus it also has an intelligent contact bot who'll collect customer details when you're offline, so you can follow up with them later.
Pros:
Geared towards helping you sell more
Has a free forever plan if you're just getting started
Cons:
Not the best customization options
Some essential features not available on the free plan
Pricing:
Basic plan is free. Paid plans start at $19/mo.
7. Zendesk Chat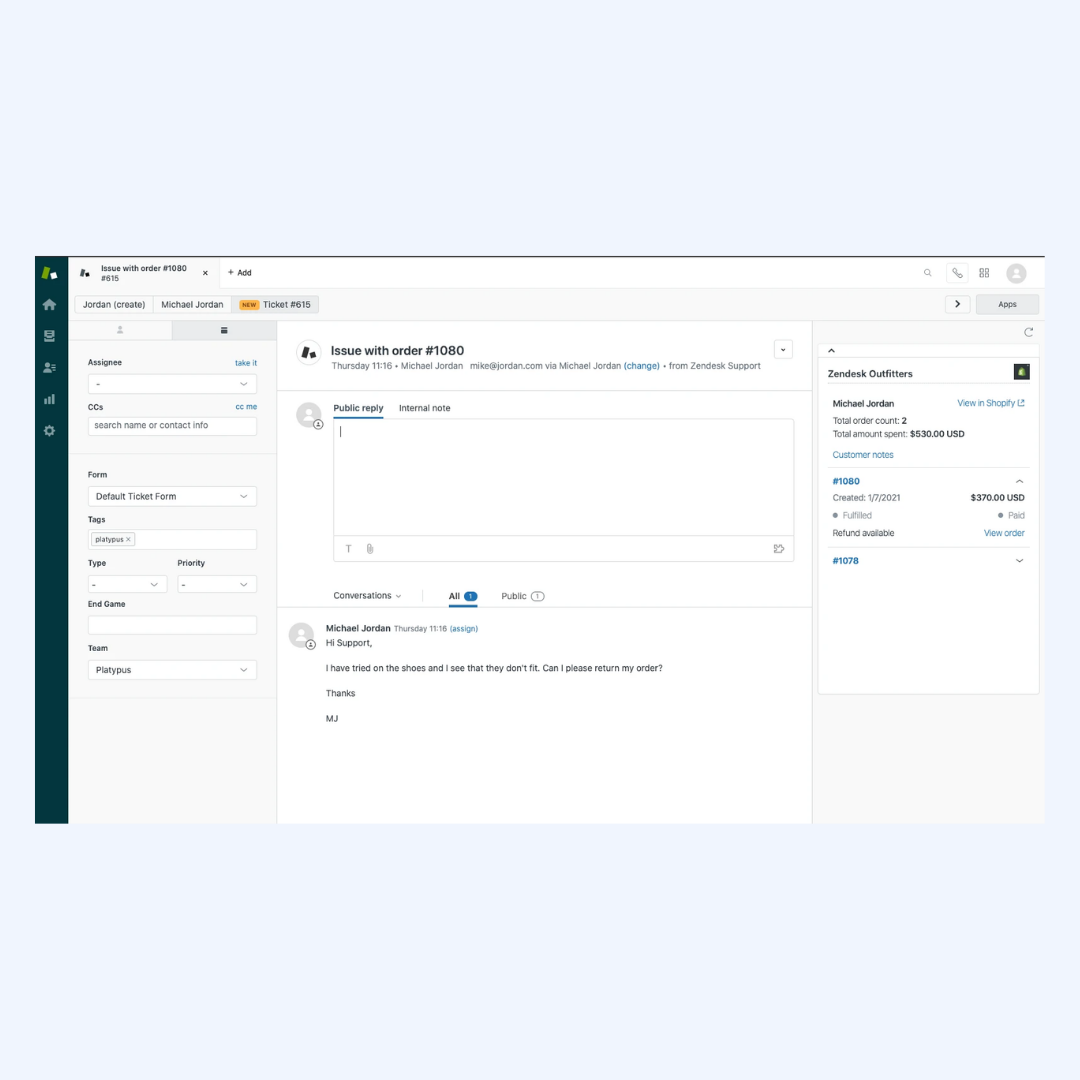 Zendesk enables customer interactions across messaging, phone, chat, email, social media, and any other channel you can imagine, to all come together in one place.
The Shopify app for Zendesk Support and Chat arms your agents with all the information they need (billing, shipping, order details, etc) when replying to customer inquiries without having to leave the customer conversation. Instead of spending time toggling between systems, agents can focus on building customer relationships and resolving inquiries faster.
Pricing: Start from $14 per agent per month. A 14-day free trial available.
Main features:
Pros:
The obvious choice if you're familiar with the Zendesk Ecosystem
Boasts a robust array of features to deliver a top-tier chat solution
Cons:
Can have a steeper learning curve
Zendesk pricing can be expensive compared to more basic chat solutions
Reports of technical issues from users on the Shopify App Store
8. Re:Amaze Live Chat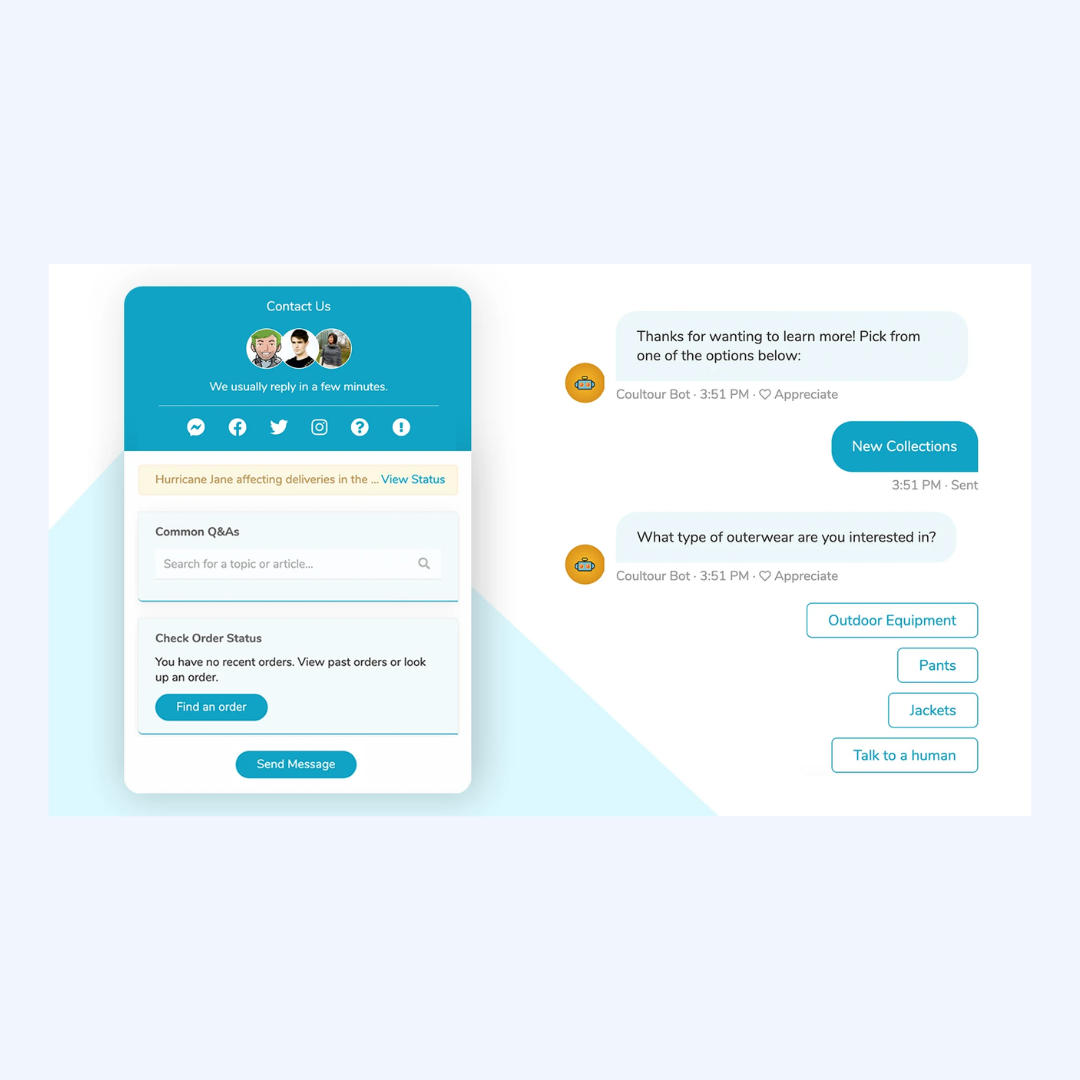 Re:Amaze is a customer helpdesk and CRM that offers solid chat features too. The app integrates flawlessly with Shopify to let you pull all customer data and interactions into one place. You can edit orders, send product suggestions,track browsing history and more all within the omnichannel chat function.
Pros:
Ability to manage multiple stores
Pre-built chatbots to answer customer questions
FAQ platform lets you build self-help resources
Exit-intent push notifications
Cons:
Reply and Note boxes aren't separate which means customers can be sent a staff note by accident
Mobile app has been known to crash when chatting with customers
Low customizability on the chat widget
Pricing:
Paid plans start at $29/mo. 14-day free trial available.
9. Pure Chat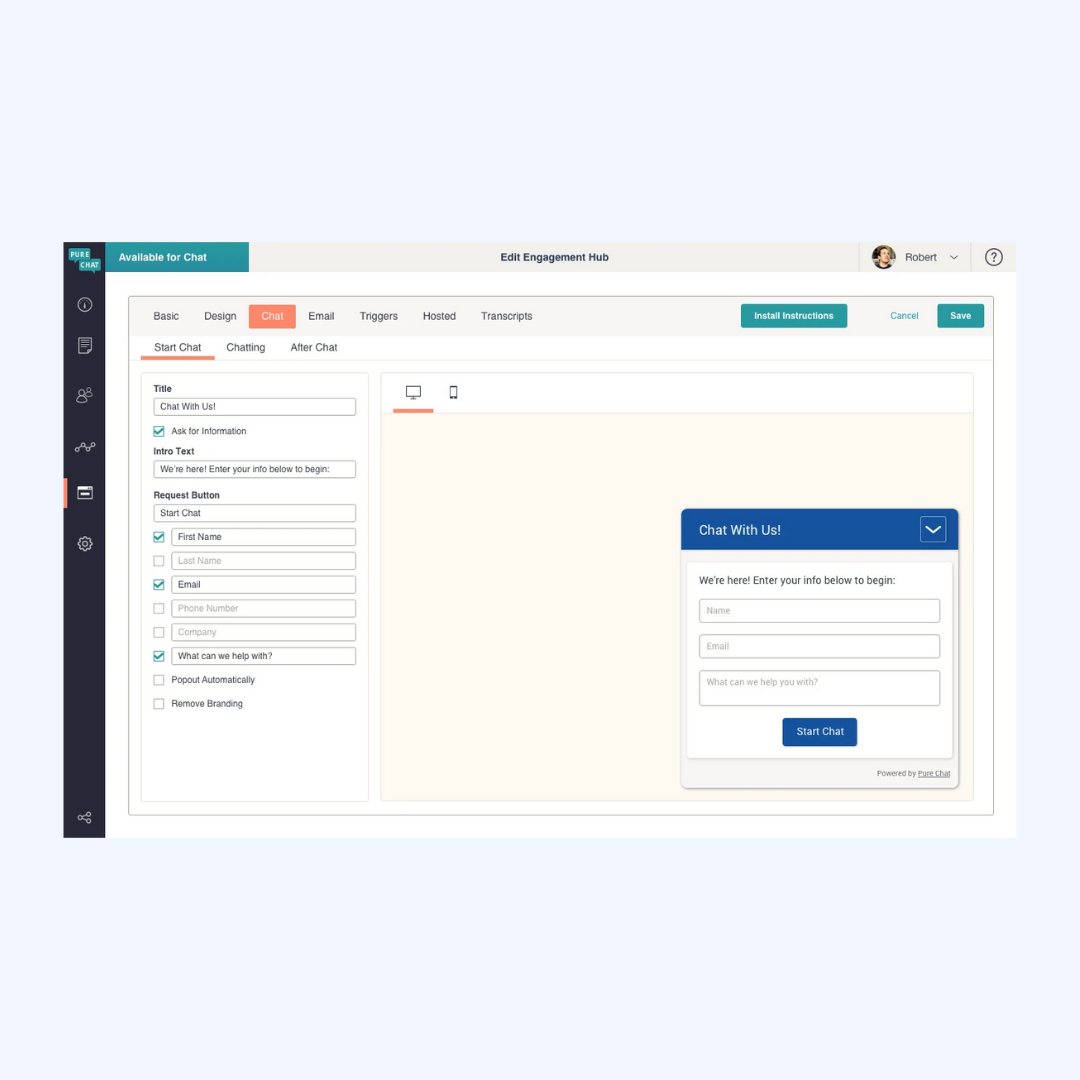 Number nine on the list of best live chat apps for Shopify is PureChat. PureChat is built only for live chat – it doesn't offer CRM, or help desk functions like some of the other heavy hitters on this list. However if you're only in the market for live chat, PureChat could be worth checking out.
Pros:
Great widget customization
Unlimited chats
Canned responses
Cons:
Some users report technical errors during installation
Doesn't pull social media messages or email into one place
Pricing: Plans begin at $49 per month. A 30-day free trial available.
How to Choose The Best Live Chat App for Shopify
When choosing a chat solution for your ecommerce store, it's important to understand your end-goal first.
Many chat apps for shopify come laden with features – many of which you may not need or even understand. So, instead of picking the most powerful app, focus on what you're trying to achieve first, and then find the app that'll help you meet those goals.
Typically when merchants seek a live chat solution, they're looking for three things:
Reduce customer frustration in receiving support
Bring down response times and time to resolution
Build customer relationships, increase sales and boost retention
To help you achieve these three things, you should look for an app that has the following features:
Integration with your current tech stack – Being able to pull all customer interactions into one space saves buckets of time and money.
Customizability – you want to be able to choose which features you'd like to use and design your widget to look native in your store.
Good Shopify integration – live chat apps that can access your customer's details will empower you to deliver the best level of service.
Degree of automation – if you're running a busy Shopify store, support tickets can stack up fast. AI-chat bots and built in FAQ functionality will help you free up time and get more done.
Use Live Chat & Instant Phone Support for Best Results
So there you have it – the best live chat solutions for Shopify stores! We hope that this post has given you some insight into the right live chat solution for your business.
Our best advice is to check out three that seem like they best fit your needs (most of them come with a free trial) and settle on the one that works best.
Remember, a live chat solution should make your life easier and deliver a better shopping experience for your customers. Sure, there may be a little learning phase where things seem hectic, but ultimately, if it's not helping your business, move on and try another solution.
Also, don't forget to give customers an array of options to get in touch with you. Many customers now gravitate towards live chat. However, some still prefer to have phone contact. Think about using EasyCall along with Crisp to deliver a fully-rounded customer support experience that'll power your support to a whole new level.
---
Level-up Your Shopify Customer Support Today!
EasyCall is the easiest, fastest, and most affordable way to create a call center for your Shopify store – for customer support, sales, or any other objective. Your customers will now be able to call you with just a single click. See it in action by clicking the widget in the bottom right corner of your screen now!